"Qiqi, what baby products should I buy from taobao?!"
I have been shopping Taobao for more than 12 years, my wedding gown and even the hotel hall aisle Sunflower stand is also DIYed by me using materials from Taobao.
As the years go by, shopping in Taobao is getting easier and easier. So long as you understand a little bit of Chinese, you can basically shop your whole house furniture from Taobao.
But, I'm going to stick to this topic (let me know if you are keen to know about Taobao weddings), on buying baby products from Taobao. Often, I receive a lot of messages on what to buy on Taobao for baby stuff, so I'm going to share what else you can buy, besides baby clothes from Taobao.
Below are some suggestions based on what I and my friends love to buy. The purchase price is exclusive of shipping price, and prices are based on at the point of purchase.
Some products I have also include where you can buy locally if you do not how to use Taobao. Shopee has some sellers who are from China or local sellers selling China products. It makes shopping a lot easier if you do not understand Chinese.
9 Baby Products from Taobao.
2 in 1 Diaper Bag / High Chair
When your wife has so many bags, what makes you think that she will only have 1 diaper bag? Haha.. no lah not encouraging but because personally, I have 2 diaper bags for different occasions.

My normal Jujube Diaper bag is for everyday use, but if I'm going to a place which I know that there will be no baby seats, I will bring this Mickey Mouse 2 in 1 diaper bag out.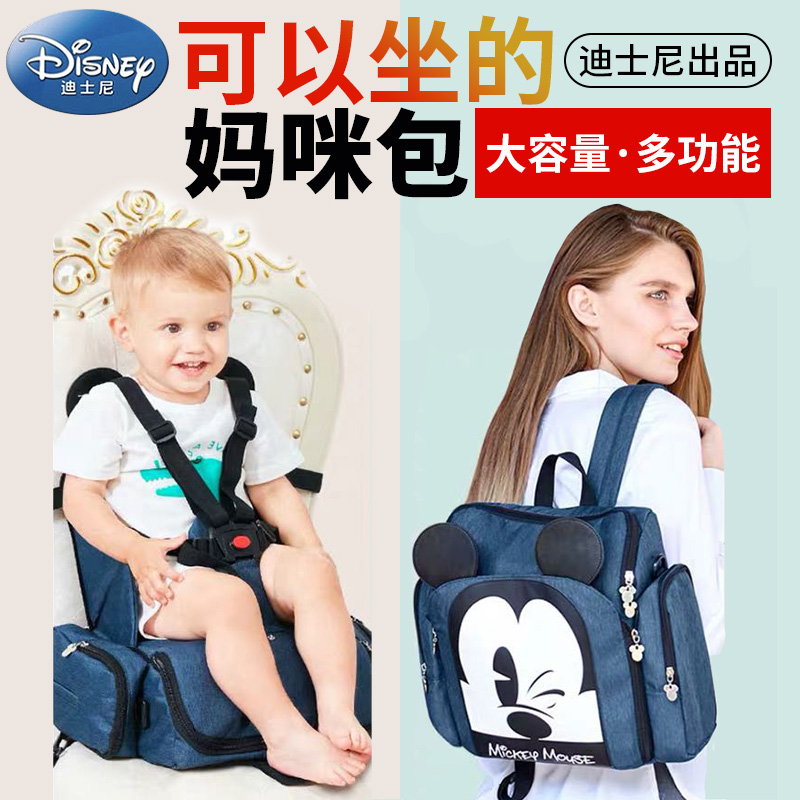 I love it that it is Mickey Mouse (obviously), it is a diaper bag and most importantly it can be a booster chair too. Saves me a lot of headaches for places which don't provide a high chair. I even use it in cinema and Theater.

Link: Mickey Mouse Diaper bag
Key word: 可坐的 妈咪包
Purchase Price: $40
Due to licensing issue, you can only use 3PL to ship over.
Milk Bottle Sterilizer
Taobao is overwhelmed with different types of sterilizers with many different functions. There's no wonder nowadays that lots of parents love to buy from Taobao.
Depending on your preference, there are steam sterilizers with dryer and UV sterilizer.
The popular brands are Snow Bear and Dr Olaf.
There is no problem of using China electronics products in Singapore as we are using the same voltage. But you can change the plug head easily by getting the right tools from electrical shop.
Link: Snow Bear Sterilizer / Snow Bear UV Sterilizer /
Little Bear Sterilizer with Warmer
Key words: 宝宝 消毒锅
Purchase price: Snow Bear $69 / Snow Bear UV Sterilizer $110
Little Bear Sterilizer $40
Xiaomi Baby Monitor
A baby monitor is a must buy which I always encourage my 1st-time parent friends to buy. You can monitor your baby while you do your work in the kitchen or living room. Or monitor them if you leave your baby at home with other caregivers.
You can actually buy XiaoMi products from local authorized dealers if you are concerned about the warranty. Otherwise it serves us pretty well, especially for the night view.
Link: Xiaomi Camera
Keyword: 小米摄像头
Purchase Price: S$60 (with 128GB SD Card)
If you wish to get it from local, you can get it from here. They covered SG and has local 1 year warrenty.
Baby Playpen & Play Area
I bought my playpen from Taobao, but that was when I had number 1 and 2. After that, I use it as my dog fence. Last time, the design and package weren't as fanciful like now. Now, you have a lot of choices and the seller will package them nicely! The keeping method is also a lot easier compared to last time.
Link: Baby Indoor Playpen
Keyword: 游乐室内宝宝
Purchase Price: $92 (Pricing is based on the image above. 12 panel + 1 door + 1 Play panel, slide, rocker.)
If you want to get from loca, you can get it here (once you add in the shipping fees), pricing is similar but without the play panel and freebies.

Baby Bathtub
There are various types of bathtubs in the market. The foldable, standing and multi-purpose. The commonly bought are those foldable type of bathtub, because they save space.
Some even comes with inbuilt water temperature thermometer and some allows you to expand taller, to turn into a mini pool or with a sitting area inside so they can sit down to bath when they reach toddler.
Link: Bath tub
Keyword: 宝宝折叠浴盆
Purchase price: $15 (Price is based on the above picture, foldable bathtub with thermometer, toys and waterproof bed)
You can get a similar one here from Shopee.
Baby Highchair
Nowadays, due to space constraint, parents prefer to buy a high chair that comes with multiple purpose & foldable. Otherwise, if you just want a simple high chair that is easy to wash and just solely for eating purpose, IKEA high chair is actually good and pretty cheap.
Link: IVOLIA High chair
Keyword: 宝宝餐椅
Purchase price: $80

You can buy a similar design from shopee.

Baby Stroller / Tricycle
Although I did not buy my strollers from Taobao, quite a lot of parents I know get their strollers from there. Besides the price point, one factor contributing it is the design and features are much more advanced compared to our local market. Maybe due to the fact that China is the largest stroller manufacturer, they are always the first to launch new designs.
Link: Baby Stroller
keyword: 婴儿推车 (baby stroller) / 婴儿车轻便折叠 (baby lightweight foldable stroller)
Besides strollers, tricycle or trikes are also another common must buy from taobao. I got my twin trike from taobao. We use it mainly for walking around the neighbourhood.
Link: Trike
Keyword: 婴儿手推车脚踏车 (single trike) / 婴儿双人手推车脚踏车 (double trike)
If you want a foldable or even lighter weight you can get this.
Baby clothes / towels / bibs
Baby clothes, towels and bibs are also commonly bought in taobao due to the affordable price and wide variety of designs available.
Pregnant Mother Products
One of my favourite store to get my pregnancy products – 十月结晶
I bought their maternity pads and maternity underwear. I used it for my 4th pregnancy and I wish I know this brand earlier! I bought their pads package, which they already pack properly like 1st packet is for after you give birth, 2nd park is when your flow is not a lot till the last packet is for little flow.
Their disposable pregnancy underwear is like a real cotton underwear, very comfortable and fitting.
I even kept the leftovers for my oversea trip or staycation.
Link: Maternity pads / Disposable underwear.
Price: Maternity pads $10 for 4 packets / Underwear $14 for 20pcs.
Conclusion
Besides the above recommendation and commonly bought items, baby utensils, wipes, and even diapers are also common topics among the parents and in Taobao FB group.

But one thing I do not really recommend buying from Taobao is the baby car seat. Although China is one of the largest manufacturers of baby car seats (even some good brands of car seats are also made in China), due to different country rules and regulations, the safety requirements are different. So it's better to get from our local authorized distributors.
That goes the same for baby cot too.
If you have any questions or wish to add to your experience, feel free to comment below!