I simply cannot believe August flies by so fast and now we are reaching September. September should be an exciting month for the kids, not only do we have a school holiday, but we Chinese are also celebrating the Mid-Autumn festival. Let's check out 20 fun-filled kids activities for this September School Holidays!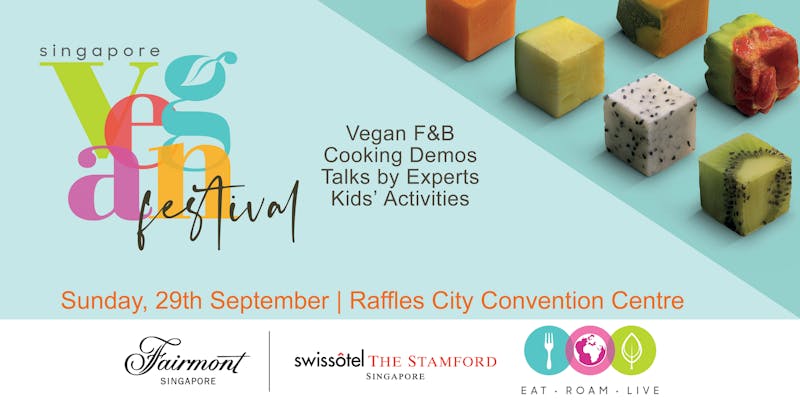 About: Singapore Vegan Festival will showcase the best vegan food around town. SVF also aims to spread awareness about a vegan lifestyle. Market stalls of vegan products, vegan food & drinks, kids activities, Cooking Demos by International Chefs, guest speakers are just some of the things you can expect.
Date/Time: 29 Sept 2019, 11:00 am – 8:00 pm
Location: Raffles City Convention Center
Fees: Early-bird entry $8, Kids below 15 years old can enter for free with a paying adult.
Things To Note: Nil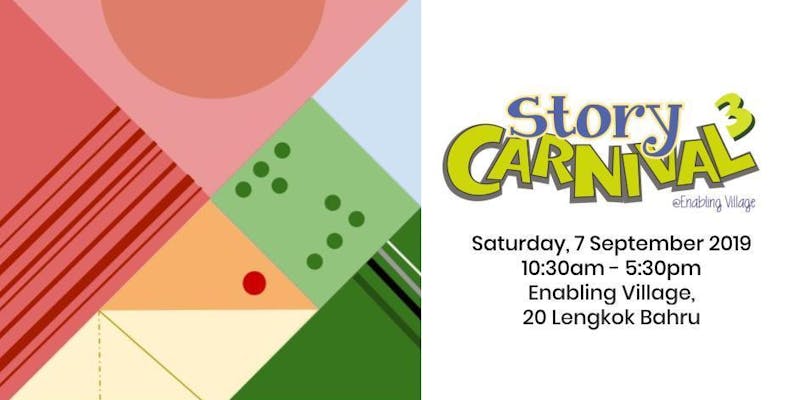 About: The 'Story Carnival@Enabling Village' is about celebrating storytelling with different communities. Through the carnival, we hope to create awareness about differently abled people from all walks of life. Each year we feature performers with visual, hearing or intellectual impairment, performing alongside storytellers from Story Connection. Join us for loads of fun and stories. Look out for the bouncy castle, face painting, craft activities and photo opportunities.
Date/Time: 7 Sept 2019, 10:30 am – 5:30 pm
Location: Uob Ability Hub, 20 Lengkok Bahru, Singapore, 151055
Fees: Free
Things To Note: Nil
About: In celebration of 10 years of bird conservation, Jurong Bird Park is opening its gates to all local residents for free! For 10 days from 6 – 15 September 2019, Singaporeans, Permanent Residents and FIN holders can enter Jurong Bird Park for free. Purchase coupons to enter gated aviaries and experience special activities. Flock down now with your family for this exclusive offer!
Date/Time: 6 – 15 Sept 2014, 08:30 am – 6:00 pm
Location: 2 Jurong Hill, Singapore 628925
Fees: Free, Nominal charges apply for entry into gated aviaries, shows and Birdz of Play area
Things To Note: Free entry on for Local residents only.
About: EXTENDED! As the centrepiece event of the Singapore Bicentennial, this multimedia sensory experience brings you back in time to witness key moments in Singapore's transformation from as far back as 1299. Read about my experience!
Date/Time: September 2019 to October 2019
Time Traveller
Monday: 0830 – 1730
Tuesday – Sunday: 0830 – 2200
Pathfinder
Monday: 0830 – 1800
Tuesday – Sunday: 0830 – 2230
Location: Fort Canning Center, 5 Cox Terrace, Singapore 179620
Fees: Free
Things To Note: No strollers inside the center, but the wheelchair is allowed. There is a shuttle bus available but not wheelchair friendly. Please see their website for updated information on shuttle bus services.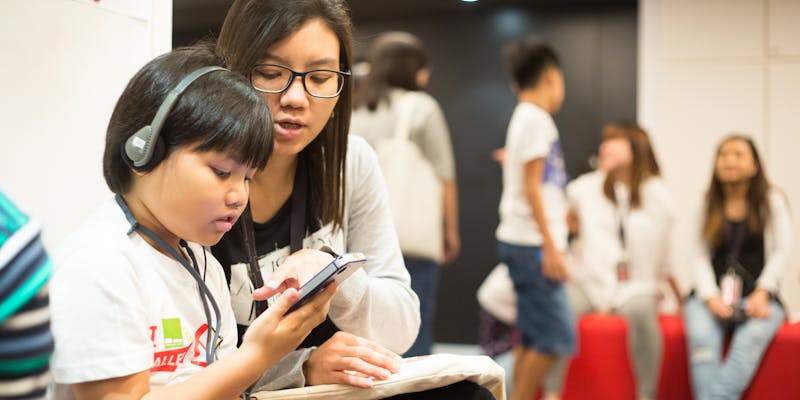 About: Calling all children ages 7 to 9! Learn more about sound art in this fun tour, as part of Gallery Children's Biennale 2019. Focusing on Chance Operations by Song-Ming Ang and led by an experienced docent, kids will learn about the artist, his practice, and how to better appreciate art through facilitated discussions and activities.
Date/Time: 7-8 Sept & 14-15 Sept, 1:00 pm – 4:00pm
Location: National Gallery Singapore, Coleman St Entrance information counter, 1 Saint Andrew's Road, Singapore 178957
Fees: Free
Things To Note: This is a sound-sensitive tour and a drop-off programme. Parents and legal guardians are required to sign an indemnity form upon arrival and pick up their child at the designated spot after the tour ends.
About: We're turning Siloso Beach into a legendary tribute to STAR WARS with 20 massive sculptures of all your favorite characters, an international sand sculpting competition, sand sculpting workshops and more. Make time for an epic escape to an island not that far away.
From 31 August to 15 September, enjoy
• Complimentary entry into Sentosa Sandsation: STAR WARS Edition
• FREE entry into Sentosa island
• $5 off Grab rides into Sentosa when you use the promo code: SANDSATION
Date/Time: 31 Aug – 15 Sept, 10:00am – 8:30 pm
Location: Siloso Beach
Fees: Free
Things To Note: Nil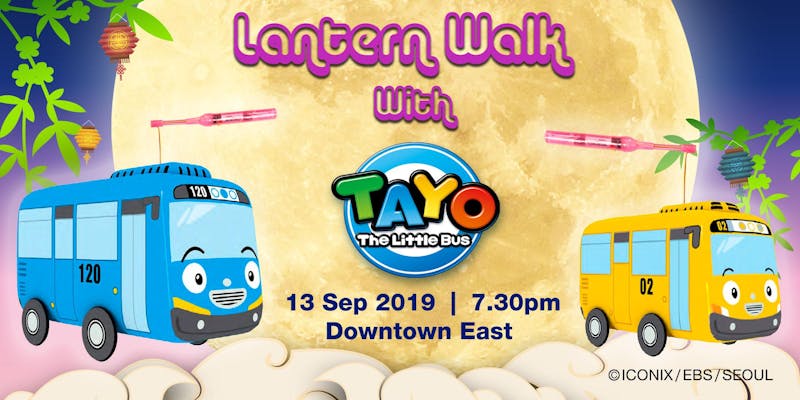 About: Bring your Tayo/Lani Lantern and join us for a moonlit evening of adventure & fun with 10x DE Booklets (worth $700+ each) to be won! Participating Children will get to enjoy Freebies such as (Tea & Mooncake) when they register for the event! In addition, Tayo The Little Bus will be making a special appearance!
Date/Time: 13 Sept 2019, 7:30 pm – 9:00 pm
Location: Downtown East
Fees: Free
Things To Note: Nil
About: Organised by Sun Yat Sen Nanyang Memorial Hall, Wan Qing Mid-Autumn Festival is an annual cultural event for the community to discover and experience the customs and traditions observed during the celebrations. This year's festival presents an exciting weekend of offerings suitable for the young and the young at heart, including heritage trails around the Balestier precinct, guided tours of the museum's galleries, mooncake tasting, lantern-making workshops, storytelling of Mid-Autumn tales, alfresco concert performances, and more.
Date/Time: 7-8 Sept 2019, 10:00 am – 9:00 pm
Location: Sun Yat Sen Nanyang Memorial Hall
Fees: Free
Things To Note: Activities are free unless otherwise stated.
About: Spend quality time with your loved ones at My Family Fiesta – A day of family fun, games, activites and programmes catered just for you! Take part in SAFRA Punggol's Kidz-preneur (Big Little Boss Edition), a fun-filled family bazaar, special vendor treats and much more on 8 Sep 2019 from 9am to 6pm. My Family Fiesta is proudly organized by SAFRA Punggol and supported by Heybaby, making Singapore a great place for families.
Date/Time: 2 Sept 2019, 09:00 am – 6:00 pm
Location: Safra Punggol
Fees: Admission is free with activities suitable for the entire family, unless otherwise stated.
Things To Note: NIL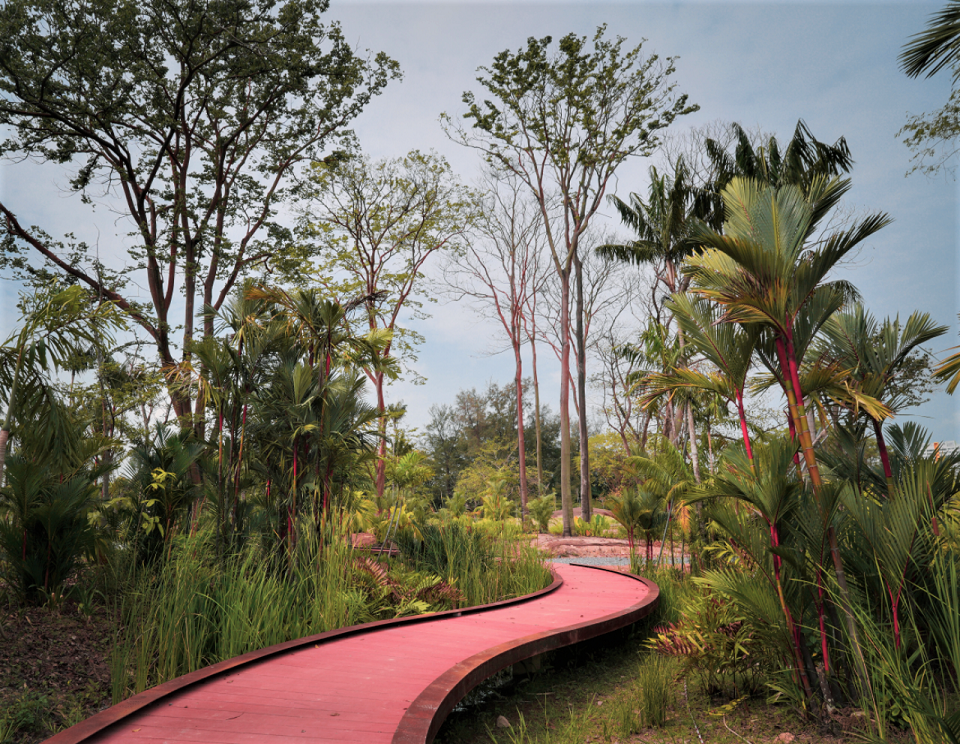 About: Come celebrate the Mid-Autumn Festival at Jurong Lake Gardens! Join us on a journey to the West with characters from popular Chinese folklore and watch the garden transform into a mythical world surrounded by a myriad of plants and animals at night.
Partake in the festivities as a family and plan your very own lantern walk in the gardens. Enjoy performances which will happen daily and refuel yourself at the night market with a variety of food and drinks at the Wave Plaza .
Date/Time: 6-15 Sept 2019, 7:00 pm – 11:00 pm
Location: Jurong Lake Gardens, Lakeside Garden
Fees: Free
Things To Note: On-site registration for activities are on a first-come-first-served basis
About: Join us in this festive season and find out how to make snowskin mooncakes using plant ingredients! This programme includes a guided tour around the newly enhanced Children's Garden.
Date/Time: 13 Sept 2019, 10:00 am – 11:30 am
Location: Singapore Botanic Gardens, Visitor Services Desk at Jacob Ballas Childrens Garden
Fees: $30 per child, including ingredients and equipment.
Things To Note: Suitable for children in K1 – P6 Levels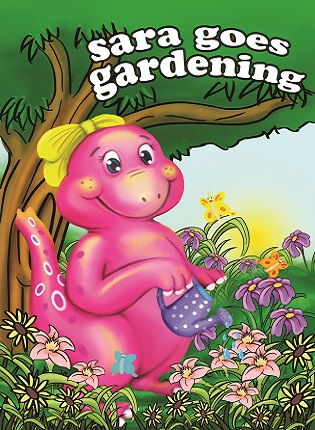 About: Sara, the Botanicosaurus, and her siblings and friends are going to discover the joy of gardening at the Singapore Botanic Gardens. Join Sara as she discovers fascinating facts and enjoys interesting stories about aloe vera, lemon grass, garlic, spring onion and many more nutritious and yummy herbs and spices. Alongside learning about plants for a healthier and stronger body, pick up gardening tips to grow your favourite plants for your very own kitchen garden!
Date/Time: 14 Sept 2019, 10:00 am – 11:00 am
Location: Singapore Botanic Gardens, Visitor Services Desk at Jacob Ballas Childrens Garden
Fees: $9.00 per child (includes $3 "Sara Goes Gardening" Workbook) and $6.00 per accompanying adult
Things To Note: Suitable for children in K1 – P6 Levels
About: Beyond the popular folklore of Chang'e and Hou Yi, Mid-Autumn Festival celebrates the bountiful harvest to come. Join in the Singapore Chinese Cultural Centre's Mid-Autumn Yeah! celebration and reap your own harvest of knowledge by discovering traditions anew and immersing in a feast for the senses with friends and family! Plan a heist to break into the Moon Vault in search of the secret recipe for the Divine Mooncake in an escape-room activity, learn about the secrets of the night sky through a series of planetarium shows; revel in songs that wax lyrical about the moon; or concoct your very own cup of bubble tea while learning about tea traditions. Whether you are a culture buff, someone who wants to learn more about our heritage, or a visitor who simply wants to have an enjoyable time with loved ones, Mid-Autumn Yeah! promises something exciting in store for everyone.
Date/Time: 13-14 Sept 2019, 7:00pm – 10:00pm / 1:00pm – 10:00pm
Location: Singapore Chinese Cultural Centre (1 Straits Boulevard, Singapore 018906)
Fees: Free admission, certain activities are chargeable
Things To Note: Nil
About: Enjoy spectacular lantern sets depicting stories of rich tradition and heritage. Don't miss our tallest and widest ever display of floating lanterns stretching over 120m, and take a stroll within our very first giant revolving lantern!
Date/Time: 30 Aug – 15 Sept 2019, 7:00pm – 11:00pm
Location: Various Location
Fees: Free admission
Things To Note: Nil
About: Indulge yourself in 4 days of gastronomic heaven as over 200 local and international food and beverage establishments can be found in this World Food Fair. Experience the most comprehensive and sumptuous delights from all over the world right where you are.
Date/Time: 12-15 Sept 2019, 11:00am – 10:00pm
Location: Singapore Expo Hall 6
Fees: Free admission
Things To Note: Nil
About: Join us to clean up Kranji Mudflats to benefit the wildlife that thrives there. Designated as an Important Bird and Biodiversity Area, this coastline is a key habitat for horseshoe crabs and an important feeding site for wading birds.
To attend, please register at http://tinyurl.com/iccsnss
Date/Time: 21 Sept 2019, 7:00am – 10:00am
Location: Kranji mudflats.
Fees: Free
Things To Note: Wear casual and bring a water bottle.
About: They will be doing our clean at the beach next to Bedok Jetty, East Coast Park. The closest carparks are F1 and F2. After the beach clean-up, we'll be having a zero-waste potluck picnic! Meet some new friends and have a chat about how we can do our part to save the world. Everyone is encouraged to bring a little something (not too much, we don't want food waste!) in your own BYO containers. No single-use disposables please!
Bring your friends, family (kids included!), pets (on leashes), etc. and make a difference while having fun 🙂
No sign up required, just turn up!
Date/Time: 8 Sept 2019, 10:00am – 12:00pm
Location: Bedok Jetty, East Coast Park
Fees: Free
Things To Note: As above on Potluck and disposables.
About: Our signature monthly event, Gardeners' Day Out, promises an entire day of gardening and lifestyle activities for everyone.
Focusing on pet rehoming and encouraging people to be considerate pet owners, the 2nd edition of Pets' Day Out also works collaboratively with various partners such as Animal Welfare Groups (AWGs), veterinarians, service providers and relevant agencies to generate awareness on the relationship between animals and public health.
Potential pet owners will get to meet the animals for adoption while pet owners and non-pet owners can enjoy other fun pet-friendly fringe activities at this free-for-all event!
Familiar Gardeners' Day Out favourites such as the Marketplace, free talks and demonstrations, free garden tours of HortPark, and kids' activities like storytelling and handicrafts will still be available.
Date/Time: 21 Sept 2019, 9:00am – 3:00pm
Location: HortPark, Visitor Services Centre
Fees: Free admission
Things To Note: *Prior registration is required for the free pet health check sessions and micro-chipping services. Registration will open in early-Sep 2019.
About: The second edition of Gallery Children's Biennale 2019 invites you to experience a new dimension of creativity and open yourself up to wondrous surprises. Across seven months, embrace a fantastic, magical world through 11 imaginative artwork installations. Have fun composing your own tunes, braiding giant tresses, wandering beneath massive lanterns, popping into a dome, and more.
Date/Time: 25 May – 29 Dec 2019, Weekday 10:00am – 7:00pm, Weekend 10:00am – 9:00pm
Location: Various location
Fees: Free for Singaporean
Things To Note: Nil
About: We cordially invite you, your family and friends to join us at Chinatown this September to commemorate Singapore Bicentennial and to celebrate Mid-Autumn Festival together. The celebrations will showcase an exciting, colourful and vibrant month-long programme from 31 August to 28 September 2019. During this period, Chinatown will be soaked in festivities and beautifully adorned with colourful lanterns and dazzling decorations. Come and join us to appreciate and experience the allure and significance of this Chinese traditional festival.
Date/Time: 31 Aug – 28 Sept
Location: Various location, please visit the programme guide
Fees: Free admission, certain activities are chargeable.
Things To Note: Nil
Have a wonderful September! If I miss out any MUST GO activities, please feel free to comment below!