Quite a number of stuff to blog.. 😛

Lets go one by one ba!!

NS gf outing with Serene and Wanjing! 😀
Dated: 20 April 2007, Location: Ramen Ramen next to Plaza Singapura


Ramen Ramen!! Nice and affordable price!!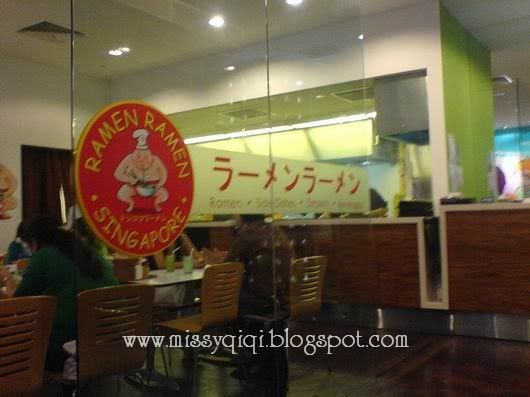 My mushroom Ramen!!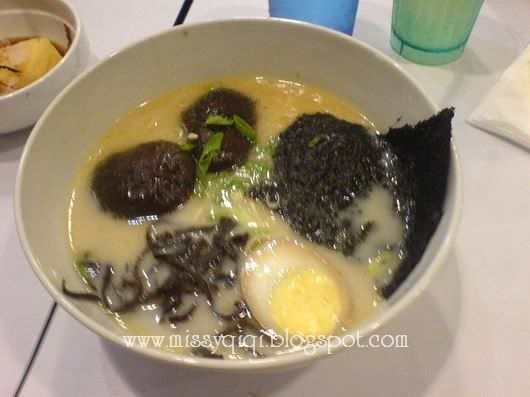 Serene and Wanjing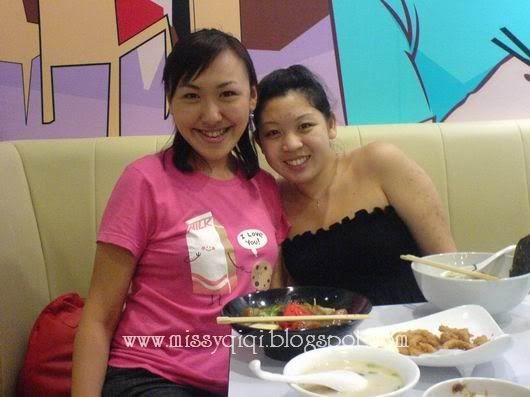 Me, Serene and Wanjing.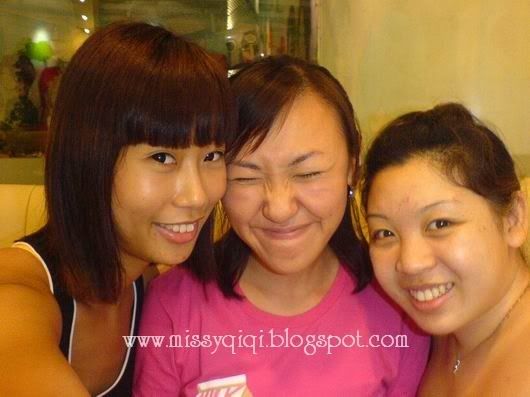 Not much photos taken coz was very very tired on that day. 😛
Time flies very fast, soon it will be 2 yrs since i know them. We started knowing each other, when Serene post a topic on NS's GF thread in gals forum. A thread for all the gals who their bf just enlisted to serve army. From there, we learn how to cope without our bf is around or when they are overseas. Know about army stuff from our Uncle Jonathan… Soon, the guy is going to ORD in May and June. Even though, we are not going to be NS's gf anymore, but our friendship bond is still strong as ever… Is great to know u gals and uncle! Can't wait for the ORD celebration in June!!


~~~~~~~~~~~~~~~~~~~~~~~~~~~~~~~~

YSL Event
Date: 27 April 2007, Location: Raffles City


Went for YSL event at Raffles city on friday with Cailing. Was invited by my friend and stylist. Thanks to their invites! 😀


Me..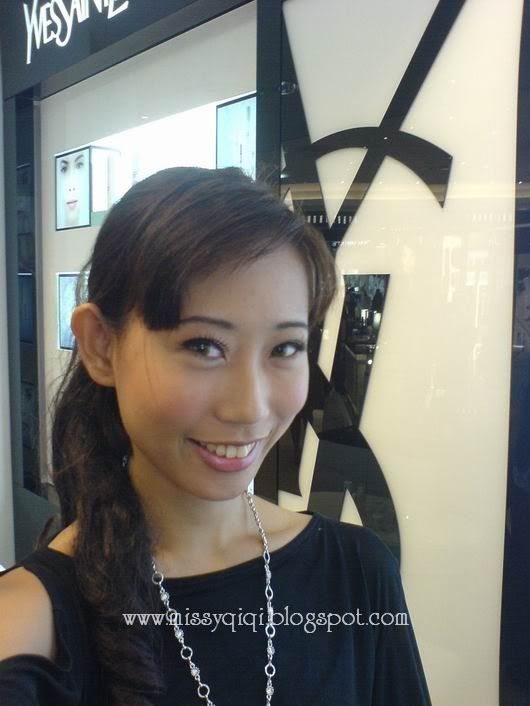 So many ppl, mostly Tai tai….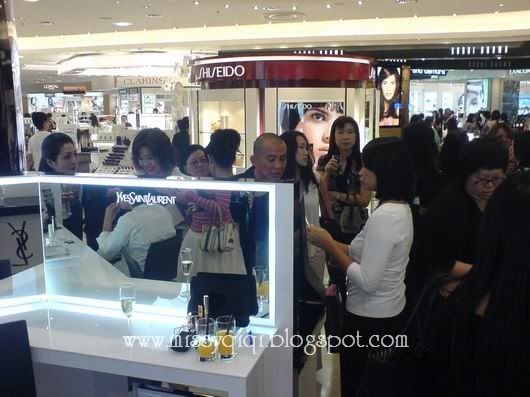 Make up in process…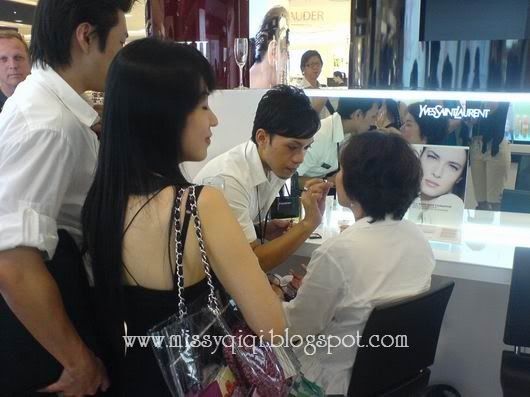 Cailing and Me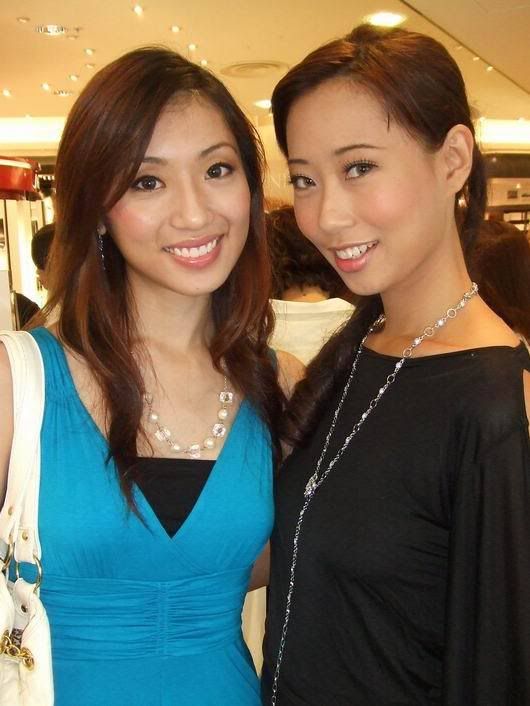 Makeup demo…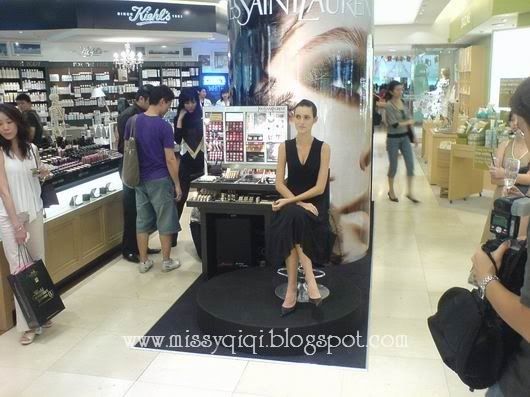 While waiting.. snap snap…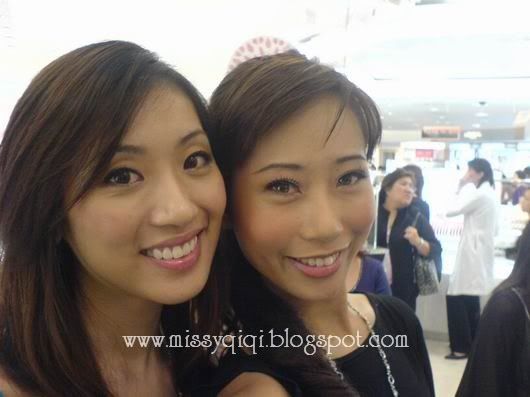 A photo with the wonderful, cute, funny and energetic makeup artise!! 😀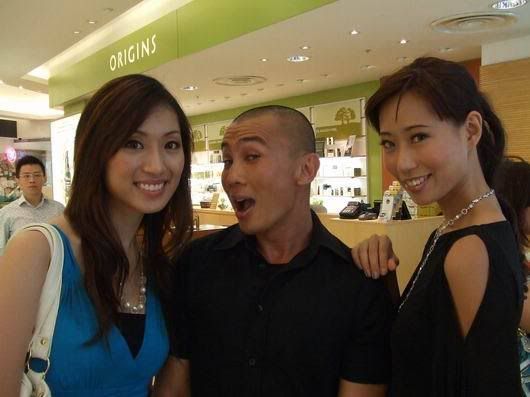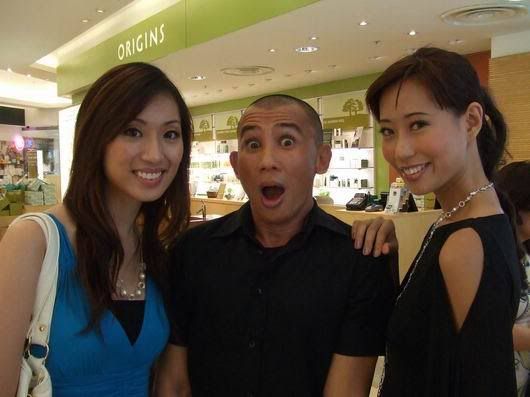 We got this pretty mirror chain as gift and one free makeup voucher. 😀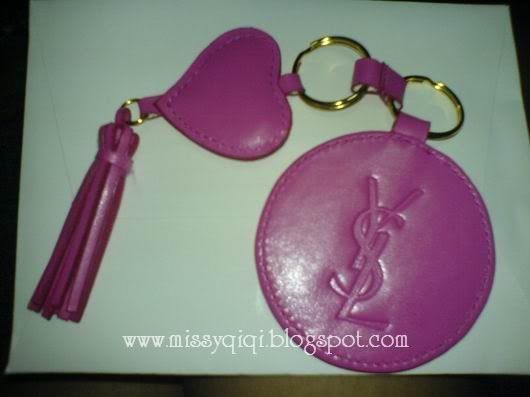 Fater that, we went to dbo to have our dinner and also to visit a boutique which just newly open in the club it self!

We had ba ku teh for dinner, but is not very nice, the meat is not well cooked.. 🙁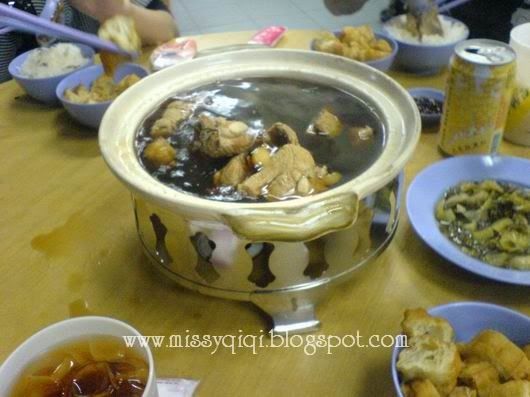 Daidn't took any photos regarding the boutique, but in case you guys got watch the recent Dance floor, the top 3 winners for MSU, the clothes they wear are from there. 😀


~~~~~~~~~~~~~~~~~~~~~~~~~~~~~~~~~~~~~~~~~~~~~

Fox give away Balloon, 3rd anniversary
Date: 28 April 2007, Location: Orchard, outside Ngee Ann City

Fox celebrating their 3rd anniversary so they hired models to give out balloons along Orchard road to promote brand awareness.. Lucky the weather is not so hot 😛


Me with the balloons! Left 2, after giving out 1500 of balloons..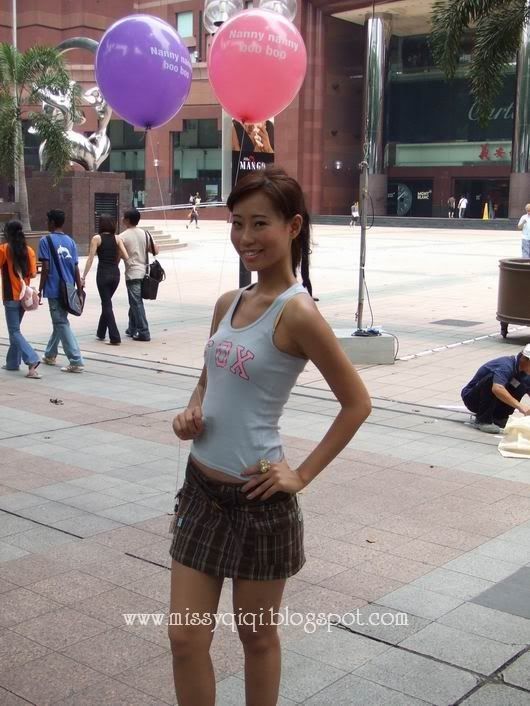 Jeanali and me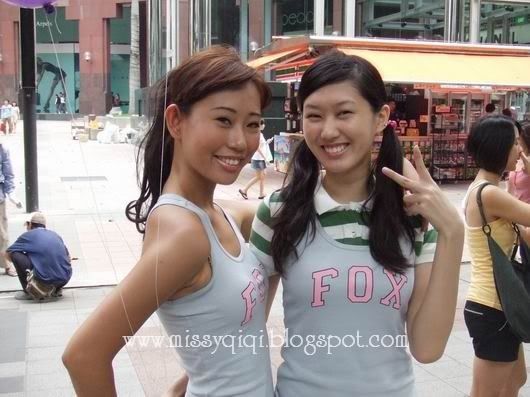 Me (holding the ballon, that explain the funny hand position), Jeanali and … can't remember his name -___-"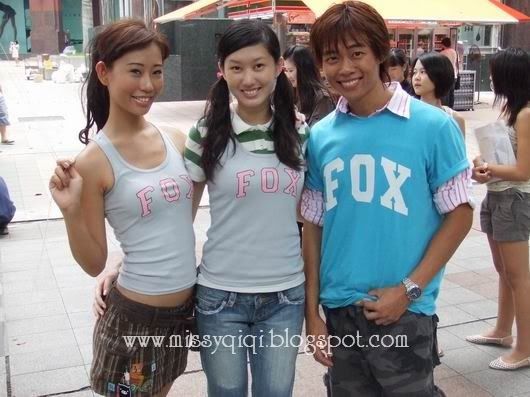 Me, Andrew and Jeanali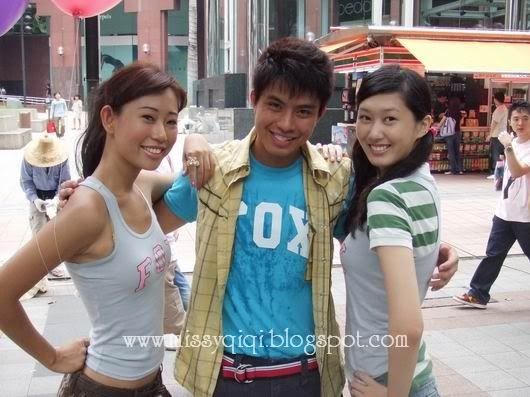 ** more photos to come! 😀 **


While giving out balloon, saw Cindy walking pass! Haha.. so nice to see my missy friend!! Miss her.. So told her that I will give her a call once i finish my job. 😀

After 1 hour, we went to Ahjisen to have our lunch first, before going back to FOX to buy stuff, coz not only I got paid, I was given $50 voucher to shop too! 😀


My seafood Ramen..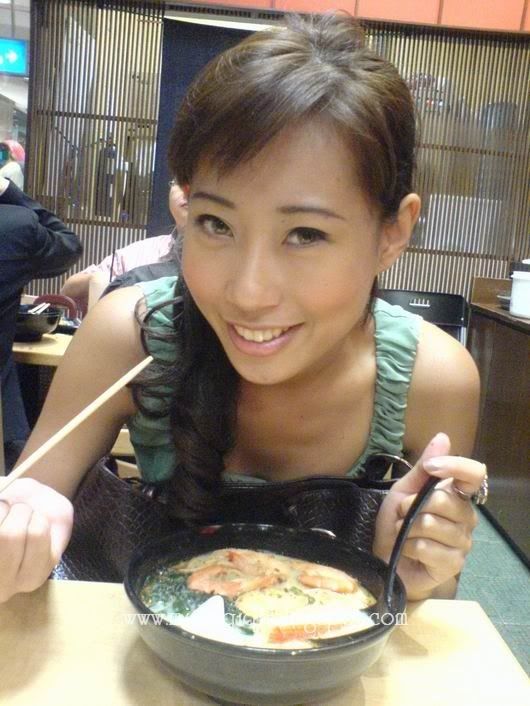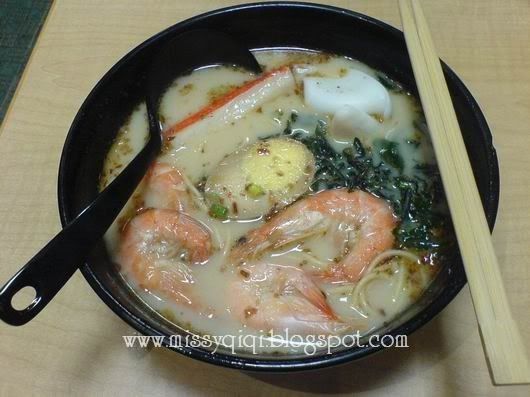 Our side dishes..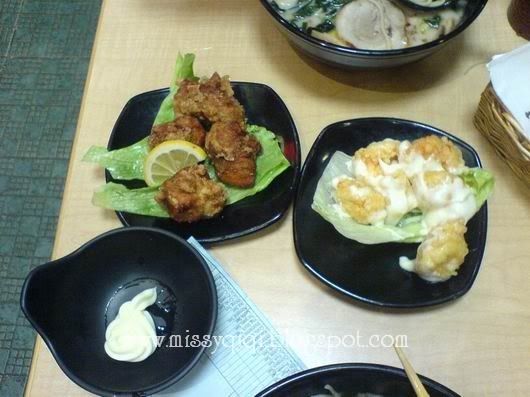 So after eating, we went over to FOX to buy our shorts, Cindy and me got the same cutting shorts but different in colour. 😀 After FOX, we went to the concourse to shop, coz Cindy said she wanted to buy bags for her mom, end up she bought a bag for herself also :p, but very worth it, $50 for a nine west bag orginal price at $129! Is very nice!

Then we walk pass GUESS shoes booth, happy me went to try on every single shoes since i can't buy any.. 😛 and up Cindy said she buy for me, wait till I got money then pay her back, no hurry lor and she help me to choose a pair! So touch… sob sob…

This is the pair of heels she choose for me…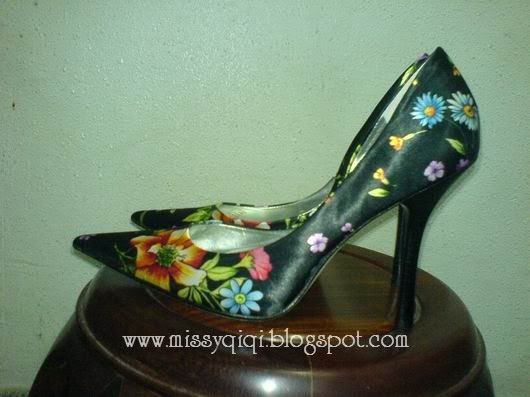 Buying so many stuff, I help her to carry her shopping goods, coz it has been so long I never carry so many shopping goods stuff! The feeling is great, although I know is not mind :P… But having to feel the shopping spree is great!! Haha.. See i good gal trying very hard not to any how spend money 😛


Cindy said she want to go Plaza Singapore to see rollerblades, before that I ask her to go to the SONY roadshow to take pictures first. Coz when I was working giving balloons, .the SONY MC, keep on asking me to take photos (for free)… so decided to take with Cindy. 😀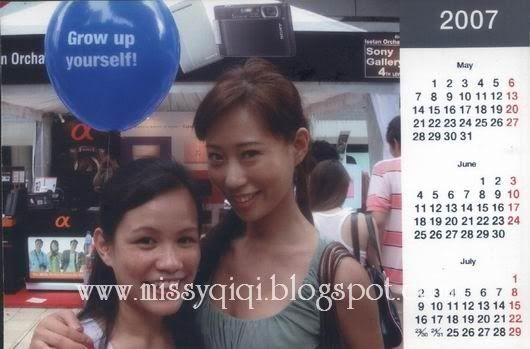 Nice? Hehe…

After Plaza Singapore, we went back to my place for dinner. 😀 That ends my staurday! 😀
During our lunch time, Cindy and me talk alot about the latest happening in ward and the new staff. I have too much too say, but its pointless.. all i can say, the person or company that is doing all the rubbish it may cause nursing in Singapore a diseaster.. They are trying to increse the local nurses, but what they are recruiting is quality not quantity. Seriously sometimes I wonder how this particular nurse can pass through 1st and 2nd yr, by the 3rd yr, she still in a i-don't-know-what-is-happening stage… so everyone have to turn back and see how she do in her previous year. Even does who pass out, is also having this kind of attitude. Sometimes I'm glad that i'm out of this shit, pity my friends who work with them , have to stay over time (which we are not paid for that) and have to account on their behaviour.
Told Cindy that, someone out there is giving out the wrong message, ya being a nurse does give u great satisfaction that other jobs may not able to give you. But it comes with a great responsiblities, not only just staying by the patient bedside, holding their hands and talk to them.. seriously IS NOT!

I'm happy that I pass out from ITE Nursing, coz we went through 2 interviews, just to make sure, we are well prepare for it. And we are taught to be fast but responsible and accurate.


Last week went back to ward, when going back, said bye to my sister. She ask how is my studies and etc. Told her I'm doing fine and still working towards my goal. She ask me, still persistant in what i'm doing. I pause for awhile and said YES, said goodbye and went off.

Ya i agree nursing is all along my passion and what i was wanted to be since young. But it really disappoint me how the systems works. I'm not sure whether is it because the company or the whole company in singapore is like this. I don't understand the meaning of "special group" which they study only 2 yrs compared to the normal 3yrs. They are suppose to be better and thats how i feel, so far I only feel that 1-2 of them can work with, for the 1st batch that comes to my ex-ward.


Maybe the new or nurses-to-be getting better and better.. not getting worse batch by batch..

Nights….