Finally have free time to upload my photos taken last week! 😛 This few days have been "fighting" with my mom for computer, coz she needs to finish her projects, i also need to do my projects and also blogging. In the end my mom "won" the fight, and i'm lying "dead" on my bed!
So right now using the computer while she's cooking! 😛 Lets have a look at the photos taken last week, will be posting the recent one post first!
Me after the preview show at Toa Payoh. Felt hungry after the show, so went to Mac and bought kids meal to "satisfy" my stomach first before reaching home for proper dinner. After buying the kids meal, the lady at the counter asked me to choose 1 toy out of the 2 she showed me, then i realised there is free toy for every kids meal bought. 🙂 So i choose this! I know there's a name for it but can't remember. It very cute, when u press his/her head the orange will light up!
Me in cheongsam and introduction outfit. Photos thanks to Thomas

~~~~~~~~~~~~~~
My friend! She's a pretty lady!! I like her smile, her name is Belle but i always blur keep calling her "Bella" -__-" Got another friend of mine, also a pretty gal, shiying, but she shy shy don't want to take photo… 😛
Haha anyway took this photo coz saw the guys in front kept on taking photos so i follow them also. 😛
Another pics is my account lect! He'a a very funny / crap guy! Makes our morning lesson interesting, otherwise i think i will fall alseep! zzZZzz
~~~~~~~~~~~~~~~~
Meet Benny up on friday to go to suntec to buy presents for mom and shop around!
We went to shaw tower to have our dinner, both of us love the food at this particular store. Is call "Superum Pork Chop Rice". Is managed by a couple who came from taiwan! Their food stall has been intro by "Yummy King" before. 🙂 Benny know about this shop not because of that, coz previously he worked in Suntec, so he know the place quite well. 🙂
Waiting for Benny buying the food. Actually the "ghostly" figure is him, haha.. didn't realise he's back.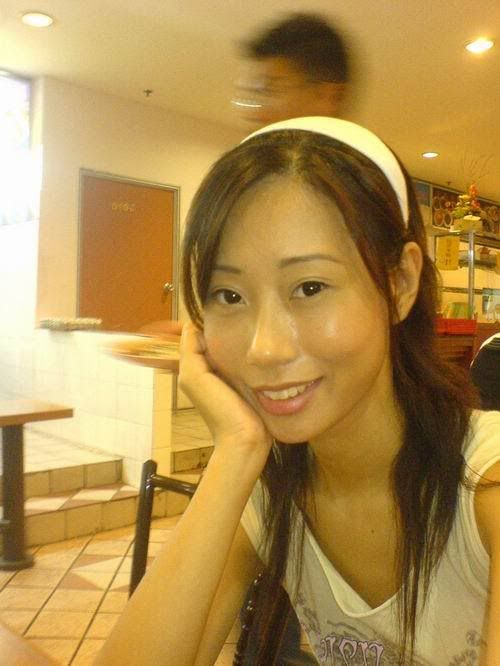 Here comes our food! Mine is fish and Benny having Chicken meat! The meal comes with a healthy seaweed with egg soup! My mom love to cook that too! Taiwanese dish.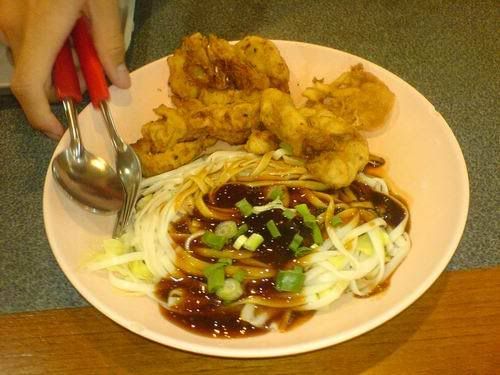 After eating we went to suntec to search for present, and went to NOVO, coz they are having sales! While i was looking around,
benny said: Give you chance to be cinderella.
me: ah??
benny: If u can fit into any pair of the shoes here i will buy for u.
me: really ah?! okok! 😀
So i went over to the display table and have a look, they are having 50% sales on last pair of shoes. So i went over to have alook, hoping to find one which suits me espcially a pair of flats, coz i don't have much flats, need to find one comfortable flats for going to school 🙂 Finally manage to found one! So excited and told benny, and asked him again is it for real he said yes. 😀 haha.. though he keep on asking me to look around and buy some few pairs if i really like coz they are having great sales! i refused, though deep in my heart i really want it! Coz right now i'm not working much, so whenever we go out Benny is the one paying the stuff that i want etc, so cannot spend too much also. 🙂
here is my nice flats!! Have been aiming for it since they take in the stock but didn't buy it, coz find that $40 for a pair of flats is ex to me, but if for heels is ok. 😛

So after buying the flats from NOVO we went to Carrfour to shop around and i saw this nice decoration! The pumpkim is so big! When i saw this not only i thought of Halloween is round the corner, i also thought of pumpkim soup is nice too!! 😛


~~~~~~~~~~~~~~
My sister, her guy friend and me decided to have Mom's birthday celebration on thursday coz weekends both of us are not free. Dad need to work so he couldn't make it, but he send some mushy msg to mom :P. Brother also didn't go coz still in camp same as Benny. 🙂
Pink roses for mom.. from sister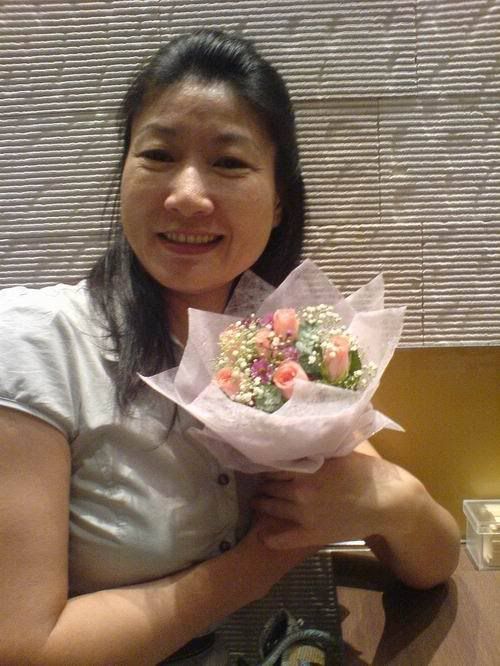 One of my favourite, Seaweed Raman, i just love soupy food!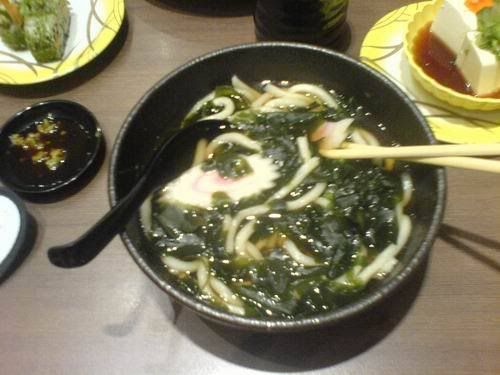 One more shoot before going off.. (I'm wearing the shirt that Benny bought for me from taiwan! Nice!!)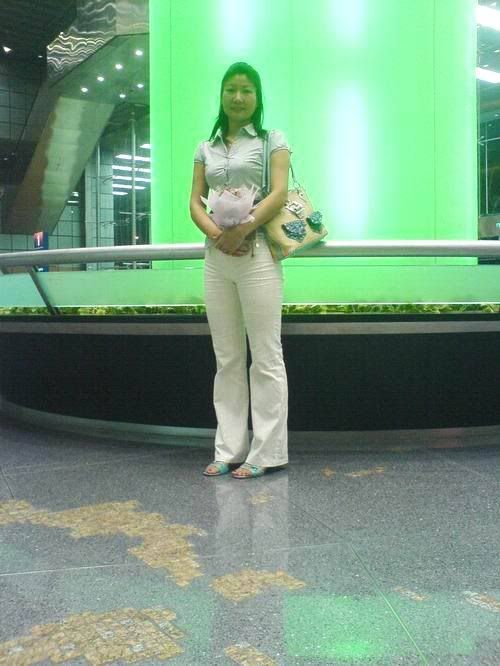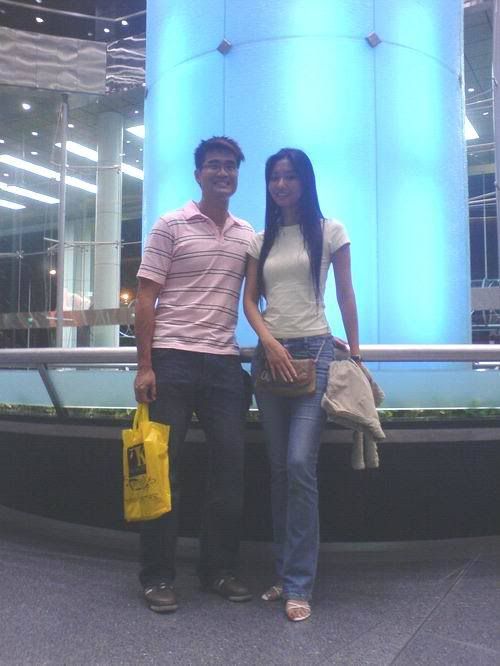 Ok thats all but to end my blog as usual, a few shoot of what i wore last week to school and going out after that.
~~~~~~~~~~~~~~~~~~~~~~~~~~~~~~~~~~~~~
Oh ya one more thing, our Business Communication Lecturer, Mrs Kwok, her son, Keith Kowk is a song writer and producer. He is having a seminar at Park Mall on the Nov. The workshop is about to allow participants to experience and learn how a song is produced and recorded in the studio using today's industry standard for multi-track recording etc. The seminar is quite affordable. More details at http://www.soma.com.sg/. I wish to attend also! 😛 Curious how excatly a song writer or producer work? Hope i will be able to make. 🙂


Another thing is before my school starts, i have been watching this Japanese drama series from youtube. Is a very touching true story about a 15 yrs old gal who suffer a rare disease. The drama is call "1 litre of Tears". I cried alot espcially episode 10, i cried very hard, i couldn't feel or understand how she felt when she's having the illness. I only can share the sorrow and happiness she had and now i shall share it with you ~ my blog readers. Slowly take your time to watch, altogether there is 11 episode.
http://www.youtube.com/watch?v=IW9b-b1nUZI
Hope u guys enjoy! Back to my studies! 😛