Accompany my sister and her in-laws yesterday for concert at Victoria concert hall. Is a Asia competition for Chinese chloral.

Sister and me

The participants from China, Indonesia, Malaysia, Singapore and Taiwan

Me, wearing maxi dress from Old navy, gold sandals from taobao and my fav owl bag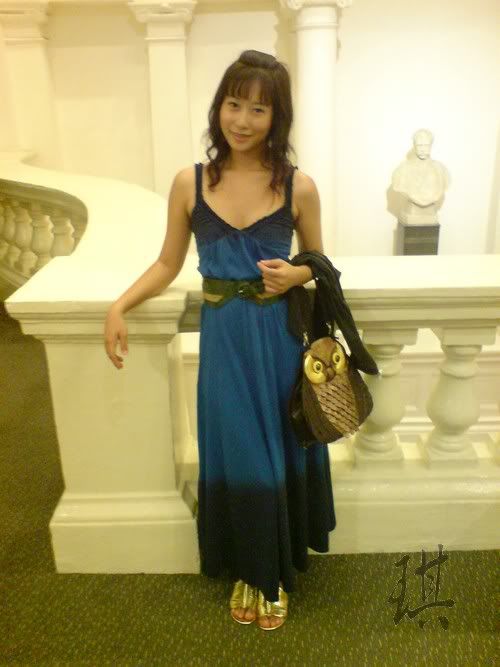 After the concert, Benny fetch me home then we went for supper at mac. Bought Happy meal to get the doremon.
He wants to eat apple dippers

He's happy after eating

LOLZ.. I'm lame.. Hahaha…
My supper wear:

TAIWAN DAY 6
We went to temple which was affected by the 921 earthquake and after the temple visit we went to Centre for traditional arts ~ 国立传统艺术中心. For those who is going to Taiwan czn visit this place as it shows taiwan cultures etc. More info can be found HERE.
At temple: They rebuild the temple and set up a studio to let us experience the earthquake and also the journey of Buddha.

They paste quite a number of quotes around, but this is the one I like best.

Meaning:
The world's best thing is ~ Happiness
The world's expensive charity is ~ Kechien
The world's greatest strength is ~ Tolerance
The world's biggest force is ~ Willingly
We saw this cute Pomeranian. Quite different from mine, the nose is flat, mine is quite sharp. Haha.. like the owner, got sharp nose (haha thats me la..)

Dad acting like a paparazzi

Mom and me

At Centre for traditional arts~

Staff doing explanation about the centre

出发咯

The design of the centre is quite traditional. Some pics of their building deco

Dad playing traditional game which is still quite popular in Taiwan. Some school even have this game as their CCA.

Musical centre of different cultural

My parents and me

Hey.. no peeping

Dad and me

Yummy

My lovely parents

Sis "dreaming" of Jie shan propose to her at the "Paris Tower"

2 big adults sitiing on the toy wooden chair.. lolz

Dad is playing another traditional hand puppet which is also still popular in Taiwan. There'a a tv series for this kind of show.

My fav candy floss… me talking to my aunt. I love her lots.

This bicycle is very attractive hur, everyone is taking photos. This bicycle is those older days where those seller ride around selling their stuff.

The couples: My parents and my sister's in-laws

Saw this cute kissing wooden pig. Haha.. just like Benny and me (both our chinese horoscope is pig)

Look closely this one is not ordinary charcoal, its money! Haha.. if you translate to chinese means "earn money" charcoal in chinese means "tan" which sounds similar to "earn" in hokkien.

Thats all for taiwan day 6! 😀
Here's my wear for the past few days:
The top is from ilovebeingreal which is one of my favourite top.

Cotton on dress, racer back top, belt from F21 and wedges frm wetseal

Eyelet dress from old navy and crop jacket. Shoes from F21.

Simple dress for work on sat, gold fish-bone sandals from taobao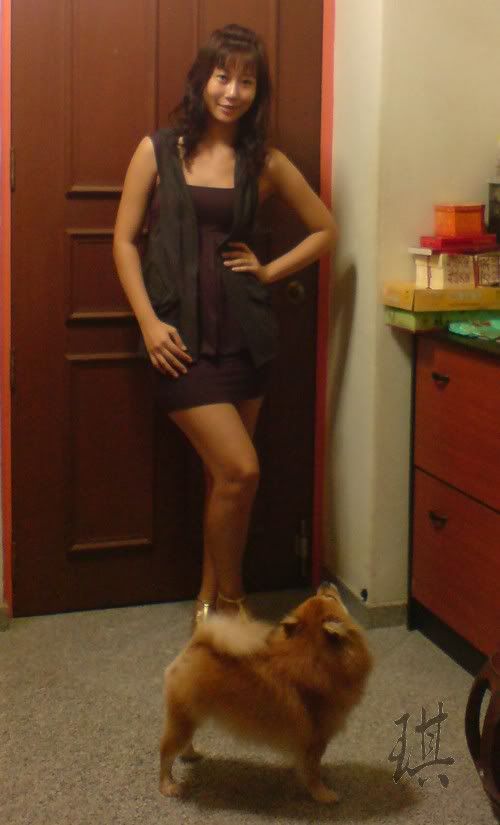 I heart this fish-bone sandlas coz is special and nice, can wear if for casual and with a dress for abit glam look.