Clarify something before i blog my daily stuff.. Actually is nothing serious or bad about it, haha.. Thanks for the ecouragement my friends send me through SMS and tagboard, but I never join this year MSU la.. Haha..Think most of friends don't watch it sia.. haha.. AS what the chinese saying "Mei li de wu hui" ~ A beautiful mistake.. 😛

Ok back to my blog!


Monday ~ Met up with Sayli, Andrea, Sue Ching, Yishan and PeiZhen for small dinner gathering. Coz Sayli is back from Australia after studying for 1yr plus. She bought us alot of stuff!! Cool!!!
Hehe.. never take photos of the present. :P… Will take in a later date.. The present i had is 2 branded undies (:P), 1 black neclace, 1 green neclace and 2 kiwi chocolate!! 🙂 Thanks to her for the present!


Didn't took much photos on that day, coz i was very tired after going for 2 casting. Actually the casting is alright, just that the waiting makes me very tired. 1st casting at around 2pm and the next casting at around 6pm. Sianz..



What i had for dinner..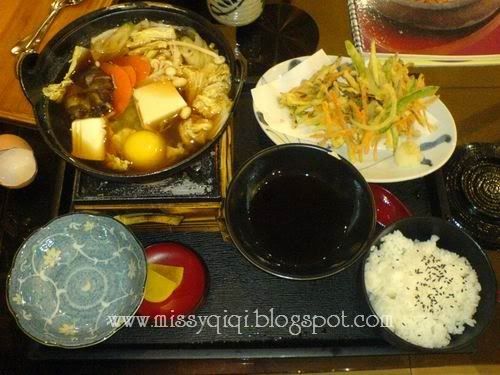 Sayli.. the long hait gal is sue ching..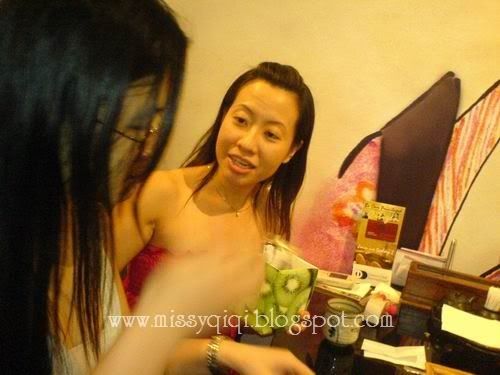 The 3 gals trying to eat the kiwi chocolate together.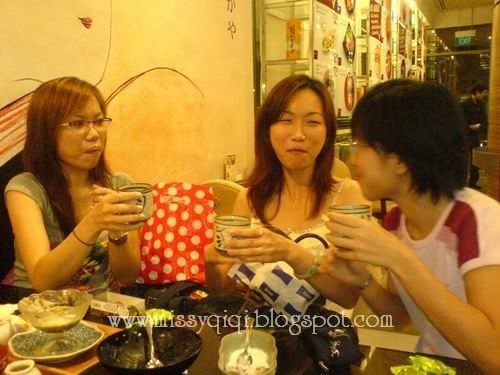 Afnd they cheers after eating..





Me, Sueching and Sayli..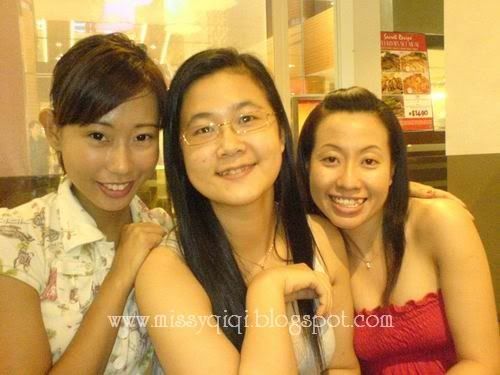 So we ended our little gathering till the shop closes.. Miss them alot and my ex-job too..


Monday ~ benny came to fetch me after school. Just nice he's having meeting in his camp with is just nice beside my school. We have no idea to go at first, so just aimlessly walk to the bus stop opposite school and see what buses can take us the lost soul to.. 😛

So we decided to go IKEA, coz Benny wanted to eat meatball.

Upon arriving, we decided to "explore" the neighbourhood shop houses before going to IKEA.
After exploring for awhile, I wanted to go toilet urgently, so went to a coffeeshop which is directly opposit, industrial park blk 9001. The reason i mention the blk is because, Benny saw this Q in one particular store ~ Fish soup store, so he decided to have a lunch here. In deed, the fish soup is really very nice! Unlike most of the fish slice soup store, this store fish slice is quite thick about 0.5cm thick and they have lots of cabbage which makes the soup naturally sweet and it have fishball too! Very nice..


After enjoying the fish soup, we continue walking around the neighbourhood before going IKEA. Then we walk past this vintage confectionary store, really very old! Too bad, at that point of time didn't think of taking pics. 🙁 . Benny and I saw the egg tart very tempting , so we bought 1 each to have a try! Those who love rich taste of the egg tart and crunchy of the crust, should try this is really very nice!!! I didn't notice the blk no, only know that is opposite IKEA. After eating the tart, we decided to come back later to buy some back for my family to eat.


Finally we went over to IKEA and walk around, trying all the sofa, beds and cupboard, as it we are going to buy them haha… and i have some fun at the kids department too!! (don't tell anyone i'm 24 liao.. faint!!)



AH.. HELP….. Got spider got spider!!!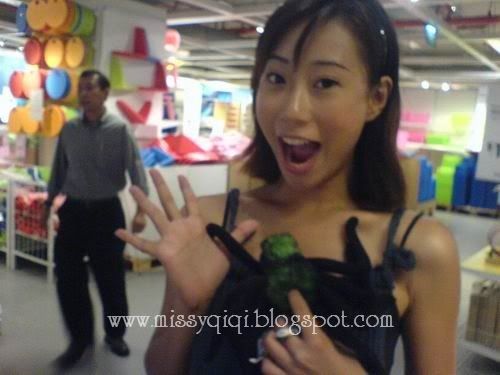 The bat… Its suppose to be upside down coz its still broad daylight! Haha…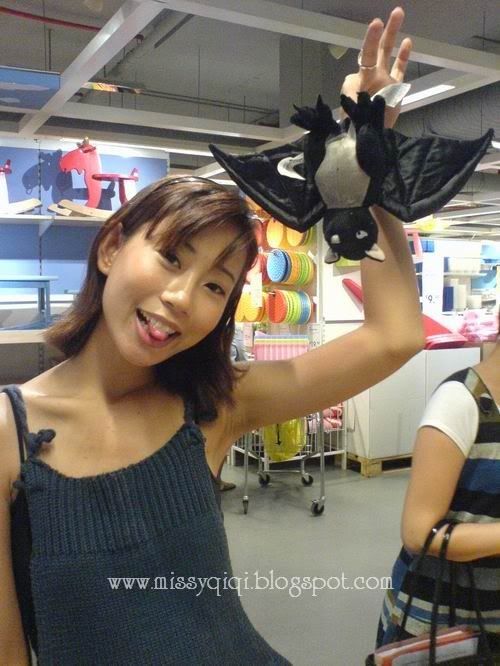 RAT!! Benny said i look ugly in this pics.. haha.. 😛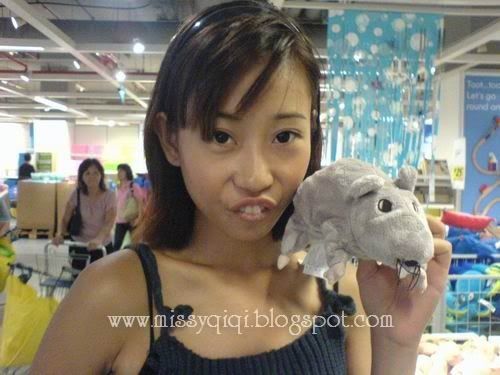 Not fun if i just enjoying myself, so i force him to pretend also, using the horse!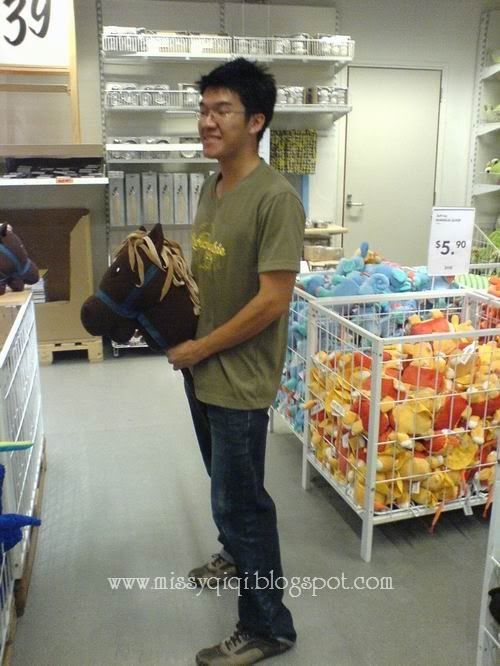 Benny important person in the world.. 😛





Once we had enough fun, we went to have Benny's meatball and mine chicken wing!!
Nice nice.. makes me having craving man.. the sauce just goes so well with the meatball..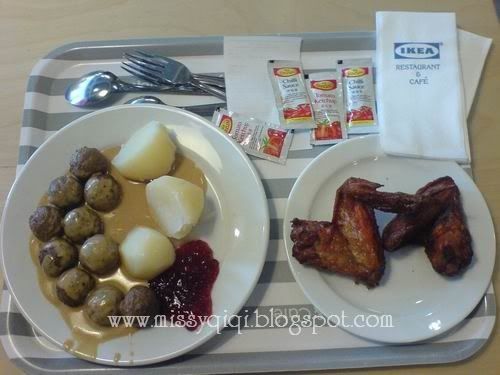 After eating, we continue to walk around IKEA till we are tired, then i told Benny I want to eat the IKEA hotdog! Hehe.. So we went to buy and eat again! Haha… Eat and eat the whole day..

As said earlier on we walk back to the vintage confectionary for more egg tarts, when reached there, the egg tarts SOLD OUT!!! :'( I want the egg tart.. so Benny promise that we will come here again to eat the fish soup and egg tart again!!! Happy!!


Withing less then 5 hours, we have been eating alot of food, but i really enjoy it! Maybe just like my horoscope, just love to eat!! Haha… Piggy.. lol…


Last pics for today, me without makeup, taken in school last week!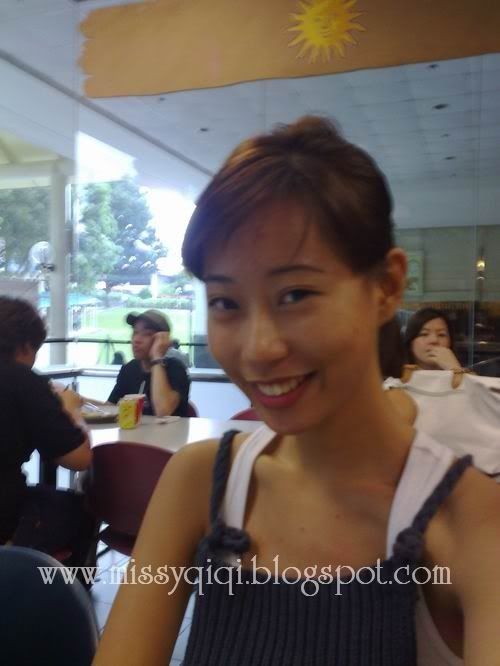 There's a reason behind this photo.. As what most the skin care products marketing person said or fashion magazine, gals have to protect their skin from wrinkles once they reach their mid 20s. So taken the advice, and also having a anti-wrinkles skin care products set, i decided to use. And ever since, I come back from China, my skin condition is not very good, coz of the dry weather in China, the late nights for studying exams and late nights after exam watching shows from youtube. So it never occured to me that, the products i'm using are the "culprit". Until one day, when i go for my facial appointment, while chit chatting with the lady, she said something which struck me! She said, sometimes when we use certain products that doesn't suits or skin, we will have breakouts. Then she give example like anti-wrinkle products. She said although, most beauty experts advised to use anti-wrinkles products to prevent anti-aging, but if your skin haven't reach that stage, means still have elasticity, collegen etc and if you use it, instead of getting positive results, you will get "backfired". Then i suddenly realise, is it because of the products i have use? So when i reach home, faster clear my products and give it to mommy to use. Mommy scolded me for not listening to her 🙁 , lucky i got mom who is a beauticial and i'm still having my free facial treatment otherwise i will cry man!!

So to speed up the healing speed of my face, i don't apply any makeup and go to school, thats what i normally do when i feel that my skin condition is not good. And my friends was quite suprise on what happen to my face, coz even though during my exam period, the breakout is not so bad as this. The guys, wanted to take a pics of me without makeup and with my breakouts, espcially Jerry and Brian!! Haha.. so bad of them… So instead of them secretly taking the photos, which may makes me look worse, so i said i snap it myself! Haha.. at least is nicer.. this photo is shrink, so can't see my breakout clearly, but when zoom.. wah.. faint man..
Haha.. but i'm glad is getting better.. 🙂


Tired.. my eyes is not listening to me…feel like closing while typing half way.. hope u guys understand what my this entry about.. haha.. got to sleep.. night night!!