Just wake up not long from nap, suppose to be studying for my law class test this coming saturday, but weather is too good :X
And since i'm suppose to be studying but now I'm blogging.. -,-" Later must really study!!
Continue…
7. SFW Wrap party at Zouk! 19.10.2007
Yifei called me up few days before the show asking me to join in the party as Kovit and Lionel will be performing.
At first, we have no idea what will they be doing, but few hours later.. the party starts…
I should said that they really did a wonderful job, walking with the long gowns, high heels etc..

Kovit and Lionel

Suekay, Mr T., Yifei and me (i didn't know my tongue is quite long :P)

me, yifei and Kovit

At the backstage:
Suekay, Yifei, Lionel, Mr T. and me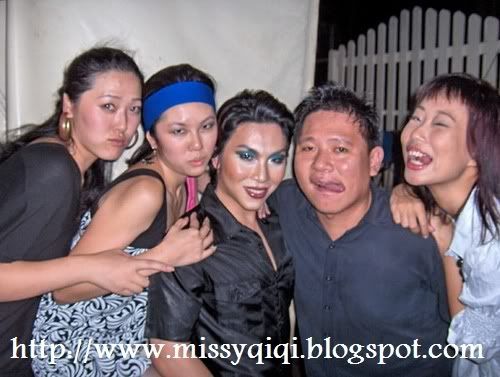 Yifei and me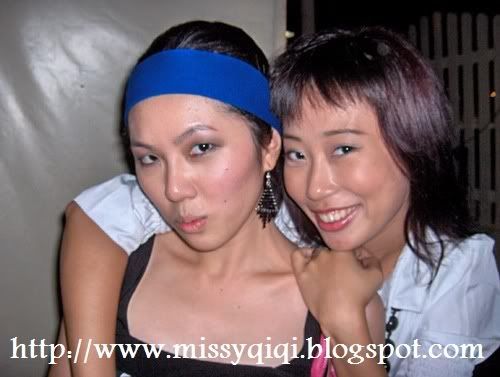 Kai, Mr T, Lionel, Yifei, (forget his name :X) and me

Yifei and Benny

Benny and me :p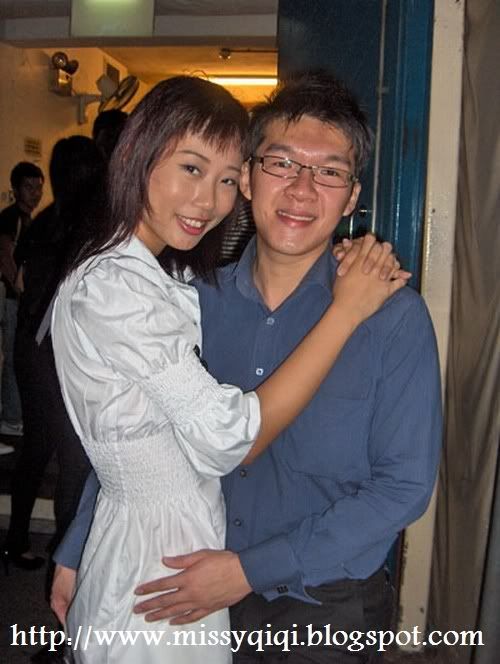 We went to have roti prata feast after that and then went back home because next day I have 2 fashion shows and also I'm not a clubbing person. 😀
Is really an enjoyment to see that designers, makeup artist and sponsors really put in an effort for this wrap up party. Not only that, they also show case the past few years of SFW. Past 10yrs of SFW used mostly chinese models and a few of angmo.. but this time round is the other way.. Hope one day it will change back agin for good.. but still I'm not tall enough yet.. lolz..
8. Kai Fashion show and Yvonne Creative Bridal show 20.10.2007
KAI Fashion show
**Thanks to Shn for the pics**
Woke up early for the rehearsal and make up.. Was quite tired due to sleeping late the other night (SFW wrap party). But manage to rest for awhile after the rehearsal and while waiting for makeup to be done.
Shn, Jessica and me went for late breakfast while waiting for makeup.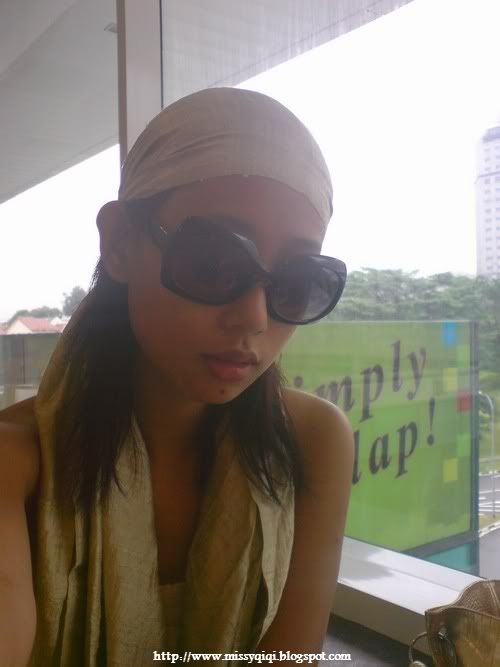 Shn and me

Jessica, Shn and me

The talent and wonderful couple/designer, Kai and her hubby. 😀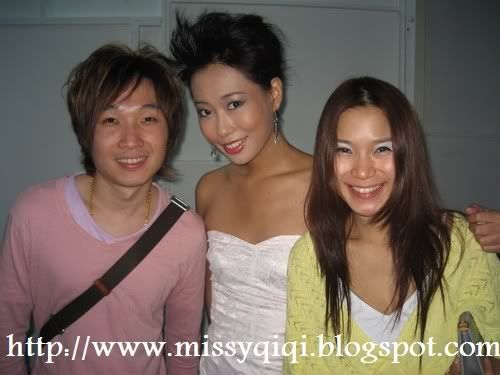 All the models at the back stage

Was quite a chaos at backstage and on stage… because we don't have a cue at the backstage and we can't see what is going on outside, but luckily we manage to finish the show well. 😀
Bridal Show (My dream wedding)
After the show, rush down to Changi Village Hotel for bridal show. Thanks Benny for coming to watch the show and buying bread for me, so I can have it while on the way to changi.
Once reach, Shawn (cheorographer) straight away told me the cheorography by mouth, as I miss the rehearsal earlier on.
**photos thanks to Jonathan, Cailing and Vanessa**
Why I called this bridal show "My dream wedding" because I love Changi Village Hotel and most importantly I love the 1st wedding gown that I wore! Will change the design of the gown when my big days come, but the concept is there. 😀
The ballroom, like what Emmy said, seems like this how is really for me.. Because they have chair decor in blue! I ♥ ♥ Blue!!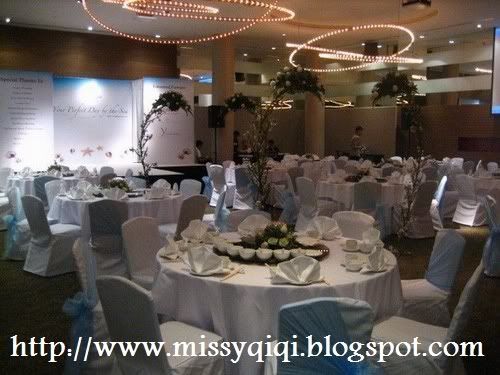 Me touching up my makeup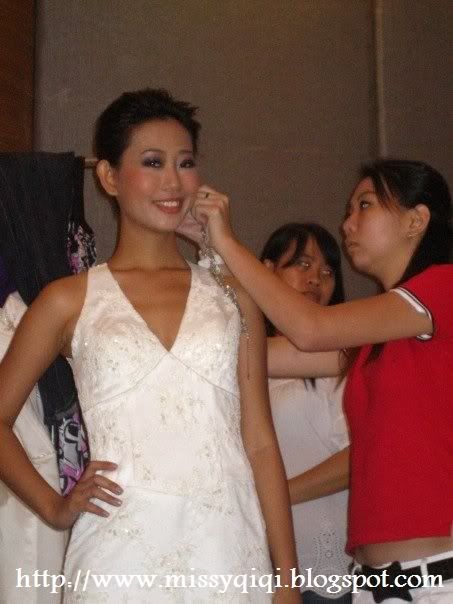 Busy talking at the backstage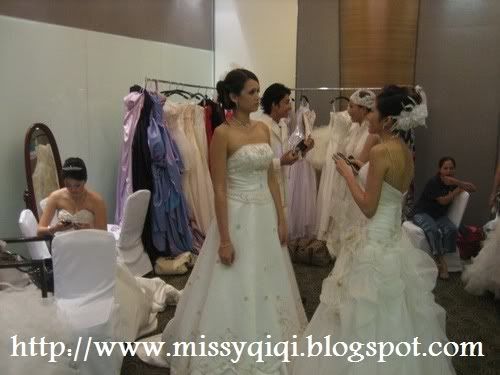 Here comes my fav wedding gown!! I really love the lace and my head veil..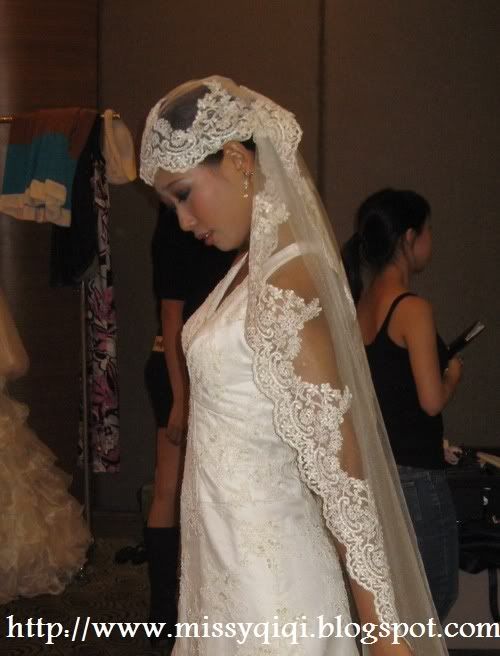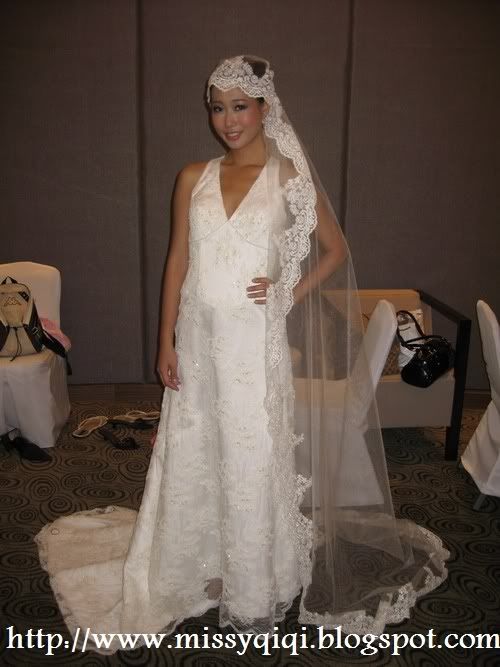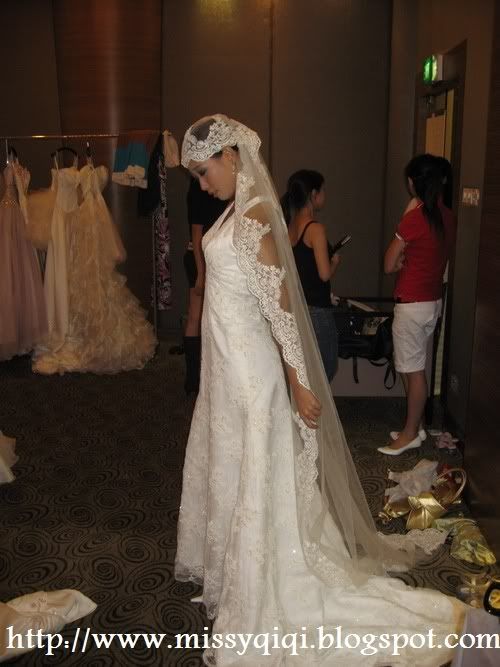 Vannesa and me

Vanessa, me and Yifei… Can't remember what she's doing but the pics turn out like she's scolding ppl but which is not! Haha..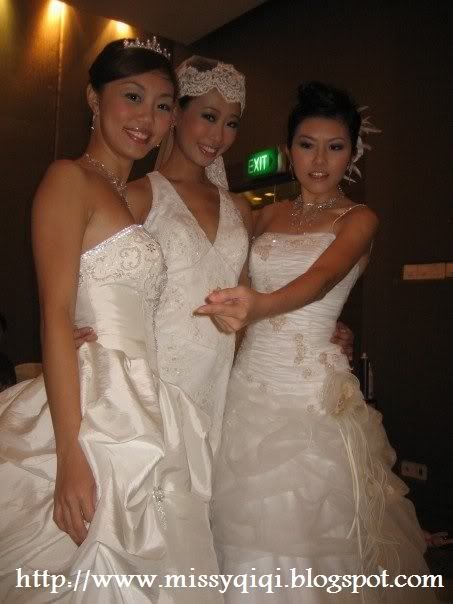 Jonathan and me

Emmy and me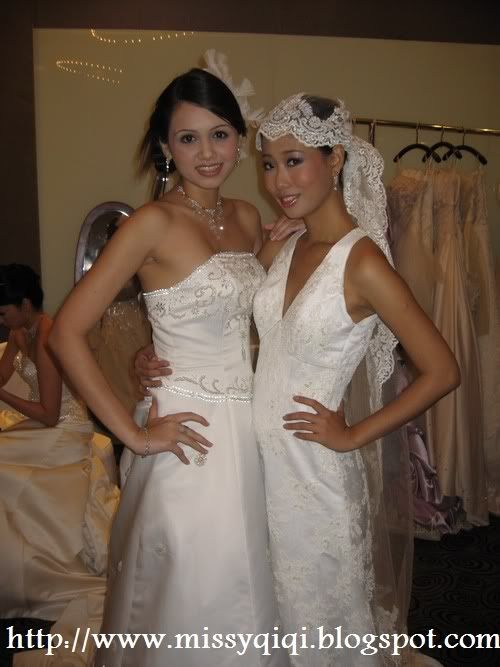 Emmy, Jonathan, me and Yixiu

**Photos with Genecia got to wait till she upload.**
In the mood….

WE love each other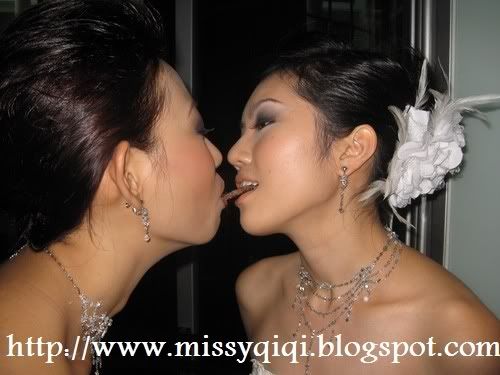 After the show, Jonathan , Yifei, Vanessa and me went upstairs to the pool side for another round of photo taking! 😀 But because of that we miss the delicious dessert.. -,-"
The scenery at the pool side is really wonderful. I heard from the staff there, there are 4 location of doing soleminsation. The place we are taking photos is one of them. Is really beautiful.. It will be best if the decor is Gold or Blue.. 😛
Me.. in the 2nd outfit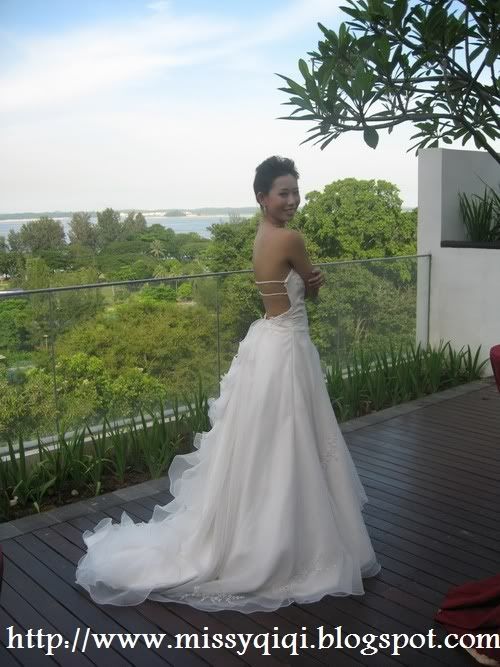 The 2 brides and Jonathan.. We are suppose to take a mood kind of pics.. but have no idea why Jonathan is smiling!!

Lucky Jonathan haha.. with Yifei on his left and Vanessa on his right

Jonathan and me.. again he's smiling when its suppose to be mood!

Yifei and me..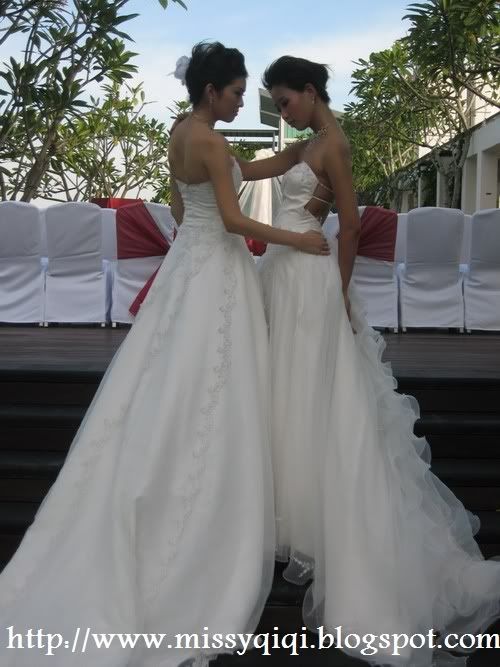 Due to the mood and the beautiful scenery, Jonathan decided to ask Vanessa to be his bride.. but….

Vanessa refused, so Jonathan ask Yifei…

Again he was rejected.. 🙁
Me at the beautiful table

Jonathan and me.. Came over to join me after the 2 gals rejected him.. muahaha…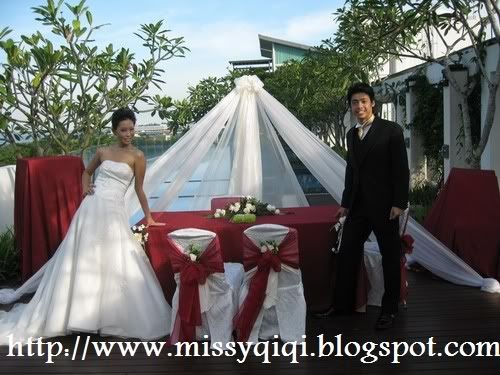 Thats all for My dream wedding. 😛
Finally I have finish all the photos taken and events/shows that I have done for that week! Haha. Really lots of it!!
OK got to get back to my studies and projects!!! 😀