Hi ppl, i'm back to my normal life le!! No time to blog much about the event that is so happening last night, coz i need to rush off to work, yap i'm on night shift!!!

BIG BIG thanks and hugz for those who have voted, support and given encouragement to me!! Coz i make it to the top 12 and i'm the MISS SINGAPORE WORLD 1ST RUNNER UP!!! Really thanks alot!! But yesterday night is really a very streesful day for me espcially when i know that i make it to the top 12 i have to face the QnA!!!! I cried after i have done my QnA… 🙁 coz i don't know what the hell i'm talking although my friends at the backstage said that i got my points correct but i just didn't get it there. 🙁 Never mind since is over le.. I shall said and post more happy stuff!!! I really enjoyed my nights to the fullest!!!! POst one pics to show u my appreciation!!

Only took one pics of myself 🙁 coz the photographers keep on taking photos, no time to ask ppl take many shots of me.. all with friends and other contestant… And the only pics i look damm tired!!! Coz the event finish at almost 12mn, and we got up around 7am in the morning.. TIRED!!!

Oh ya, and the 3 BEST MODELS and Runner ups are here to escot us!! So happy to see them!!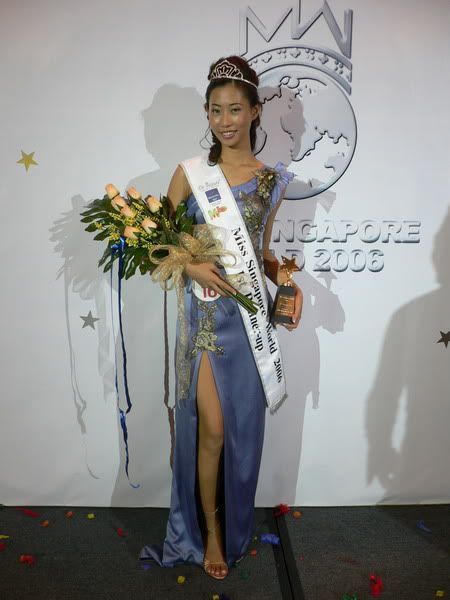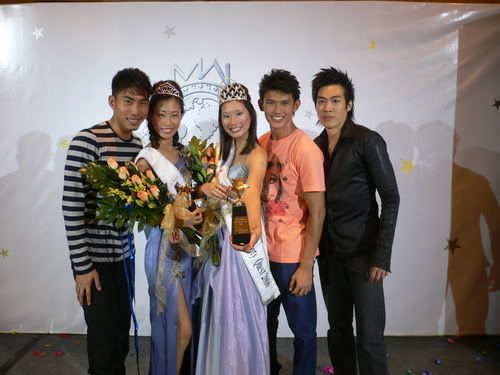 FOOT NOTE: Joining this MSW, really makes me think and see lots of things and ppl around us. Frankly speaking, joining this contest is not what i want. Coz i wonder whether can i take the feedback of what ppl have said about beauty pagent. Especially the remarks saying contestants are "f***king ugly", "should see the mirror" blah blah.. When i first saw those remarks, i feel quite upset, msg one of my gal friend – angel aka KK, to told her about it. After talking for awhile feel much better. Know how to handle better, but of coz i will still feel abit upset.. 🙁 Anyway i still have to thank those ppl who have wrote or said bad remarks about me or the contestant.. coz your remarks have make us even more stronger and know how to face it well. 🙂

OFF TO WORK!!!