After working, on my way to Benny's place, wanted to buy lunch for him, then realise i left my wallet in the mobil1 bag and is with our in-charge.. -__-" Sotong… Think i eat too much of it. Last few weeks i left my makeup stuff in the bag and today is my wallet… Lucky my ezlink card is in another card holder otherwise got to call her to drive back again, so paisei.. 😛

Less then 2 weeks will be the finals for Miss Singapore Universe (not Miss Singapore World, alot of ppl getting mixed up :P). Only recently or rather last year and this year, I started looking out for pagents, not that I want to join but to see starting from a normal gal transform to an elegant and beautiful ladies after lots of catwalk training, poise training and etc. Before joining I never thought of pagent is a difficult process, and of course I will give some comments like what most ppl do. But when I started to join last year, or maybe I should said when I started to join modeling, I know that things are different from what I have seen or perceive in the media.

Is actually good that comments have been given every year for Singapore pagents at least singaporean do care about image and they truely wish that the choosen one will really represent singapore well.


After representing Singapore for 2 occasions, I came to realise one thing. Most of the countries, they do have school, open purely just to train gals to be prepared for pagents. The student are not in the 20s but in the early teens, or even younger. They have places for them to train how to behave, to walk, to poise, to talk, how to build confidence and to groom themselves. They are well prepare for the pagents few years down the road. In singapore we do not have this kind of school to specially groom the gals for pagents. So finding gals in Singapore to take part in pagent really takes quite an effort, as standing on stage really need lots of confidence, lots and lots of it. As for me, to tell the truth, after joining 2 model compeitions, miss singapore world and miss chinatown. The only pagent i feel most comfortable and confidence expressing myself and walking on stage is Miss Chinatown. Yap after taking part 3 pagents before that and some modeling experience. Is really not easy.


Actually not only in the 80s or 90s, Singapore got international awards. Recently we had it too, but the news coverage is not much compare to MSU as the rest of the pagents is not cco-conduct by mediacorp.

Like last year:

1. Miss World held in Poland , we have Colleen getting 5th in the beach wear final ~ http://www.missworld.tv/news/fullstory.sps?iNewsid=361219&itype=&iCategoryID=0

2. Miss Toursim Queen International held in China, Ssunita, she's the 3rd runner up for the pagent!
http://www.misstourism.com.cn/misstourism06en/a1show.asp?id=333


Its cool right, so no matter what gals took part in the pagents, we still must give a credit to them having the courage standing up on stage. Must Jia you! Espcially to Peggy and Yiming. 🙂
** Me got a chance to go to finals live!! Yappie.. Better keep my fingers cross… so excited haha..
~~~~~~~~~~~~~~~~~~~~~~~~~~~~~~~~~~~~~~~~

SALE
Not sure when the sale going to be end, thats the only info i got from the mail. 😛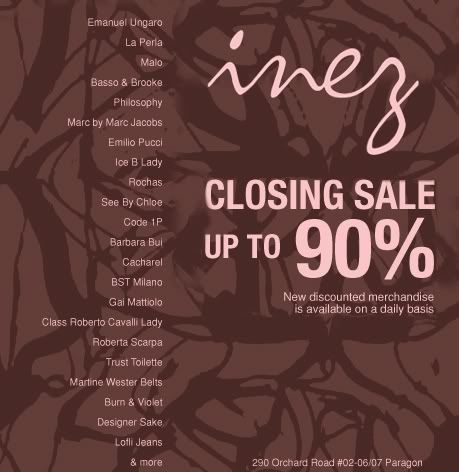 Lastly, my friend sms me that one of the petshop in joo Chiat is closing down tomorrow. They are giving away 2 huskie, 1 black labrador, 1 shitzu, 1 huskie terrier cross breed. If nobody want it they are going 2b putdown. Those interested pls leave a tag on my blog or comments below. I will given you the person-in-charge contact no. Have it if you really have the time and patience, otherwise pls don't ok.


Night night.. weekend is ending..