Sianz.. past few days have been raining. Not that I hate raining but its causing me hard to get out of bed! Well one of my resolution ~ having a healthy lifestyle which suppose to include only excerising and eat well. But my daddy, add in another one for me that is, sleep early and wake p early. My early ~ 12pm plus, his early is 8am!!! Faint! I'm used to sleep late wake up late. Anyway, instead of waking up at 8am, i told dad i will try to wake up at 930am instead. But lately due to the nice weather, I really can't wake up on time. Is so nice and cooling to sleep!
Daddy only gave me 1 hour allowance to wake up 🙁

Other than the rain causing me difficulties waking up, is when I go to school, my shoes/heels will tend to get wet, so uncomfortable and lastly the long bus journey ride from usual 40-45mins become an hour or more. Thus make me even want to sleep more… -___-"

Anyway nothing much happen for the past few days execpt that my projects and assignment seems to increase instead of decrease. 🙁 Need to work hard and finish it before I go to China for competition. Thanks alot for my group memebers for understanding, cause them some problems due to my leaving as we request to rush the projects before i leave. Big hugs!! 😀

Took some bo liao pics, coz nothing to do on the long bus journey ride, besides listening to mp3 and read story book.


Raining views…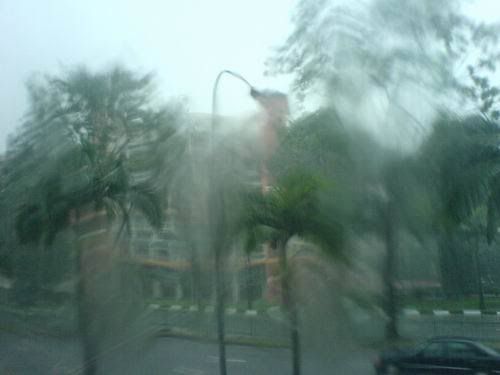 Taken few days back when is sunny day!!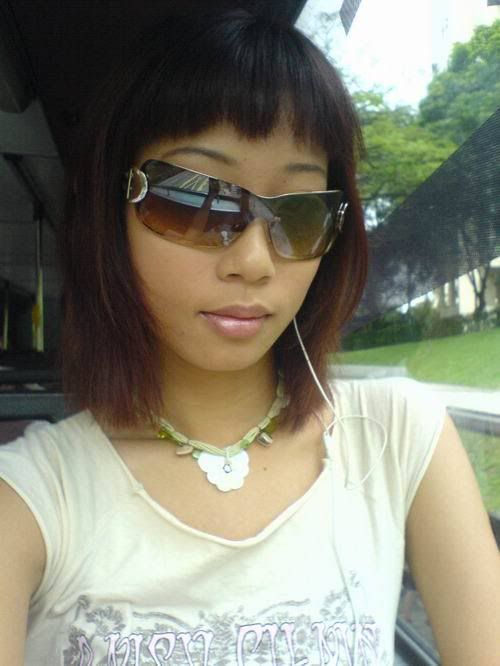 My class..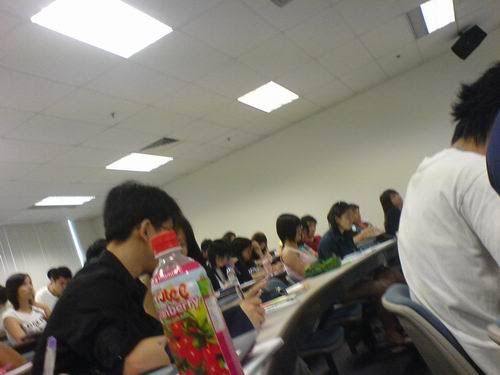 My ah gong hairstyle 😛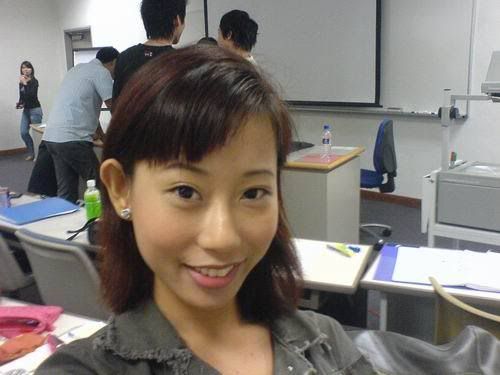 Ok time to sleep! Finish 1 group assignment is "N" more to go..

~~~~~~~~~~~~~~
Watched a programme yesterday regarding one of my colleagues at work. They filmed it inside the ward ~ previously where i work. Yan Peng send me a msg asking me whether i miss the ward after watching the show? Answer is YES!! I really miss the time I worked together with my friends. Though we may have some arguments but still we have strong bonds.
Will miss them and my job very often espcially when I saw accidents, medical news or program featuring nurses.

I miss "fliping" pampers on my friends face
I miss talking rubbiosh to patients
I miss "staring" at unpolite relatives who thinks we are slave
I miss doing dressing and "sucking" blood
I miss my friends the most the moments we share

This about are memories I had and I bring along with me after I quit. No regret of quiting coz if i choosen the path I will never turn back coz to me, my life cannot have feeling of regret. Even if in the future I realise I have make the wrong choice, I will never regret coz in return I gain more experience, patience and other form of knowledge. 😀

But still: I still love being a nurse. Although I feel that I may not be a very good nurse but is a process of learning to be one and also the satisfaction is greatest than anything else. 😀


~*Counting down 16 days more to Beijing*~

Miss Chinese International is finals will be on 20 Jan! Have been checking on how Cailing is doing, 😀 her recent talent segment is a cool one! Lucky for my model pagent there is no need for us to do talent segment, otherwise besides performing procedures on patient not sure what talents I have wahaha.. 😛

See the news @ www.misshkbeauties.com


Night Night! 😀