Finally went for fitting for my competition. 🙂 Tired alot of gown -__-" So sad.. but still i manage to get what i like!!! Before that went out with mom to IORA to buy clothes using the vouchers from MSW. 🙂 Bought myself a pants and a necklace. Nice! After that mom accompany me to went for fitting, together with Robert also. otal i have 2 evening gowns and 1 national costume. We choose a cheongsam like costume as national costume. I took a photo for my last gown for the final round. Nice i love it! But i have to pack the can can in so heavy.. hope my lugguage will not exceed 20kg…




Very princess right.. easier for me to walk too!

As for the rest i will take the pics when i got it on the 22. 🙂 After fitting, went to city hall to meet up the photographer to get the cd from him. So excited!!! Wanna see !! Haha.. I choose a few i like and there is a series of sexy shoot but is for me to see not for you guys.. hehe… =p anyway me not big la, nothing to see much also.. whahaha..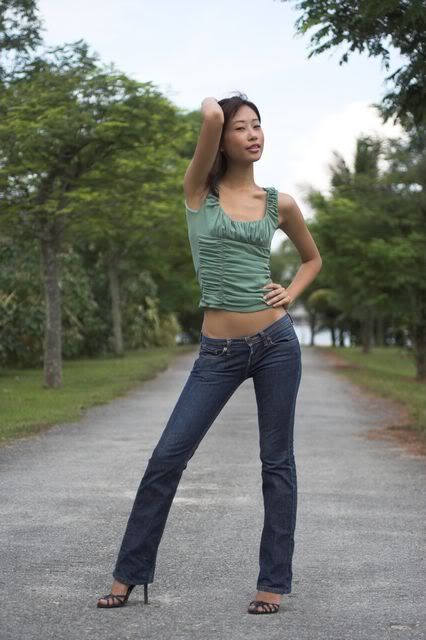 How is it? I like no 1, 4 and 6. 🙂

Ok thats all for today.. There is still alot of things I haven't do…

~ Buy stuff for my trip to korea
~ Go to MOE to get my cert
~ Go and registered my course

~~~~~~~~~~~~~~~~~~~~~~~~~~~~~~~~~~~~~~

Regarding my mom facial stuff details about

Facial is $30 – $100.

Example: $30 is normal facial with face treatment mask. 🙂

Waxing is $10 – $25, Leg is $25 and above

Body massage is $70

The details is here. 🙂 If anything else u want to ask like where is my house etc u gals can email me at [email protected] 🙂 by the way.. NO GUYS ALLOWED!!! =p

what i wore today and my zilian pics..

my new bambi tee!!!