DEAD MAN'S CHEST

After blogger in the afternoon faster prepare my stuff to meet the gals, but i was late, coz i went to PO to collect my bag. Lovely small bag which i bought online last month 🙂 I love it, and glad that i bought it cheap coz saw it from another online webby, this kind of box bag is selling above $70, but i bought it at $45 with free shipping fees. 🙂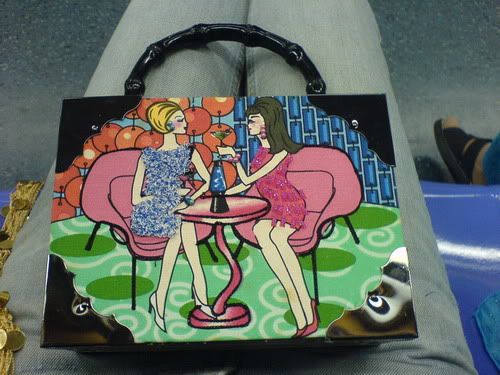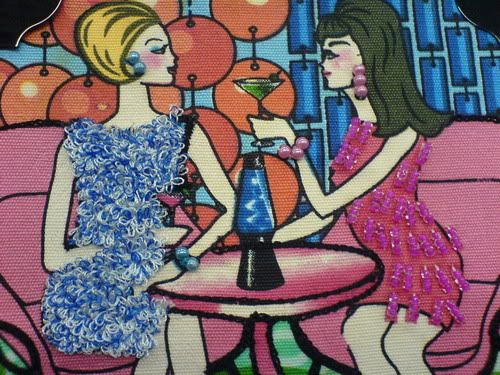 Nice? hehe… Nice hor.. ;p The webby is www.christieanisette.com


Ok, so meet up the gals at PS. Earlier on was deciding whether want to watch Pirates or Lake House. Coz Ah Woan watched Pirates but she don't mind watching again. But since i reach PS at 330pm , than show time is already over for lake house so we choose Pirates 🙂 We went to cathy to watch it. They are having 15% discount if you use UOB card, so Ling Woan use her card to pay to get the discount. 🙂 Than after buying the tickets we went straight to watch the movie. The movie is not bad actually i love the music better than the movie itself.. espcially the part when the Dead man swollow up the whole ship (i think the 2nd ship, too many ships liao, can't remember which one.) So the ending is not excatly an ending, coz there will be part 3 wherby they need to save the Captain Jack (correct name right -_-").

After watching the movie we stroll along orchard road to decide what and where to eat. So we walk along the shops located at Le Meridian Hotel, than i saw a sunglasses i like! It cost $18, than i look at Uncle, he siad ok give you offer $16, coz its a new stock just arrived in the morning. Than when i was about to pay, i told him $15 can.. abit paisei coz first time bargining.. most of the time Benny will bargin for me. In the end the uncle said ok! hehe.. so happy.. so this is what i bought..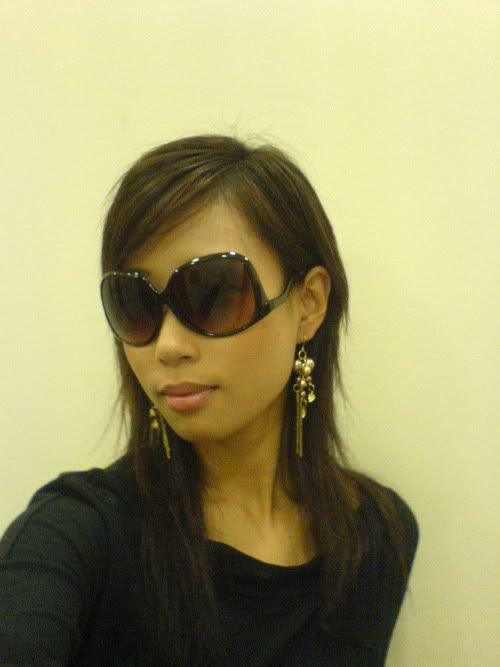 Special mah? I was trying to figure out how to wear it, uncle told me i wear the oppsite side, lolz..

Ok so after happy buying this, we decided to go for Pepper Lunch.. Ya can't forget how much i love the "duo ya" since that time KK treat me to eat. 🙂 This time round i choose Chicken with salmon. Not bad also. 🙂


Ah woan ate beef with chicken set i think..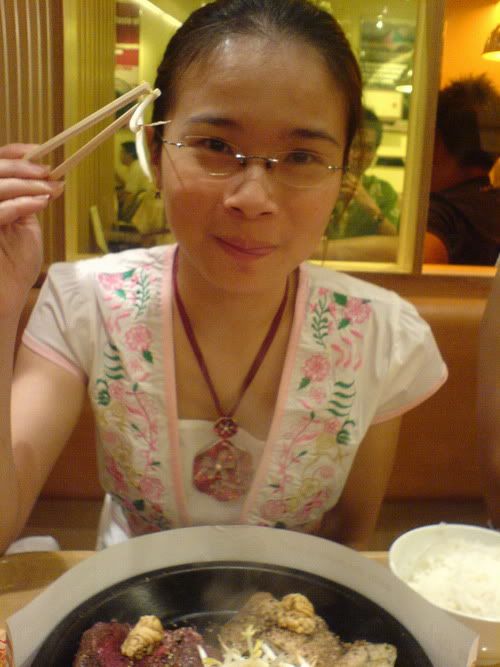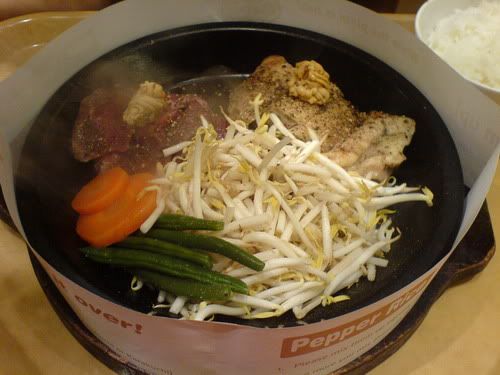 Pei Chen ate salmon fried rice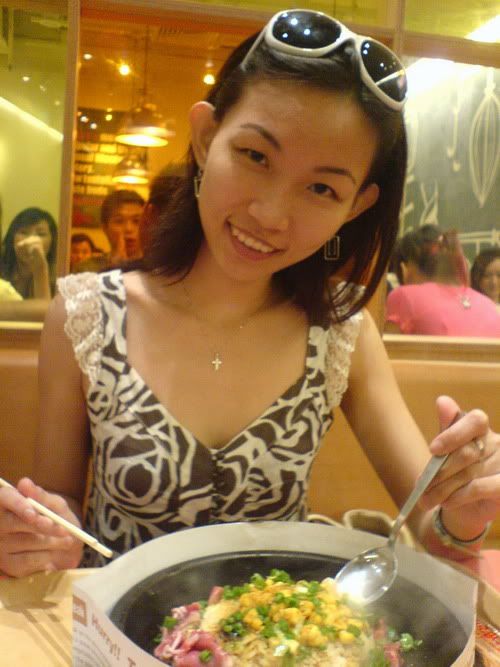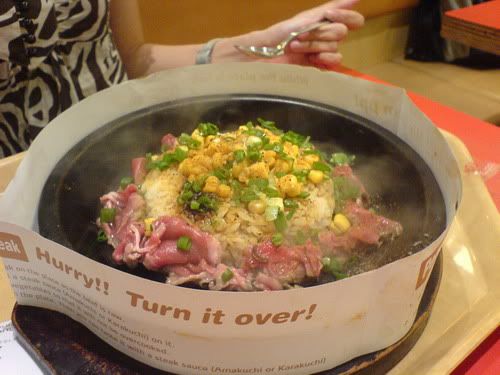 And this is my Chicken and Salmon set 🙂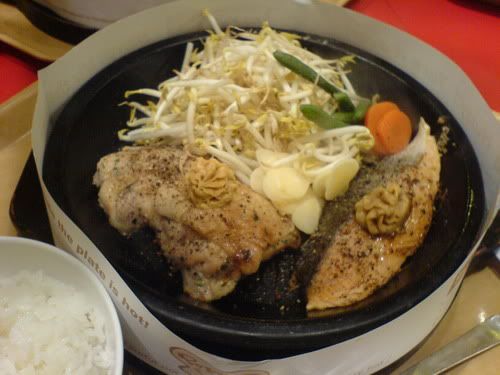 After eating, we walk aorunf again, than not sure where to go czo me no mood to shop, as i had a small fight with Benny and also quite broke also.. coz i didn't do any night shift for the month of june, so not much allowance for me and most of my modeling pay is not out yet.. :'( Than we decided to head to stratbucks to drink Ah woan and mine long time craving of Java 🙂 Nice nice.. Than we talk talk abit.. and i actually forgotten about the time and i miss the time to meet up the guy to collect benny stuff. Msg the guy than he call me i tried to explain, but he hang up my phone.. -___-" msg him again no reply.. ok forget it..


Ah woan trying to pose for the camera, but we laughed at her, so she fainted… ;p so bad of us.. Oh ya, she's wearing the necklace that i bought for her during christmas last year 🙂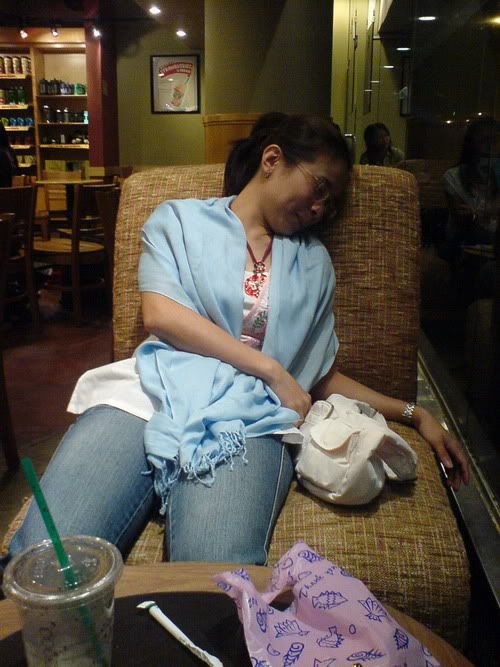 Pei Chen.. than me and her… damm i look so tired… ya i'm tired.. though i sleep for 9 hours.. kaoz.. born in a pig year, sleep like a pig.. but how come blur like sotong.. should be clever what..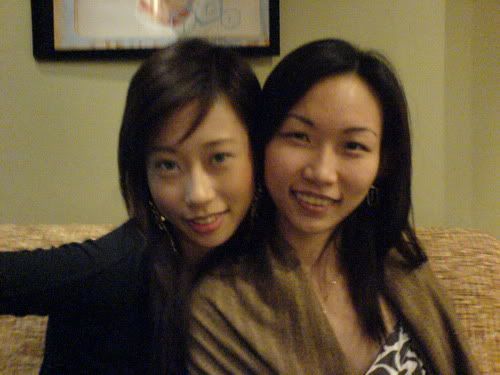 After drinking we went straight home. 🙂 tired tired…

2 more days to my birthday!!!!!


Ok heres what in wore on sunday for filming and movie kia kia..
Ya i was running with my wedges.. luckily i was wearing wedges, can't imgine wearing in heels! Coz the director ask me to run faster and faster..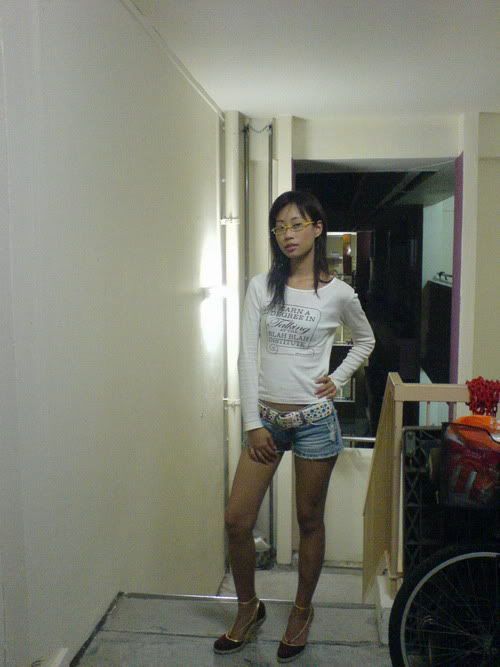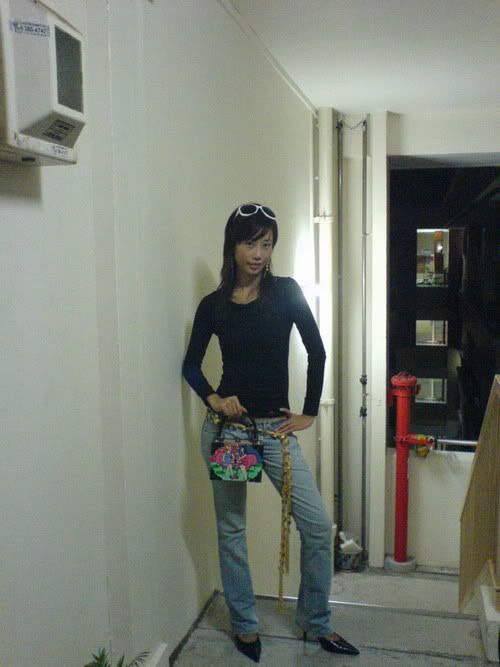 ~~~~~~~~~~~~~~~~~~~~~~~~~~~~~~~~~~~~~~
On behalf from my friend:
(Anything direct to her k… coz am not doing and incharge of the show 🙂

Hi Ladies,
Just wondering if you ladies were interested in the jobs below:
1. Hair Models
– Tall
– Sharp facial features
– Modelling experience would be good- Shoulder-length hair (must be willing to let thestylist cut it short and colour it as well)
2. Dancers
– Same as the above, except that height is not abig issue
– Must be able to dance hip hop or similar dances
– Better if you have a group of pals who also danceand are interested in this together
If selected, you can look forward to:-
Free hair cut-
Free colour (and they'll colour it back for you ifyou don't like it after that)
– They will not be paying you cash because of theirbudget, but you will get Free hair treatments (or vouchers)
Event details:
– It will be for a Hair Show on either the 2nd or 3rdSaturday of September 2006- Location has yet to be decided
– Client owns a hair salon
THIS MAY BE YOUR STEPPING STONE TOSTARDOM!!
For those who are interested, please email me at[email protected] with your:
– Name
– Height
– Experience
– Contact number(s)
– 2 Pictures (1 Face shot & 1 Full length)
QUICK! NO TIME TO LOSE!!!!!!!
***** Actually i desperately need someone this Tuesday (01/08/06 – Evening) and Wednesday (02/08/06 – Morning) cos Channel U will be coming to film. So if you or any of your friends are interested, please email me! *****
Thanks & Regards,
Steph