Sorry folks for not updating lately.. I'm quite busy with school projects and shows..

Please do not drink or eat when u read my blog ok, I can't save u from so far.. 😛

I know it will be kind of stupid, think u guys will be seeing me somewhere again. I took part in Miss Chinatown -__-" Ok, sorry if you choke or vomit.. but please support me ok. Hehe.. Anyway after this, NO MORE for me, seriously!

50% of me don't wish to join : coz including this, it will be the 4 competition I have join just this year!!! Kaoz…

50% of me want to join : coz the winner will get to HK TVB and will have a chance to act in the HK drama series!! Though i know is quite impossible for to get the title, but at least must have a little bit of hope in whatever you do right? (don't laugh ok.. 10% hope can :P)



Anyway here's the voting thing: I'm contestant no 37!

Online: Give me your email address and I will give the organiser your email, u will get 1 year free subscription of M2BTV (www.m2bworld.com) and get the latest update of Miss Singapore Chinatown! But voting only allows 1 per day.


SMS:

MC contestant number your name your email


Vote for favourite Semi-Finalist from
14.10.2006 to 09.11.2006

Vote for your favourite Finalist from
10.11.2006

Each SMS cost $2.00 for 10 votes.


Ok here is my profile and photos.. I look funny.. my eyes 1 big 1 small 🙁 and i'm too skinny, and why can't they choose a better photos?? U know what, after taking part in so many pagent i realise whenever i find the photos not nice, the photographers find it nice! -___-"?? 🙁
Anyway since the start of school, i have been drinking chocolate milk everyday (causing me to run toilet everyday also).. hope i can gain at least 1-2 kg.. Have been trying to gain weight sian.. Details at : www.dragon78.com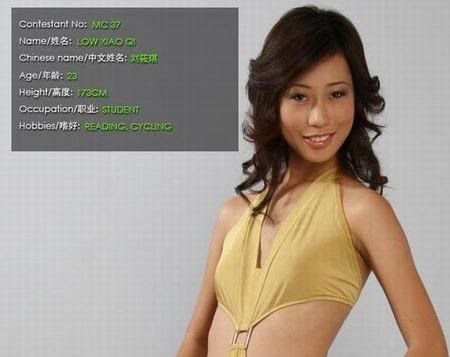 ~~~~~~~~~~~~~~~~~~~~~~~~~~~~~~~


Have an annoucment to make:

I have change my fashion-palace.blogspot.com to www.fashionpalace.wordpress.com

As I find that word press is easlier to organise for this kind of shopping web. 😛 So please change your URL to www.fashionpalace.wordpress.com!