Back from 2 night shift thats why didn't manage to blog for the past few days. Working at Geneagles pediatrics ward for the past 2 nights, although the work load is not high compare to the general ward but hrly para is enough to make my leg tired… because the child/baby have fever, we have to take their temp hourly.
I was train in general ward for 2 years plus, so didn't expect my agency to put me in a pediatrics ward. Lucky I still remember what I have been taught in KKH hospital during my school attachment period. 😛 Think i just love babies too much.. haha.. help to take care my cousin's baby etc, love to make milk change diapers.. 😛 lolz
**something wrong with imageshack so using photobucket to load the pics, do let me know if you cna't see the pics ya. 🙂 just in case the bandwidth exceeds**
The ward ~ children's playground

Making milk for children.

The youngest baby in the ward, only 3 months old. Sorry no front view ya.. Trying to make her "burb" after feeding..

Before the 2 night shift (tue), went to see my sister performance at her school ~ NIE with mommy and Jie Shan. Its a celebration of mid-autumm festival aka mooncake festival conjuction with talents competition. 😀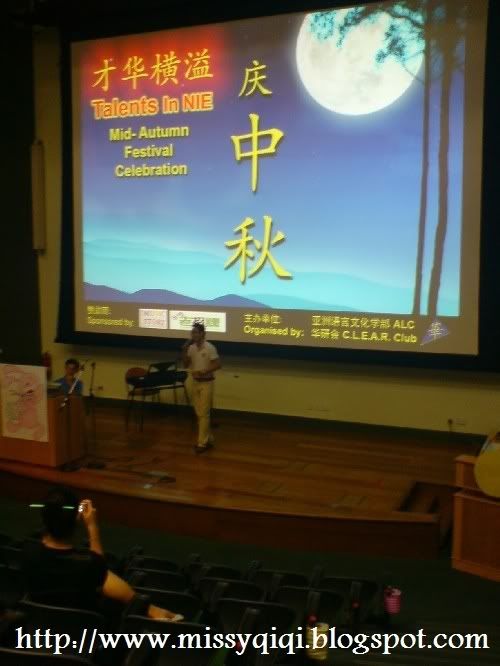 Well wishes song…

The performance starts!!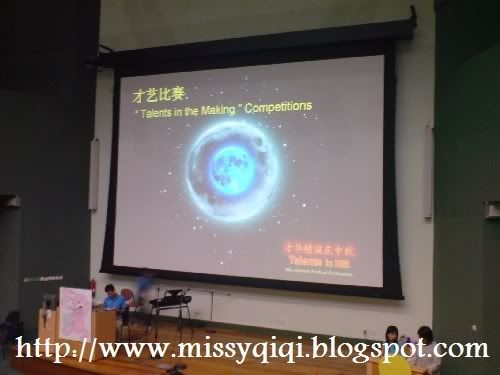 After the talents competition, some of the singers from this music school came and perform. 😀

Though sister never get into the top3 but her signing is really very good le!! Those who ever hear her sing in the KTV will agree ya! Hehe.. this time cannot try again next time lor, let me only after the 3rd competiton/pageant than I got something haha… 😛
After the whole performance end, there is buffet and some programmes line up for the guest and students, but we got no mood to Q and enjoy coz our (mommy n me) feet are tired and super hungry.. thanks to sister lor, say will ask someone to come and fecth us in some part of NTU end up mommy and me walk for 15mins and ask 6-7 person where is NIE! The taxi driver only know where is NTU don't know where is NIE.. -,-"
Took some pics first before going off..
Sister, me and mom… my sister taller then me hor.. haha.. I'm the shortest among the 3 kids… always mistaken as younger sister instead or eldest.. -,-"

Sister and me

Jie Shan and her

After taking photos, we went over to Hall 14 to have our dinner, sister treating 😛 All of us had western food, highly recommanded by sister. While waiting for food, took some pics again! 😀
Mommy and me. Had 2 pics of it coz in the first pics mom complain she doesn't look nice, but I look nice, but in the 2nd pics mom looks nice but I don't -,-"

Jie Shan and her

After eating, went over to sister hostel to pack her stuff before going home. her room..

Here is what I wore that day. Dress and leggings are from TF, wedges from NOVO, bag from GUESS. Intend to put a skinny belt over but couldn't remember where I placed it. Hope it doesn't look weird ya. 🙂

~~**~~**~~**~~**~~
More pics from the bridal show. 😀
Jonathan want to take photo with me but I was busy eating (as usual :P) so I ask him to wait so i Make this face lor.. haha.. like hamster.. >.<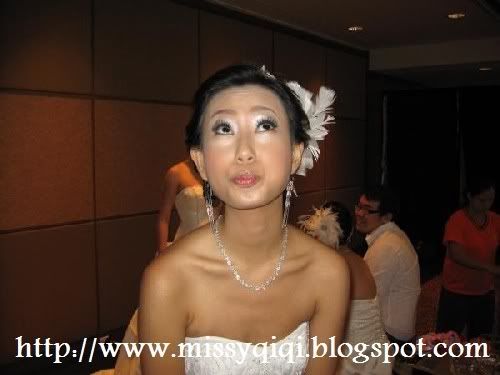 "One husband, one of the wife… "

One husband, 6 wives.. lolz.. so lucky .. haha

Now with the child..

I happily said to Jonathan:
me: wa, u lucky guy hor got 6 wives but only got one child…
Lisa: But the child not his de..
(Coz the child belongs to the lady boss ~ Yvonne ma)
**I was stun for awhile than had a good laugh.. haha.. But too bad Jonathan didn't heard this conversation lor.. wait till he see this.. muahaha..
2 more pics from the Hour Glass event, just group photos taken with the photographers who came and with Huirong and Casse. Lolz.. I look so funny.. haha..

Think from this photo can guess that I have put on weight ya.. YES!! I happily annouce that my weight is now 53kg!! Finally after so many years of trying to gain weight, although I'm still underweight 🙁 but better than before, previously was BMI ~ 16 now is BMI ~ 17 plus..
But as usual facing what normal gals would have face, though there is some weight out on on the upper body but mostly is the lower part of my body so I have bough skipping rope to maintain my weight and body shape and starting back to do sit up again to make sure my waist doesn't become tyre. 😛 (Swimming i seriously cannot, no matter how i try, correct method of using hand and legs but i still sink ;( ).
Now I end the photos with mao mao. Take this yesterday while he's waiting for his food. So cute!!

Ohya forget, one more thing. Manage to find this on the web! So excited haha.. its the filming I have done for AXN ~ Sony Style. Whereby I'm the mother of 2 in 2 episodes. 🙂 I think i doesn't look nice on tv.. 😛 Espciallt episode 11, haha.. one of my eys close due to the Sun rays.
Episode 11 ~ http://www.sony-asia.com/microsite/sonystyletv/hi-res/sonystyleEp11H.html
Episode 13 ~ http://www.sony-asia.com/microsite/sonystyletv/hi-res/sonystyleEp13H.html
Can anyone let me know how to convert the videos or upload it to my computer? Thanks 😀
Have a nice weekend ya! 😀
Updated: http://www.wretch.cc/blog/FeelQi