SUNDAY

Had a very bad day on Sunday, as usual i put my shaver in my bag after bathing at work place. After finish make up etc, was looking for my hp, suddenly feel a sharp pain. When i saw my finger, i saw lots of blood coming out, at first only feel painful, than i shake my hand, than realise that there is still alot of blood. Mina, aida and cynthia saw the whole inccident. Than we all panick, not sure who ask me to put my finger in the running water etc… Only than I realise i really have a deep cut! 🙁

Aida, took out the shaver from my bag, realise that 3 single layer of the blade have my "piece of meat" on it… !!! Really a deep cut… 🙁 Refuse to see doctor coz i scare.. (ok missy scare seeing doctor -___-") After wrapping nicely, Aida, Cynthia and me still proceed to PS. Than we bought some dressing stuff from gardian.. coz the thing just wouldn't stop bleeding! (until now also 🙁 )
So we went to the toilet and start doing dressing, after that we went to LJS to have light dinner than proceed home… so tired… (hard to type coz finger pain… )


My finger… sob sob… done by Aida…




ME!!!




Me, cynthia and aida…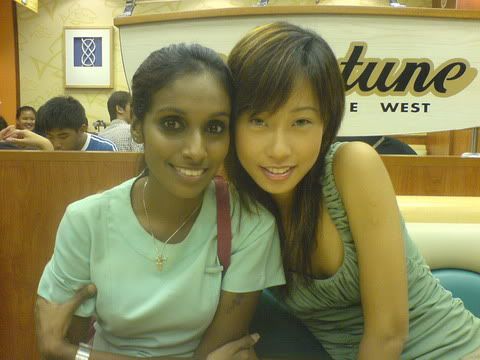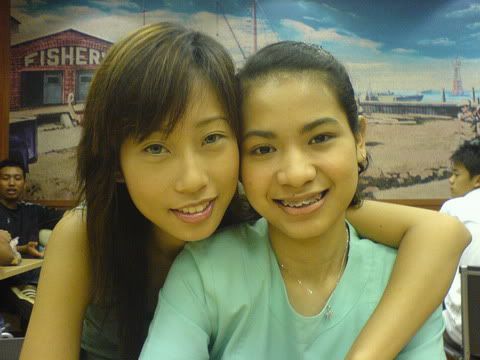 ~~~~~~~~~~~~~~~~~~~~~~~~~~~~~~~~~~~~~~~~~~~~~~~~~~~
MONDAY BLUES

Lucky request off on monday, don't like to work on monday ;p… slept until 2pm plus.. faster change and head down to kimage to have my hair done.. never had my hair treatment for 1 month liao… my hair really damm bad… like grass.. 🙁 Feel very lazy and tired.. some more finger pain, feel handicap so lazy to search and keep on changing clothes.. So i look very ugly… haha… never mind… lazy to put make up also… -__-"

After doing my hair, walk past NOVO… hehe… bought a pink bag at 50% off… ok by posting this, will be scolded by benny… -_-" but great offer! Been looking for a business like bag for very long le, and this is so cheap!! ;p Ok dear, i did safe le, now very good gal, only put aside those money i can spend de.. once finish means cannot spend liao… 😉

After buying went to a spree organise place to get my heels that i bought online about 1 month ago, than when i try on … SHIT… is small for me… 🙁 my fav red heels… 🙁 gonna sell away and buy a bigger one!!! 🙁


Me on the salon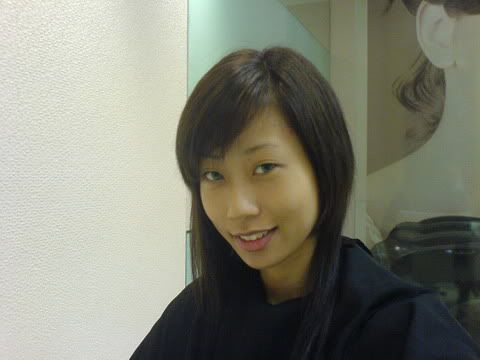 Nice bo…. Cheap only $24.. ;p




The red heel that is small for me.. selling away at $20, bought it at$22.




My lok kok wear, with my fav wedges… from VS…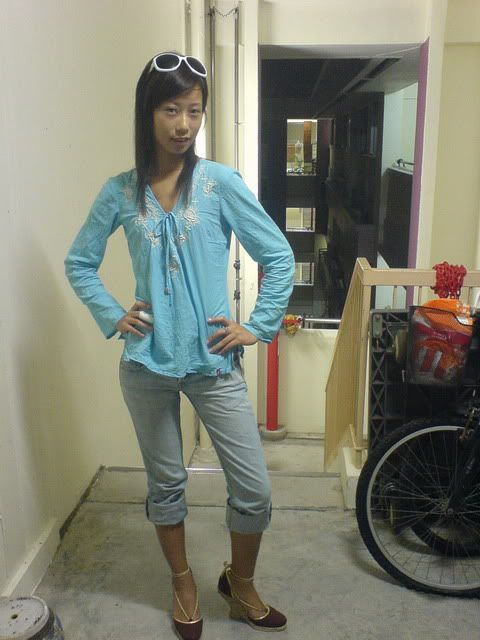 Ok… off to sleep… please buy my red heels so i can buy a bigger size… sob sob… meeting kk aka angel tmr… 🙂