Hey hey, another few more hours will be weekends! Very happy coz tomorrow i don't have school! This is the first time i don't have lesson on sat ever since i started school! Can sleep abit late.. :p (Sleeping pig right… :P) But can't sleep so late also, meeting Benny tomorrow and my sister for dinner to celebrate her belated birthday at Suntec. Have been waiting for this, haha… coz its a long time since my sister, her best friend Aiching and me had dinner together. 😀 Think there will be lots of catching up!
Anyway past few days didn't get to blog, coz I have been studying for my test on thursday and doing my projects at the same time. so good gal hor, but actually not la.. hehe.. 😛 I also watched Doraemon at the same time on youtube.com. hehe.. ;p Anyway don't worry i pass my test la hehe.. i should said quite well bah, coz our lecturer never tell us how much we got it, but she did go through the questions with us today, so after going through, i got about 8/10, if i remember correctly the answers that i have choosen. 😀
But before our lecturer went through the questions, she told us that there are 5 failers in our class, and 7 n 3 in other 2 respectively classes. So was quite afraid that I didn't score well, but lucky! 😛
Oh ya forget the link for the Doreamon..
http://www.youtube.com/watch?v=MtsddaIVlwE
Enjoy!!!
Another thing is regarding the fashionpalace, not only intro the shops, I also will update the latest offers, flea market and others promotion the shops have offer! So remember to give me some feedbacks regarding the fashionpalace ok! Oh ya if your friends or any shops that u know are having great deals, u can recommand to us! Not only online! Physical shops too!! But remember must give me the exact locations of the shop place and how to go, otherwise i will get lose.. i'm blur to roads directions.. 😛
Another thing is i have change my blog archives for easy references. I have take out the special blog posting and list them out, as for the rest of the blog, i have put them under the year link. So u can search my previous post easily. When i was sorting out my previous post, i read about what i blog too! After reading i really miss the time i take care of my patients, ok don't talk about this, concentrate on my current studies more important. But i feel that is good to look back what u have post, will bring back the memories and find out how u handle the solution at the time and think how will u handle it now. And no matter bad or good memories u had, is worth it to have it, coz all this incident makes u what u r now. 🙂
Another thing, one of my blog readers is going to have tea-party!!! Cool right! They will have manicure, shoefitting etc.. just for gals!! So nice of them. Below is their poster and the details are updated in www.fashionpalace.wordpress.com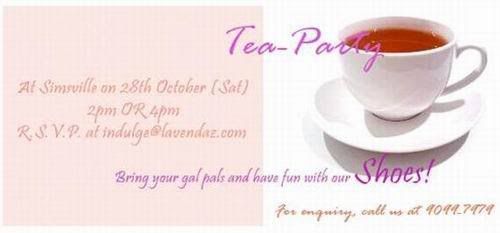 Have a nice weekend bye bye! 😛