Yappie!!! Today is the first day of school after my 1 month holiday! Miss school so much.. coz for me its like i have not been going for school since feb due to the competition so is like I haven't been going to school for 2 months! 😛 Anyway school for today is really fun, we do some catching up and lots of fun stuff. 😀

Ok time for photos on sat!! Done a CK product launch on sat in the afternoon 12pm at Vivo city. Was with another guy model ~ Andrew. So both of us just walk around TANGS and vivo to give out perfume sample and model the CK perfume at the counter for the photographer. Was quite relaxing just walk around and take photos. 😀 Haven't receive the photos from the CK photographer so I only have the new product photos 😛 Is aquite a nice smell, very fresh, summer kind of feeling, smeel like orange pulp. 🙂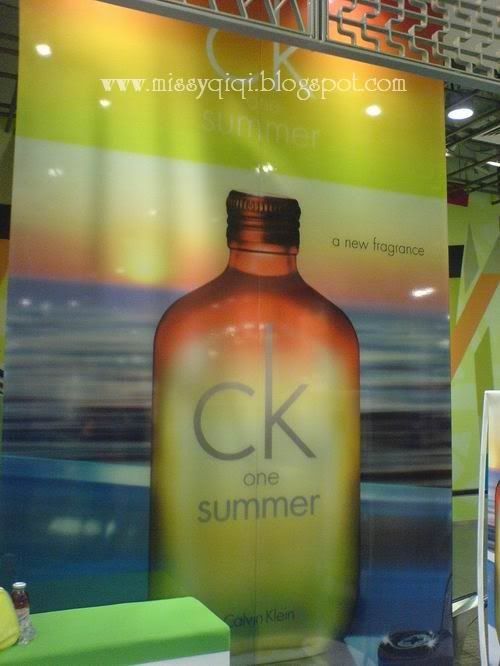 After the CK event, Amdrew and me faster rush down to Sentosa ~ Cafe de Mar for fashion show, Made:to:mesure by Kovit and HerRoyalHighness by Crystelle. 🙂 While we faster getting ourselve prepared, the weather starting raining, so the show was delay till the weather turns better. In the mean time.. the camera started flashing……


Cailing and Me





Me….





Benny came to see me 😀





Andrea and me!





Jeanali, Cailing and Me





HerRoyalHighness designer – Crystelle, Cailing and me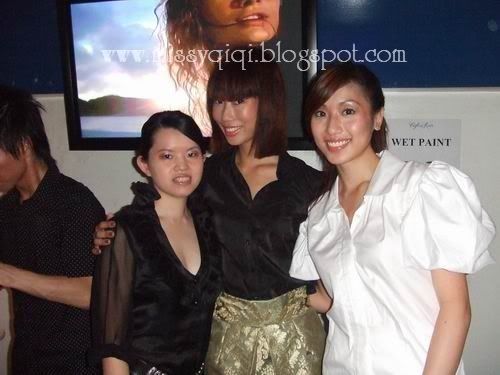 Cailing, Suekuey and me





Our little "fans".. haha.. no la, one of our photographer friend's friend 😛





And the show started!!…. Not much of photos still waiting for my friend to send me more 🙂
Photo quality not so good coz taken by my hp


The host and band




The runway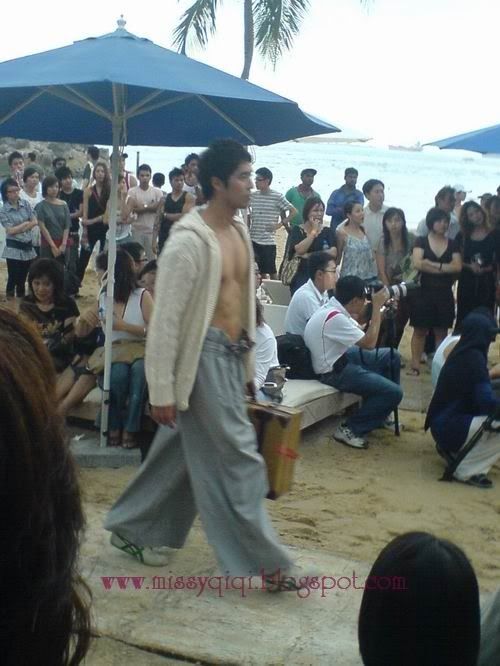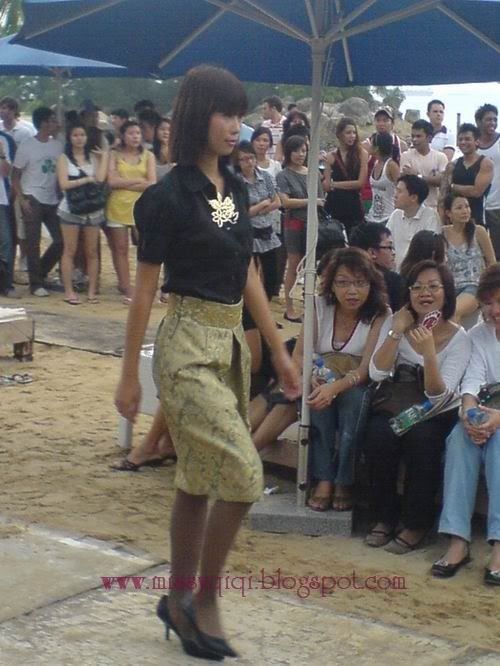 After the event we went to Oosh Bar located at Tanglin Road for dinner! Treated by one of my freelance agency boss's boss.. 😛

When we reached there, we faster order our food coz we are damm hungry, and we saw this!!
Is quite blur actually but if u try to figure out, item no. 2 cost $3000 plus!!! O_0!!! Is some kind of hard liqour….




So we try to order as many as we can… 😛 (so naughty.. haha)
While waiting for food… camera flash started again..

Crazy me..





Benny and me





Cailing and me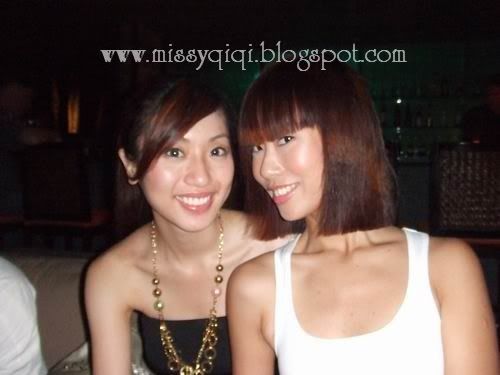 Here come our food !!
Cheese Platter.. we thought is a big portion but..




Potatoes wedges..




2 pizzas (we thought is small coz is very cheap $18, but end up is BIG!! :D) and
2 salmon and 1 cod fish…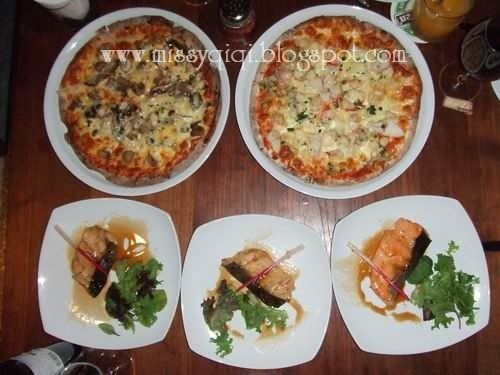 Yifei started modeling the right way to eat expensive Ebi tempura (cost each cost almost $5)…





So after eating a few rounds and drinking, time for us to go home!! One more shoot before we left the beautiful Oosh bar & resturant!


Yifei and me





Suekuey and me





The group photos of the beautiful babes!! I think the rest u know who except the new gal – Kelly.. 😀




Thats all on Saturday!!!


More photos from China competition… Thanks to Miss Taiwan – Yaling 😀


Miss Finland, me and Miss Taiwan





Group Photo taken in one of our normal dinner





Me with the tea cake in a print of pig





Miss finland and me apply lipstick using at the end of my bag which reflects image, Miss Taiwan capture the moment 😛





Miss poland and me trying to be sexy… erm think funny more likely.. =X





The China Director for this competition





Me and my another "nanny".. he's younger then me by 1 yrs old i think. He help to buy the gals stuff and do translation when Bid Daddy is not around.





The piggy… born in the year of pig!!!





One of our dinner function cum media conference





The chinese..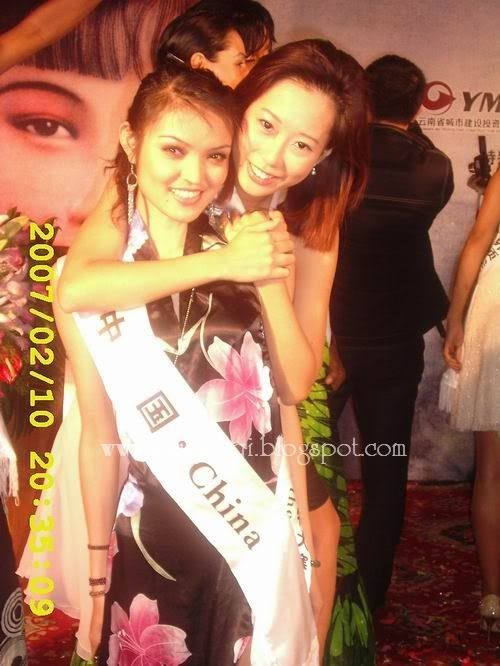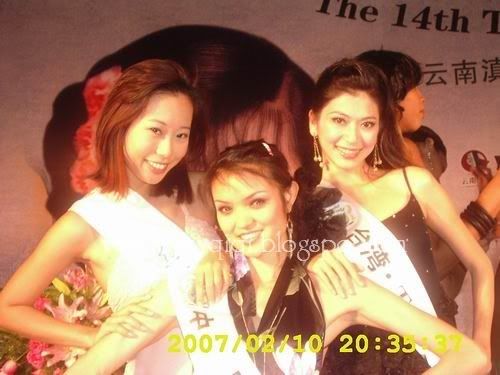 Ok thats all for today le!! Got to sleep early for tomorrow morning class!! Few more months to study hard and my dreams is getting nearer… but still i miss those days… no looking back but is a life time experience i will never forget.. given a chance i will still want to be my missy ah….

lol..

Night night..