Nowadays taking very long days before i can blog.. coz very tired after reaching home, need to load photos, edit photos, watermark it and load up to photobucket.. -___-" so today finally have the time to blog!! But it will a very very long post with tons of photos!!
Hope you guys can bear with me for awhile, going to change my blog host soon to chocoboard.com. Its nice of them to invite me to ask me to blog over their side and design my webpage for me 😀 can't wait to see the outcome! Just sign contract last week, so maybe by the end of the month, I will be able to change over! And of course no more popping up of unwanted websites and photos can be able to view properly!! Thats the plus point! haha.. So next time will be easier to load my webby! 😀
Ok time for photos!!! As usual going to name them 1 by 1!!
Ok before i start my post, really thanks alot of ppl asking how Benny is and how i'm feeling, thanks alot i really apprieciate! His fine and his coming back this saturday, not early thats makes me kind of sad coz i thought they will released them early but there training still have to go on.. Lastly I hope those casuality can get well soon, asap!
1. Bridal Shower ~ 11 May
As that day is the "happening day" so only went over to Colleen's place for bridal shower for a short while and didn't went for the party after that, coz not in the mood, but still with them around at least I don't think too much…
Me and Melissa, we went to Suntec to buy bridal gifts first before going to Colleen's place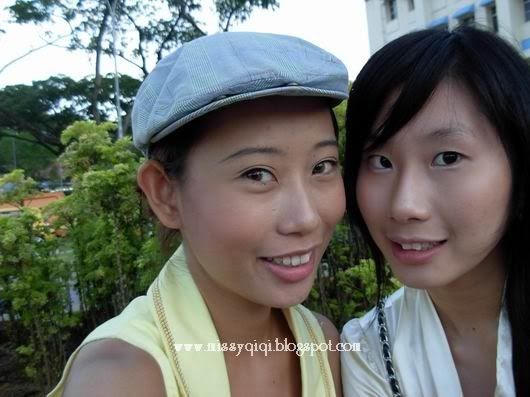 Cupcakes!!! I really "heart" them!!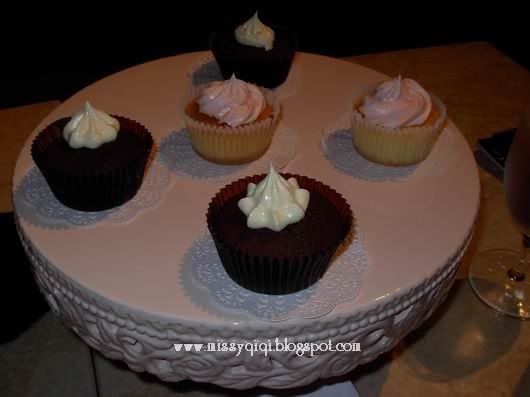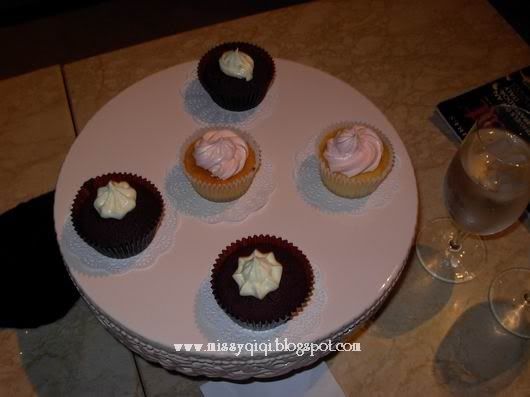 When all the gals arrived, one of them took out this bottle and "force" everyone to drink it!! At first it taste really bad, but after that it feels quite smoothing down the throat but still its not nice to drink at least for me.. my face squeezed together while drinking.. taaking care everyone's heart, so i better don't post it.. haha.. 😛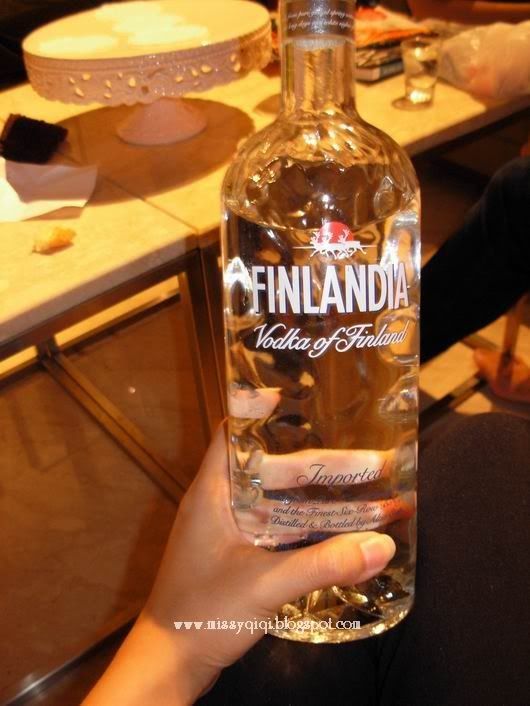 Discussing about the prank the gals going to do later.. (i miss the fun 🙁 )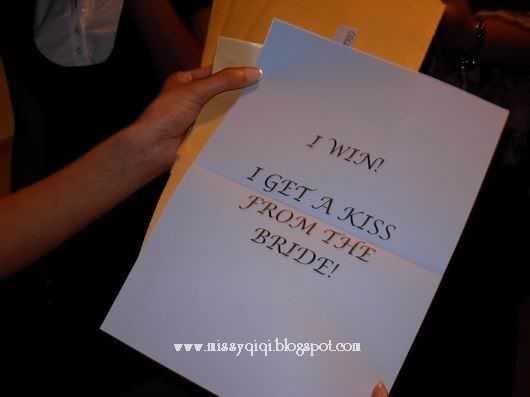 Melissa trying to decor the cupcake… but some how….. -___-" haha… think if ask to do it also will look like shit!! I'm poor at dessert, but cooking dishes ~ yummy.. hehehe…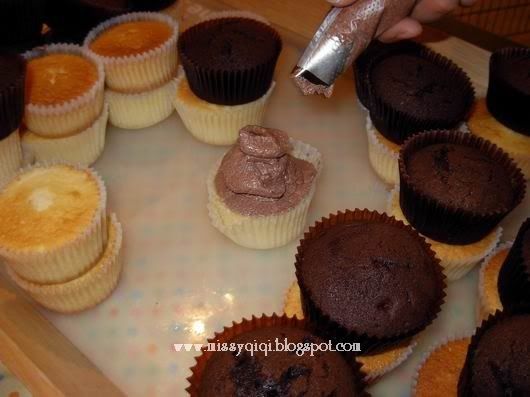 Colleen!! The dress is very very nice on her! Her sister Patricia bought it for her to wear it! And we have some surprise for her thats explain her "eager" expression!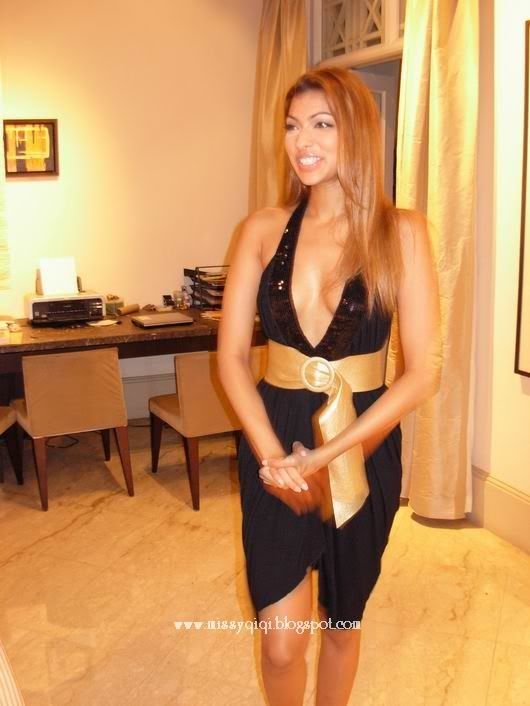 A sash which says "BRIDE", cool right!! Hehe.. and she have to wear this to go for party and her "mission"! According to her, everyone on the street is saying congrats to her! Haha.. Its so nice, when stranger coming up to you and say congrats to your wedding! Its a happy occassion!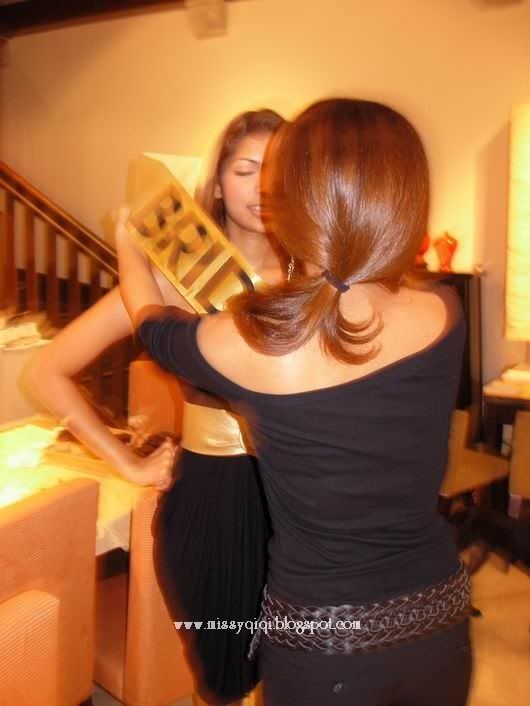 So the gals left for the party and "mission", me went home to rest and wait for Benny's call, coz after the call in the afternoon i couldn't reach him, so was kind of worried. Finally he called back, so my mood is better.. 😀
Can't wait for the wedding!! Is about 1 week left! And we are going to stay over at Colleen's place, hope we will look the best on that day, scared we will stay up the whole night talking haha…
2. Jewellery Private Event and Attica 3rd anniversary ~ 12 May

Was invited for a private jewellery event called "Simone Jewels" www.simonejewels.com held at One Fullerton. The theme as red and black, so I wore according to the theme with specials thanks to Qingying and Alexis for their clothes! 😀
Actually when i reach there, not many ppl wear according to the theme so me and my friends seems to be "over dress" -___-"" Maybe alot of taitai thats why, coz most of them wear semi-formal but not red and black theme..
Me in the car, thanks to Brian for sending me over there! 😀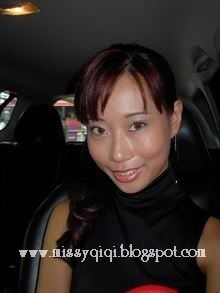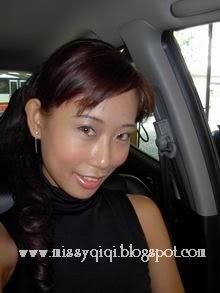 Lionel helping me to "model" for my food! Hehe..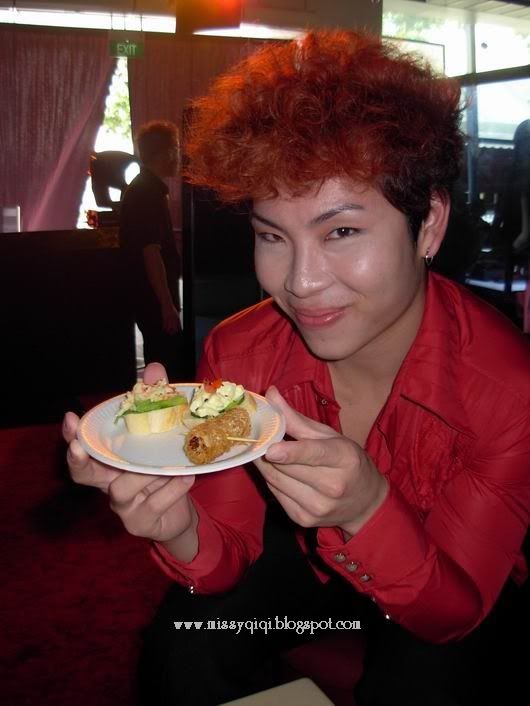 The model show!! Saw Collen doing the show! So surprise hehe.. took quite alot of photos of her, and she also look over my camera side….so nice!!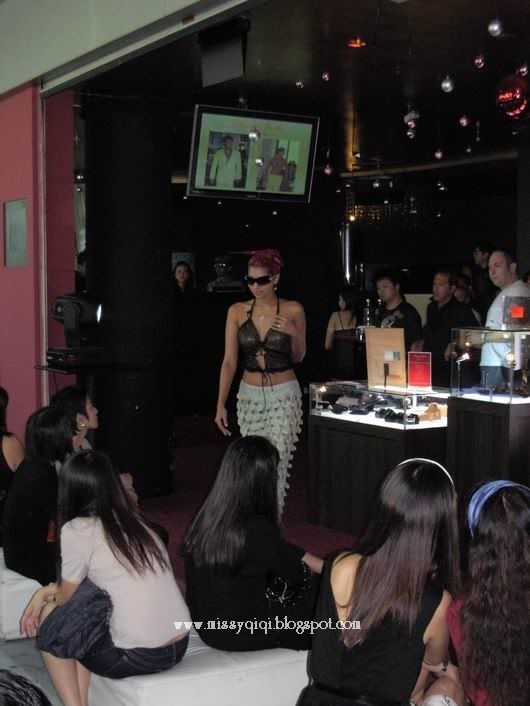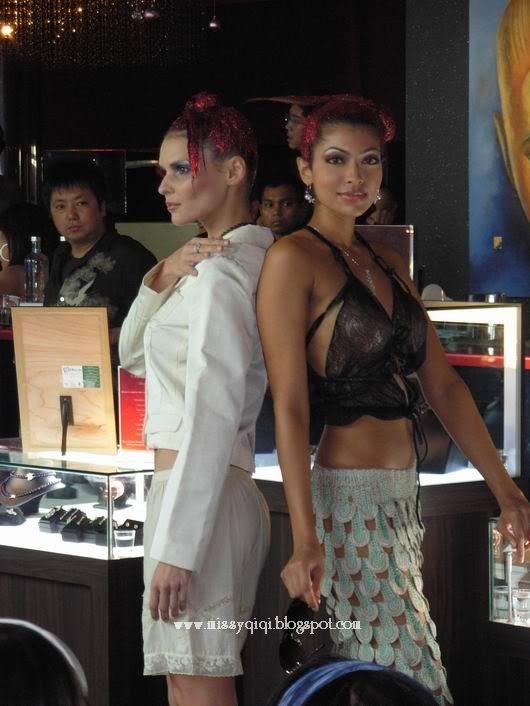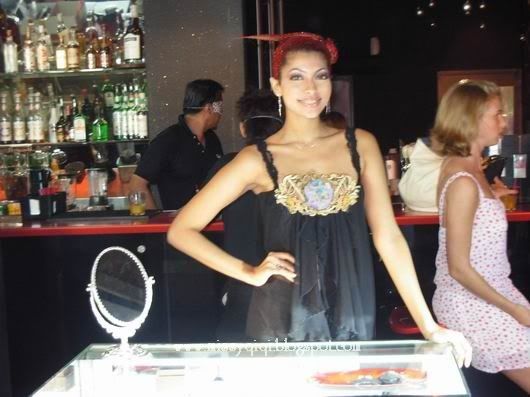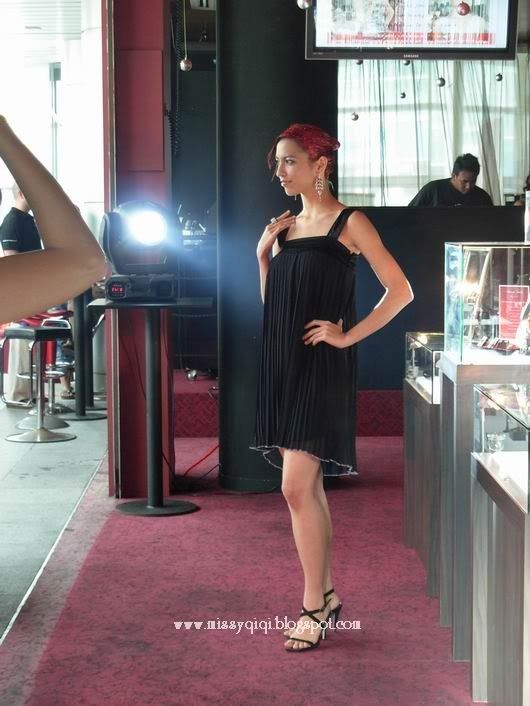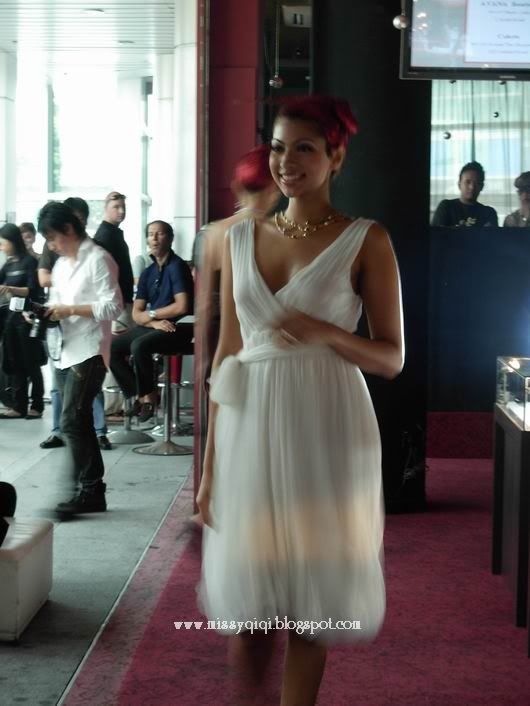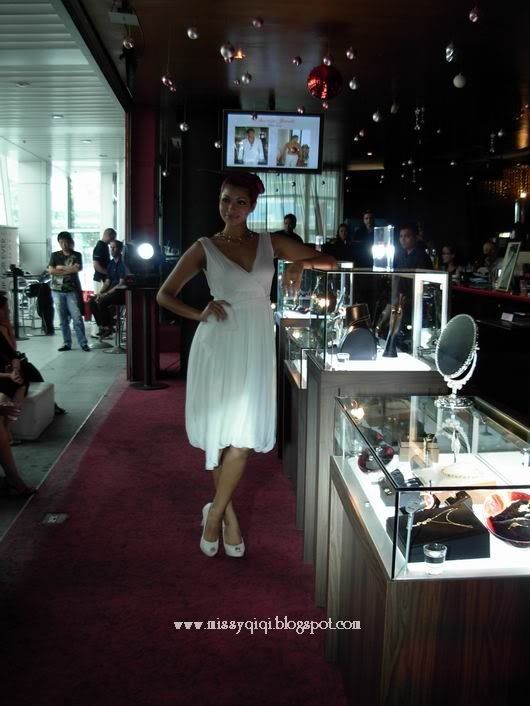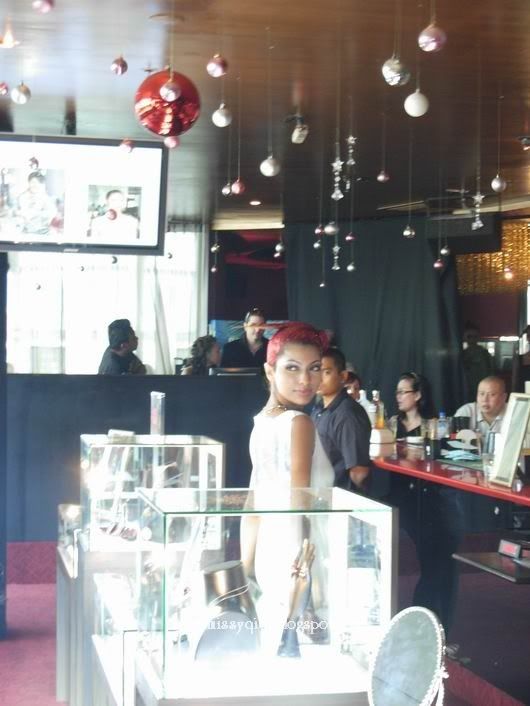 The designer for the jewels if i remember correctly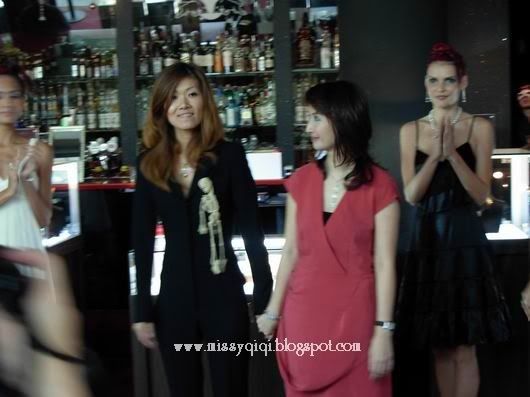 Colleen and Guy, yap his name is really call Guy, at first i thought it was a "pet" name like i call Benny – Bunny.. but his name is really call Guy.. kekek…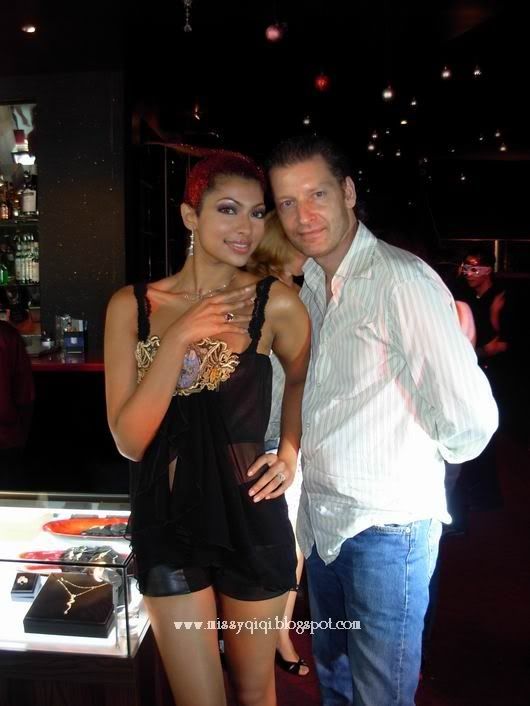 Me and Lionel, we took the photos this way because he's wearing black pants and red top, I'm wearing Black tops and red pants, its the reverse! 😛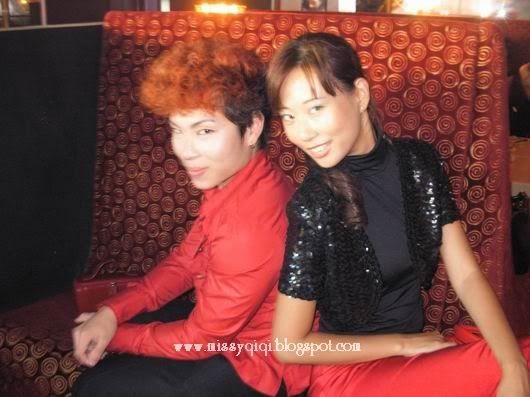 While waiting to touch up, by makeup forever.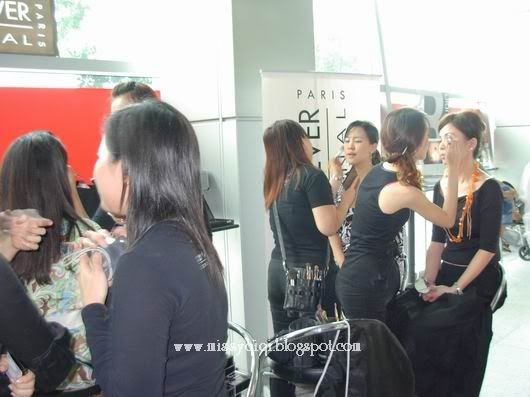 Me after touching up my eyeshadow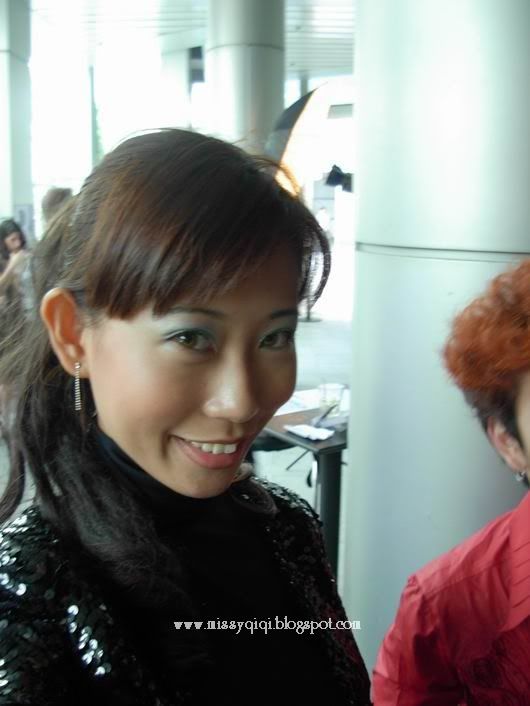 Danny came too!! So the 3 of us took a photo! 😀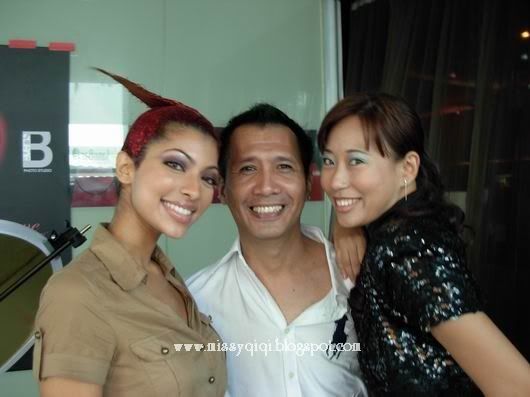 Lastly before we left…hmm.. abit unglam hehe…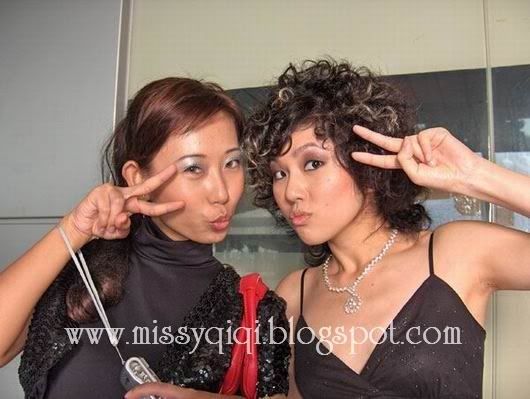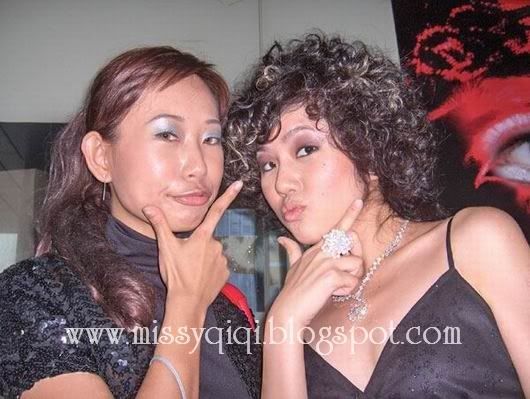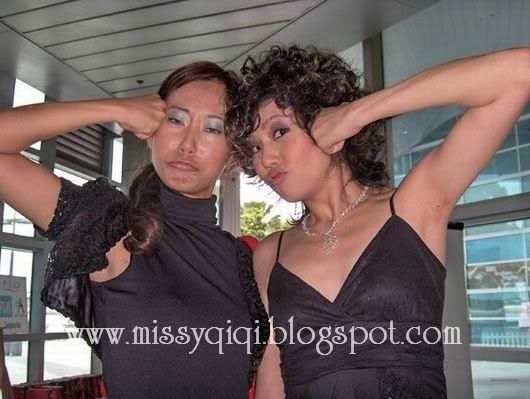 After staying there for awhile, we went over to Clarke Quay to eat dinner, hmm.. actually only me la, both of them don't want to eat..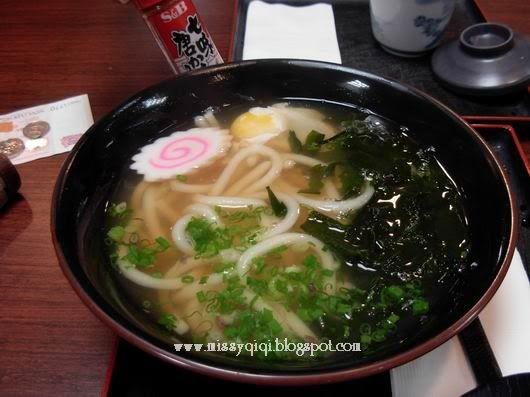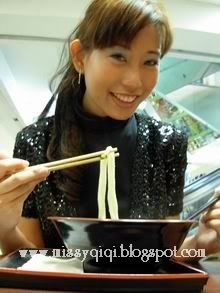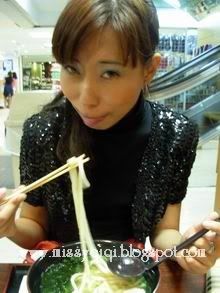 After eating, went over to attica, its quite early actually, but went there to see the performance and models rehearsing.. (sianz.. i miss runway, think this yr i do more events then runway 🙁 )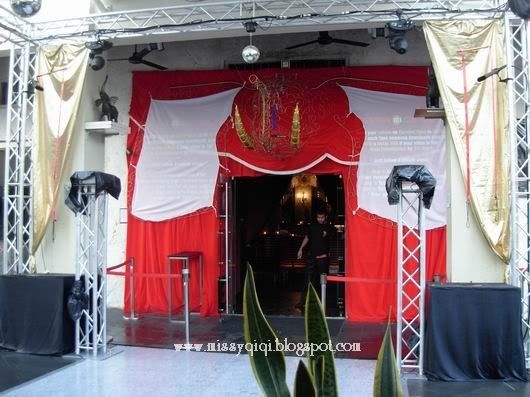 Khai, Yifel and me.. Khai let me use the YSL products for my face for oil control its very good and apply over the makeup haha.. he's a YSL makeup artise.. I really LOVE the lipgloss he's having!! I'm a lipgloss siao.. although i only have 1 lips but i got more then 20 lips stick and gloss crazy right! Shoes more, bag more, lipstick and gloss more, undies more oops 😡 hehe… out of topic liao… below the photos is the product he used, it lasted more then 6 hours!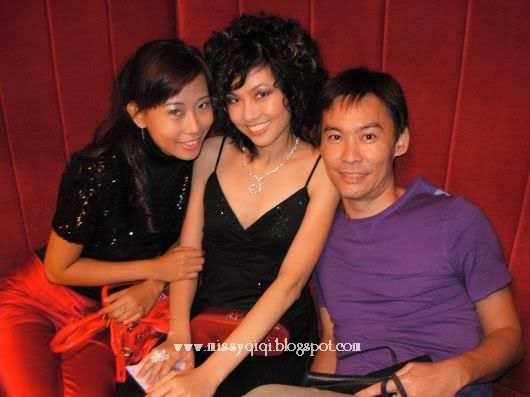 Meet the designer for the pants and the clothes that I borrowd for my "flying red" dress! Alexis! Apprantly the show that i did at cafe de mar, the designer ~ Crystelle know Alexis and she brought her to the Attica event! Singapore so small right! She's also the friend of Qingying who is my secondary school friend! 😀 Yap, i'm wearing the guess heels!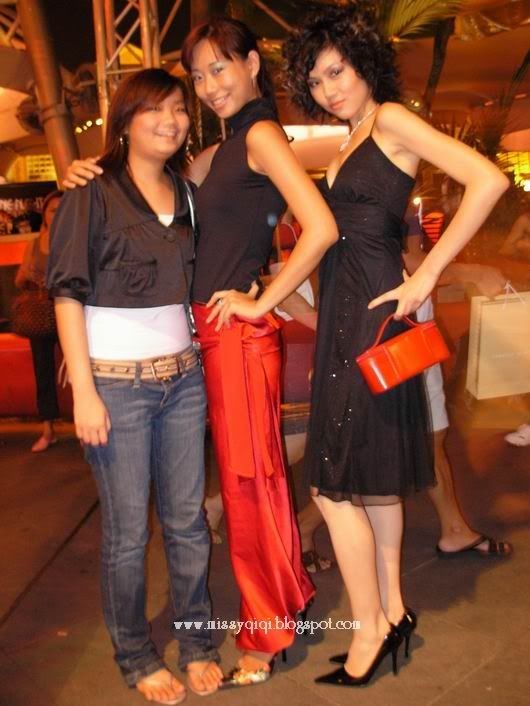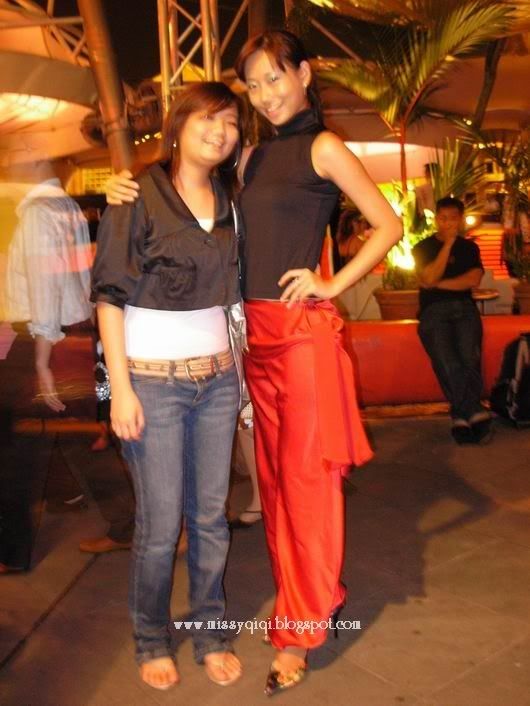 The performer standing outside attica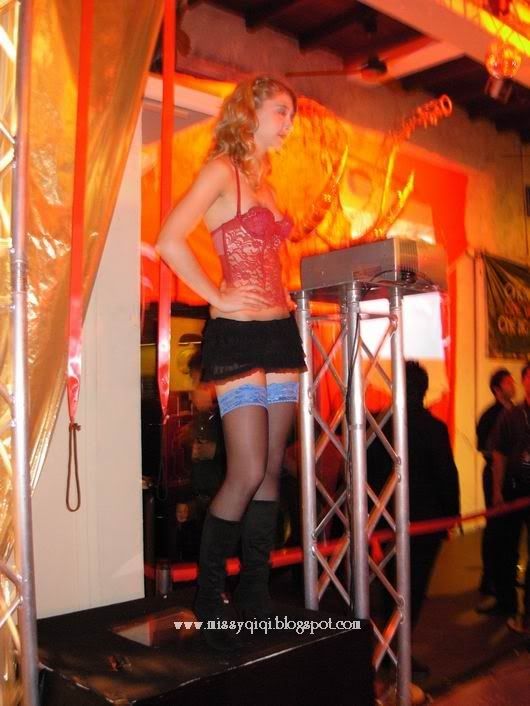 cailing and me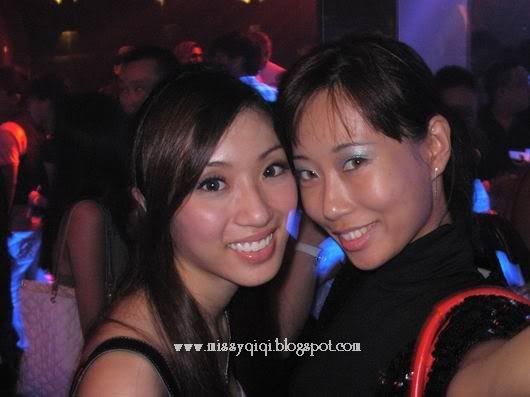 Shannon, Crystelle and Alexis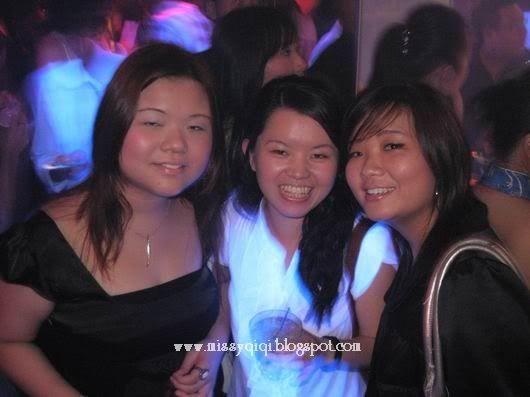 The event finally started at 9pm….
1. Cheerleading performance
2. Special art of defence
3. Singing performance ( i like this the best)
4. Kovit's and Ana's (www.strut.com.sg) fashion show

After this I went home, coz it has been a one whole day thing for me, morning is school, afternoon the jewels show and night for the attica.

Pics on performance.. mom's camera died on me when the fashion show just started -__-"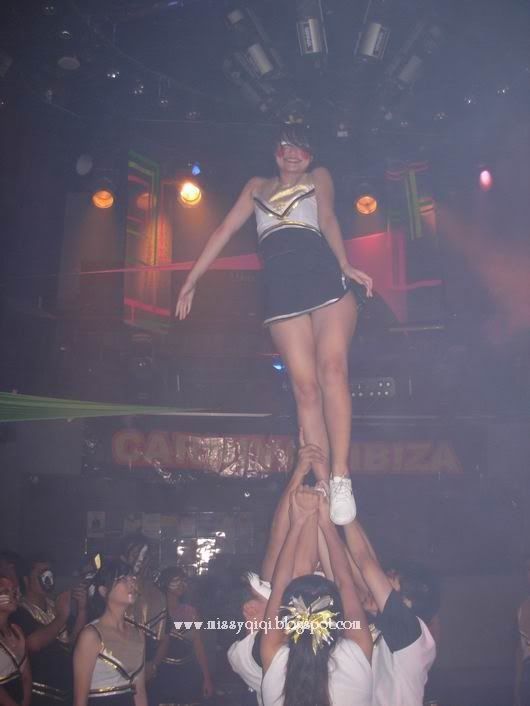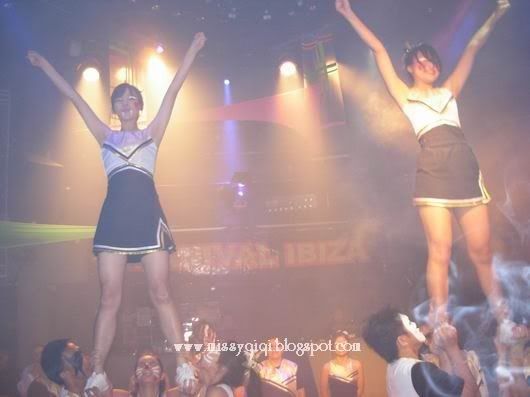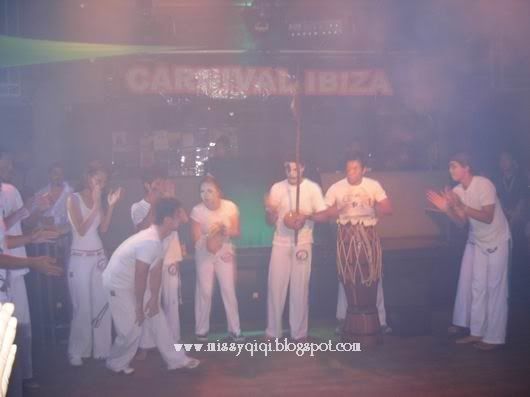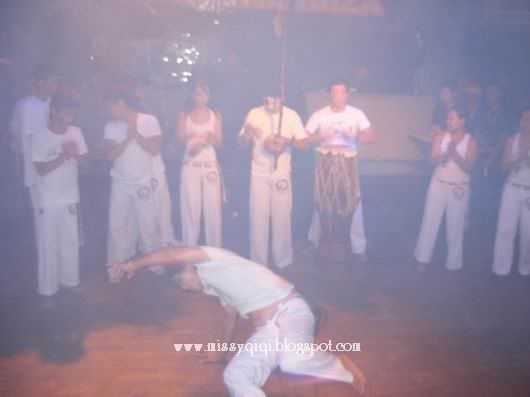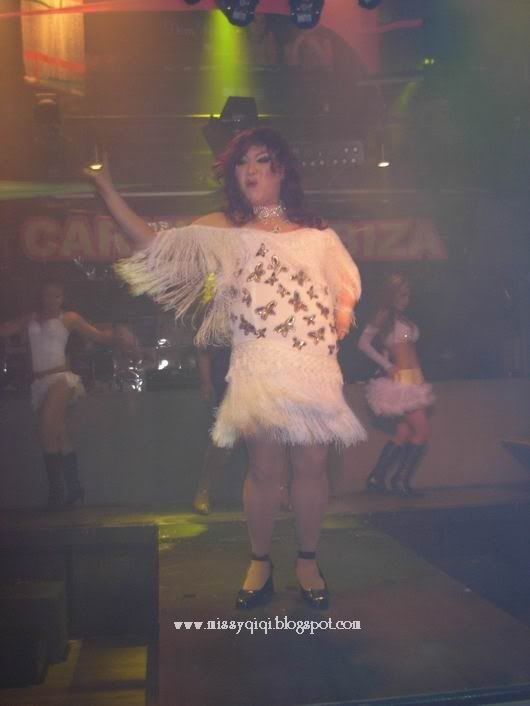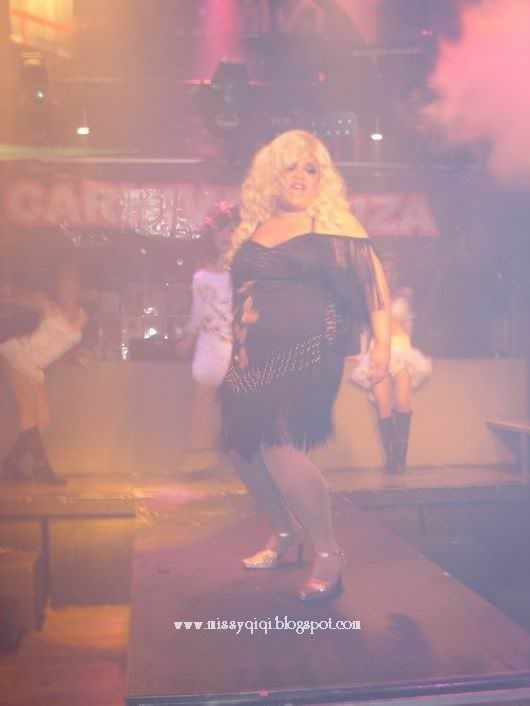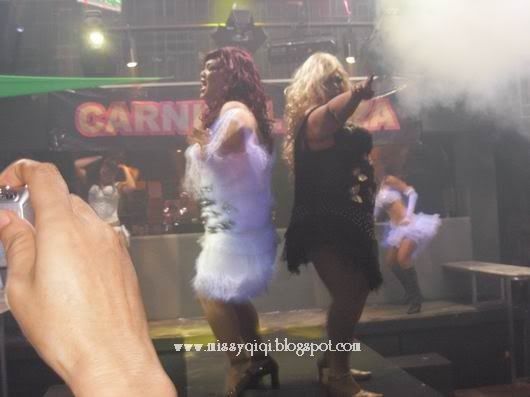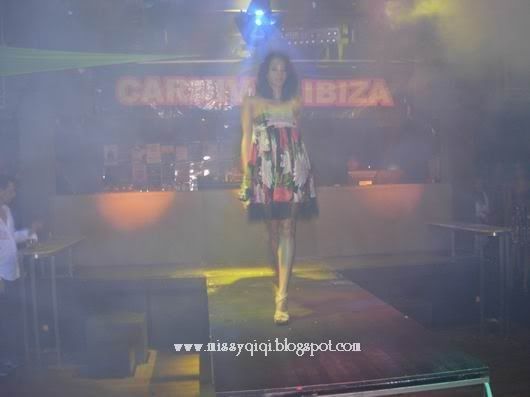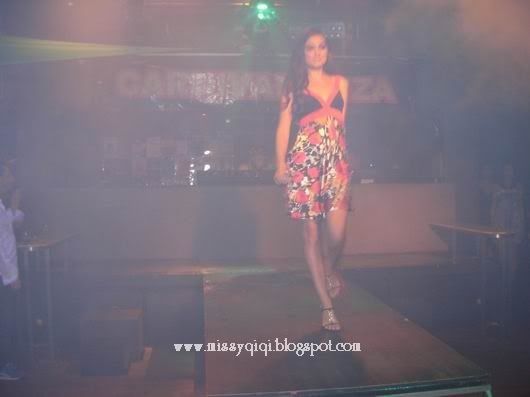 3. Happy Mothers Day

Today is a special year coz i have 2 moms in my house, my grandma and my mommy! We went over to upper serangoon the vegetarian resturant to celebrate the event!


My sister looking at the menu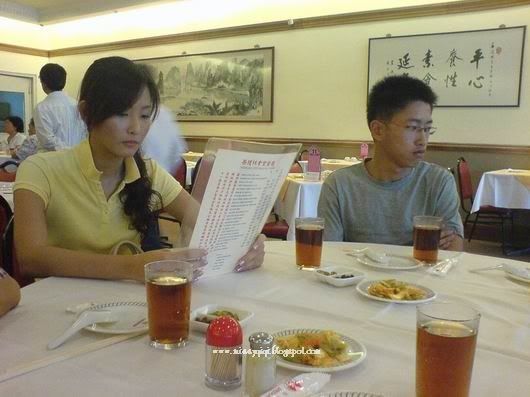 My dad.. don't know what my brother doing sia..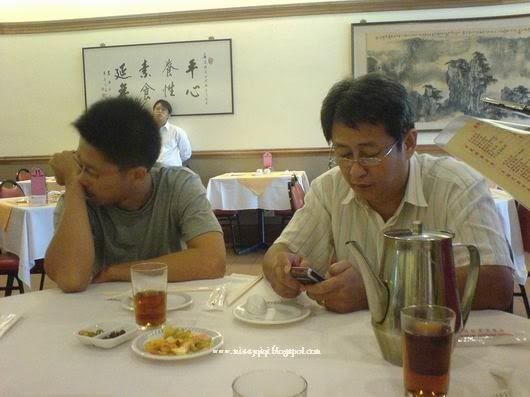 Mommy and me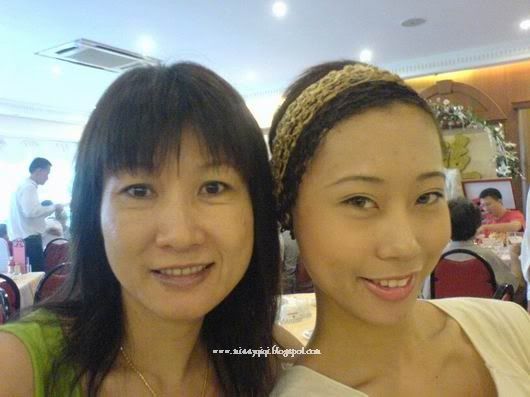 Mommy ordering food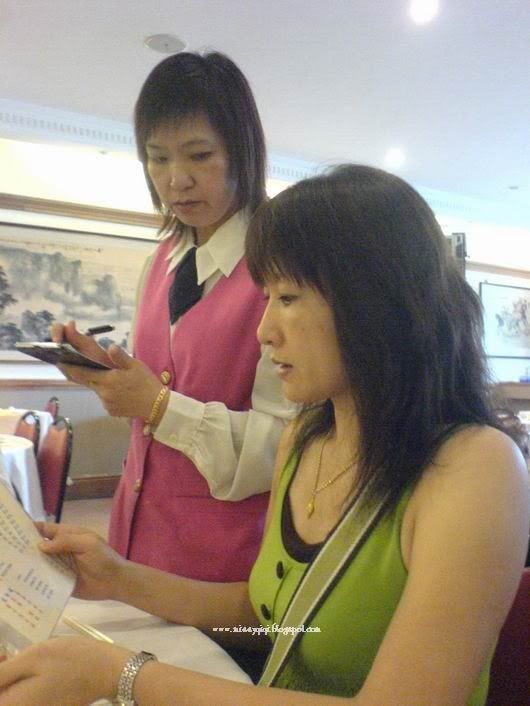 the food!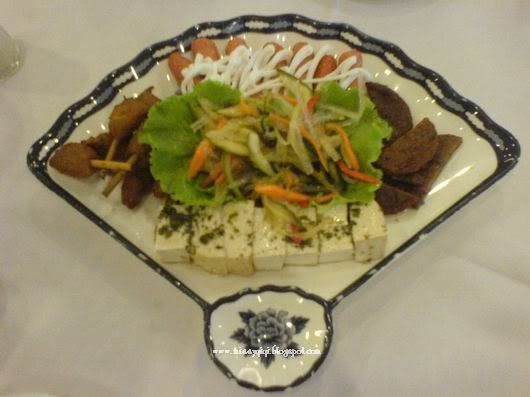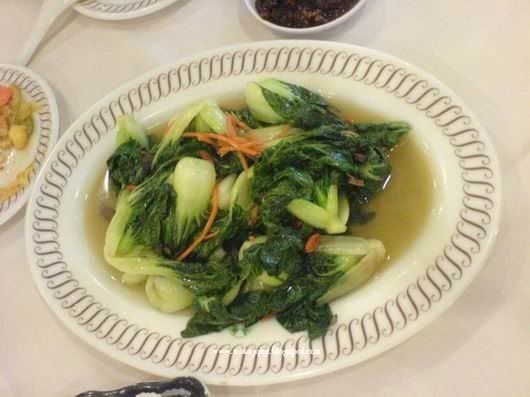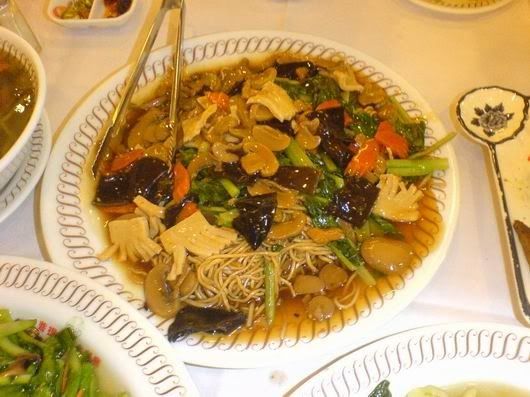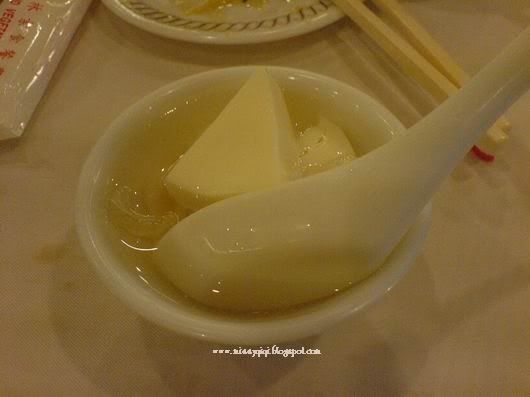 My sister and me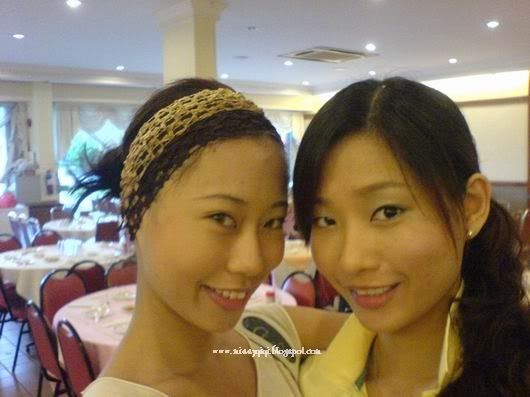 Grandma and me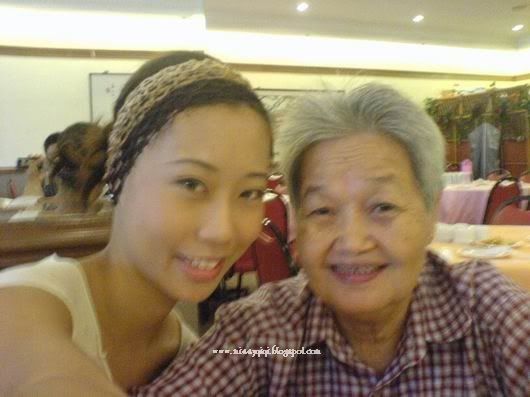 After eating, we went home coz grndma want to take her afternoon nap. Then me, my sister and mom, book tickets to watch 200 pounds beauty! Is a very nice and crying show.. haha


Went to ramen ramen to eat dinner!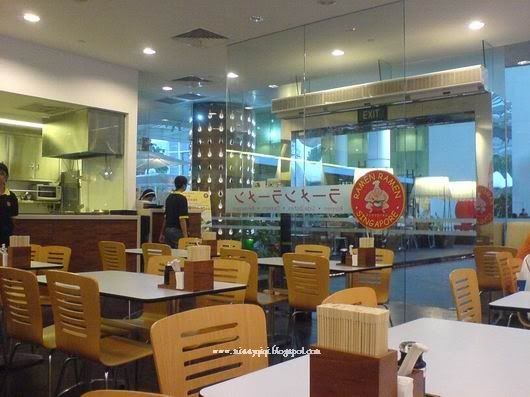 One of the new promo, set dishes with raw salmon! After that i forget to take photos of my food 🙁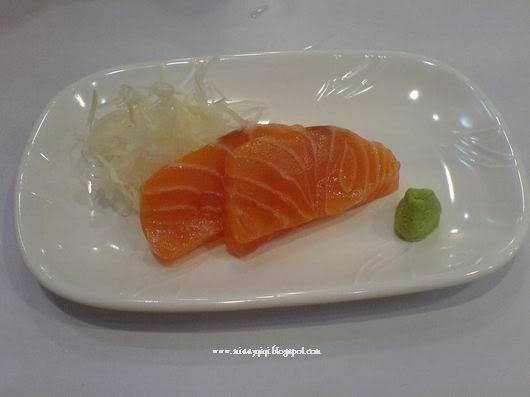 Mom and sister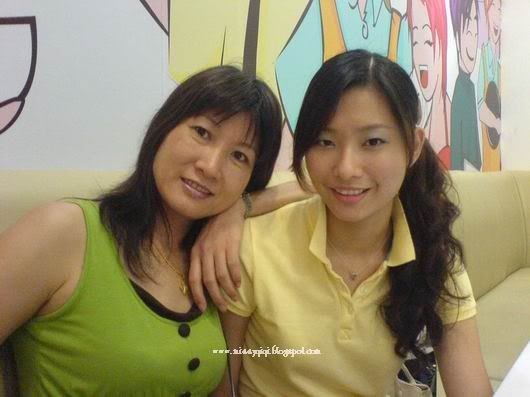 Thats how we end our mothers day… 😀


4. Ferragamo Private event on Male perfume launch ~ 15 May

Happy to be invited by them for the event, and also really thanks alot to Christine and Charrisa for giving us the clothes and heels to wear and make up too. 😀

Me after the makeup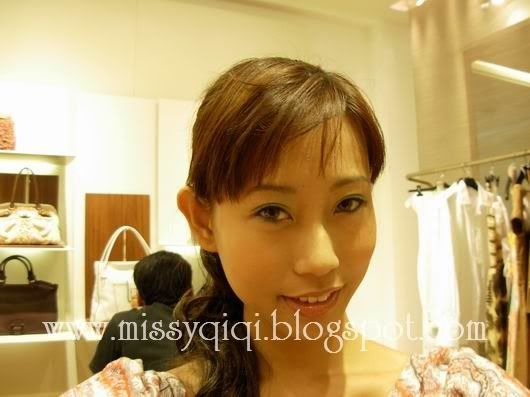 The gals clothes… Cailing, Christabel, Joey and me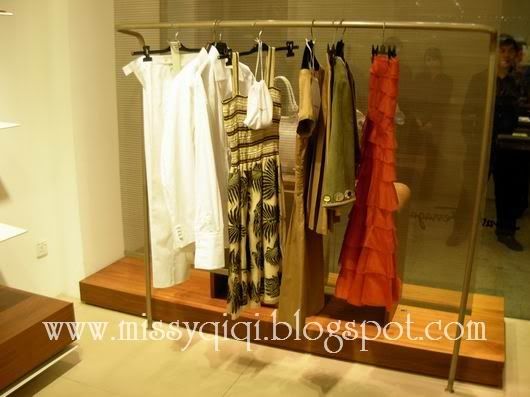 Cailing and me dress up for the events by ferragamo clothes and heels. Joey and Christabel still doing their makeup…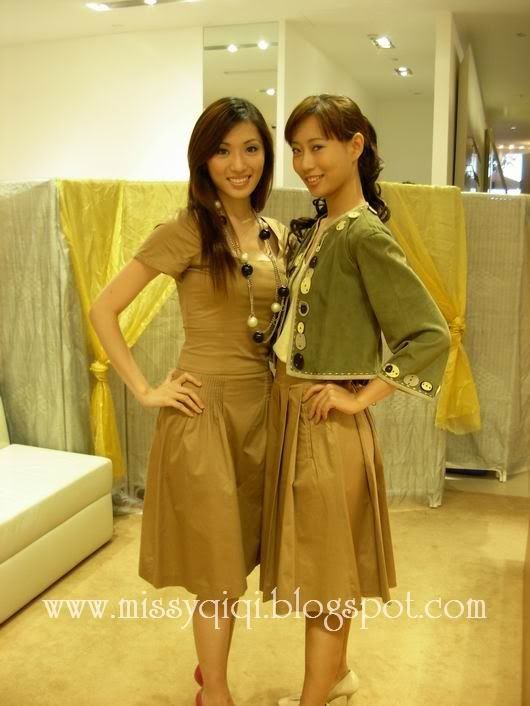 Ladies perfume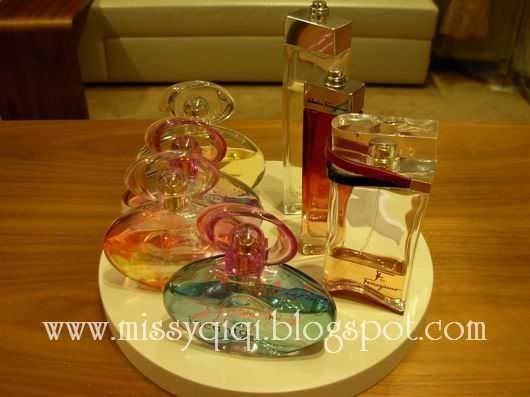 The Man's perfume




I love this bag!!! But its too ex to have it.. $4000 plus… faint sia.. The most ex bag i ever bought is only GUESS ~ <$150.. if anyone get to see some familiar one else where like me know ok!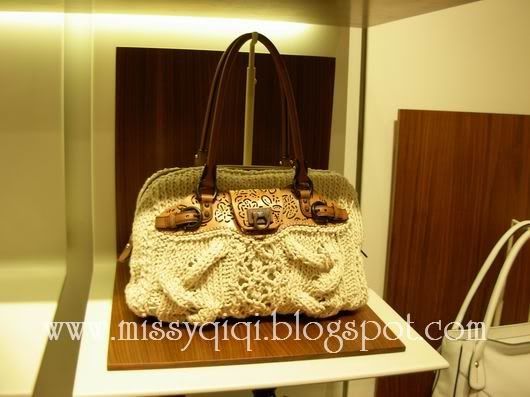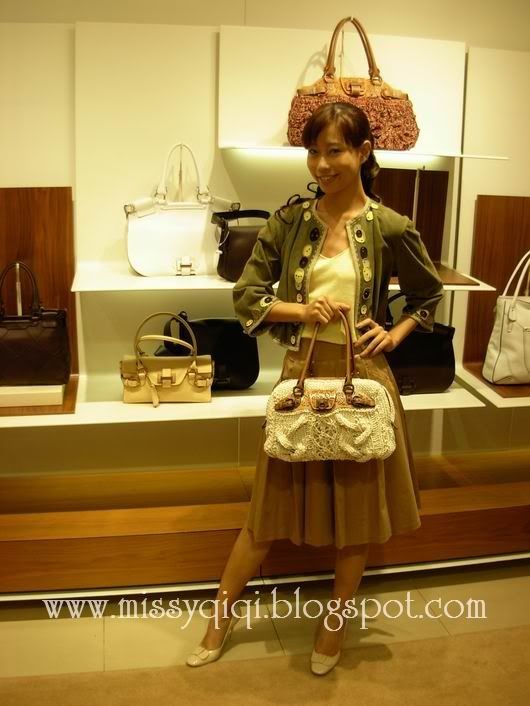 The small little stage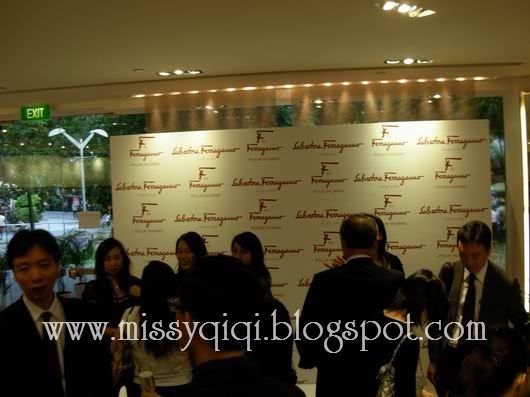 One plates of the finger food.. I love the "Smoked Bacon stick" the most! Best part, the guy waitress know that i love it and he keep coming back to look for me.. -___-"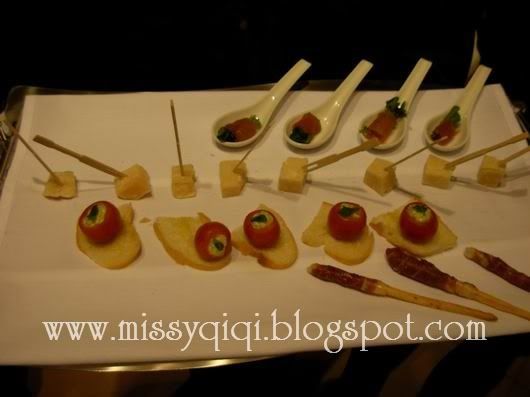 The host ~ Viven and the guy models for the event.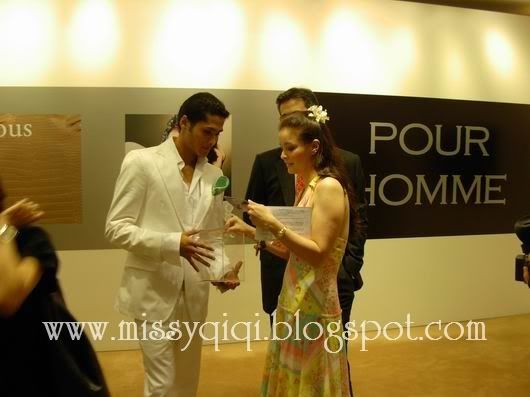 Can't remember his name, got to know him during 2006 glamour quest..





Viven as the host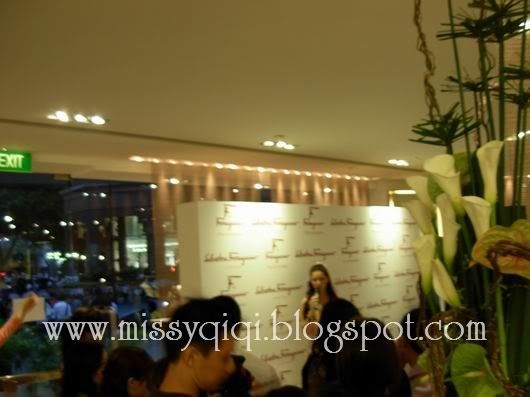 Hunks with the new Ferragamo fragrance





Glas wearing the ferragamo heels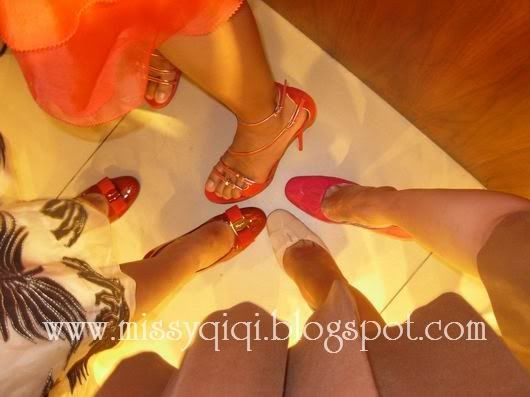 My turn to "model" for the perfume.. Haha…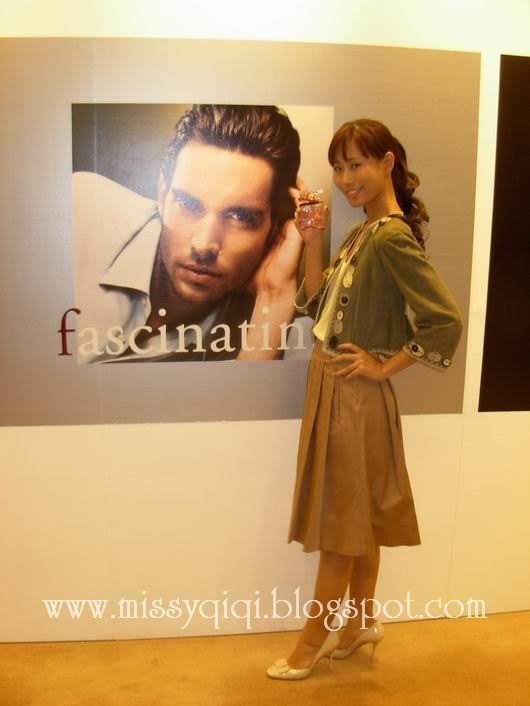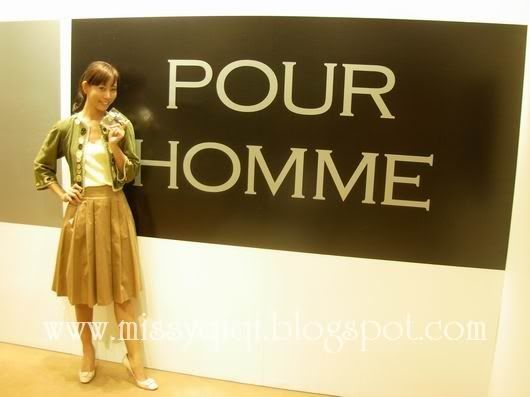 Mr Rowen, GPM for luxasia (if i'm correct, coz too many namecards and trying to figure who is who) and the gals..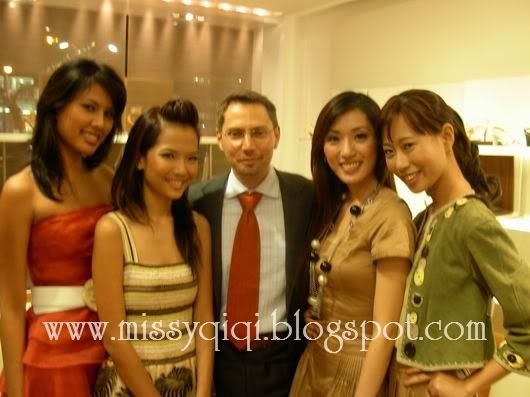 Mr Jonathan, founder of Jonathan Holland & Associates and the gals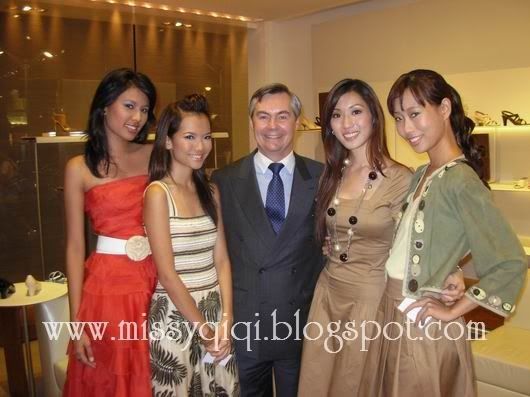 The BIG boss, MR Niccolo Sanesi, Area Manager Asia Pacific for Ferragamo and the gals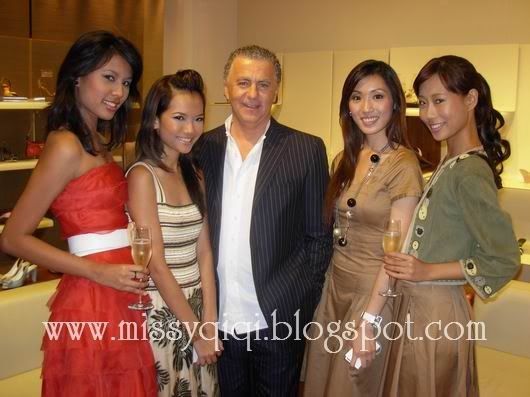 Goodie bag for the guest! So nice of them! This the first time i went for events, company giving the real product for the guest! Most of the time is sample size 😀 Bunny got a new "smell" soon!!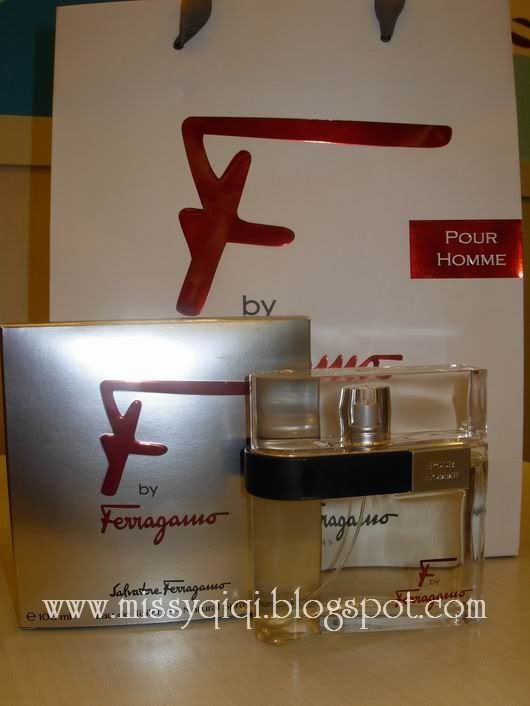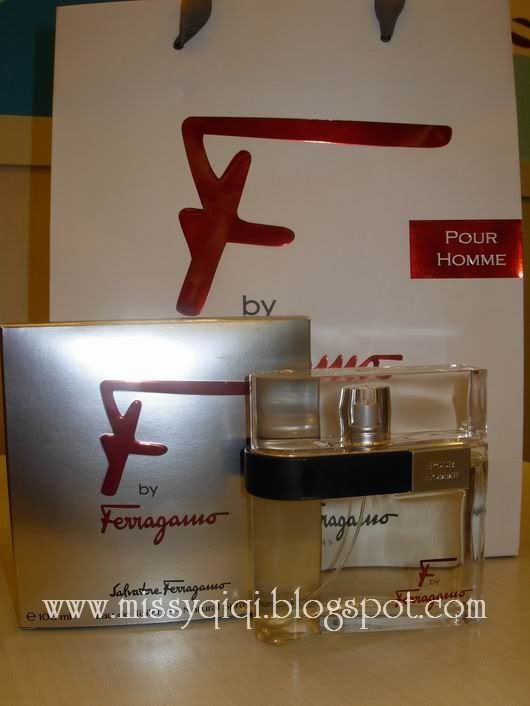 Joey and Cailing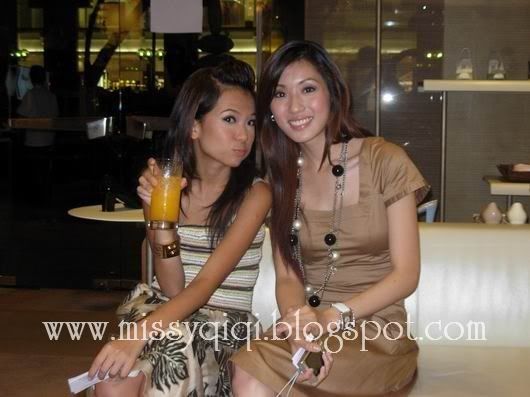 Me and my lovely stick.. and chrsitabel as my beauitful smooch smooch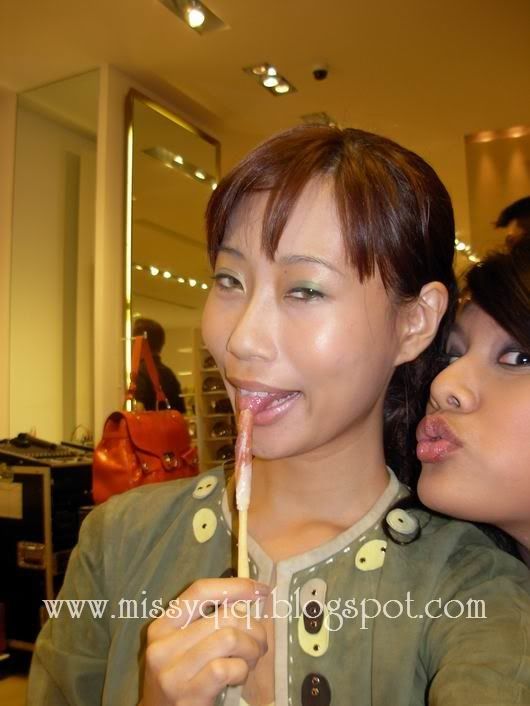 Kenny, Product Manger for luxasia. Thanks to him for the invites. 😀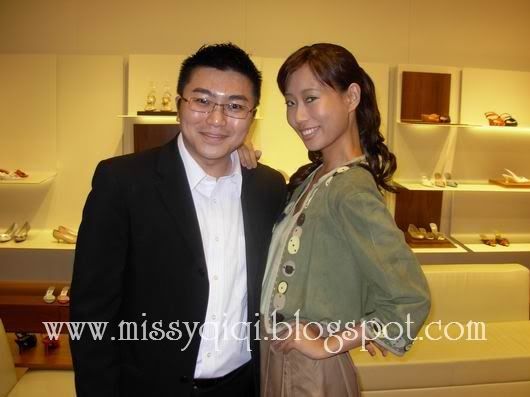 5. makan Shoot at Macau Express

Was invited to have a shoot by Xinming Ri Bao for the food section through my pageant company.

So we had the shoot amd food intor for Macau Express located at Expo outside Hall 4.


From the left corner,
Mr Loong from SPH, Mr Ron Teo from D'zire mediad LLP, Mr Robin Gao Managing Director of Macau Express and me!!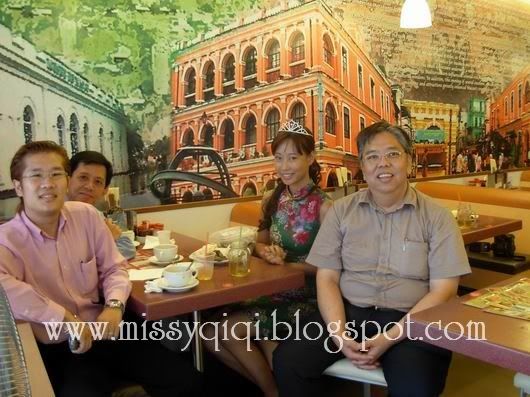 The egg tart! Is very very nice!! First dish that was served to us..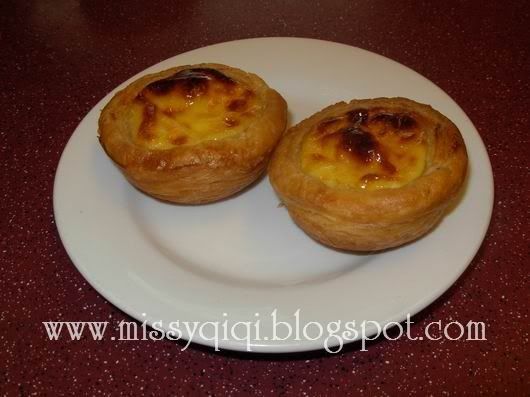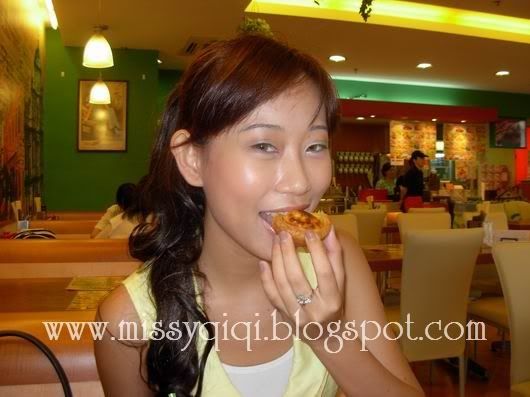 Recommanded by the boss, Watercress honey drink! Is very nice, cooling and healthy drink!
Most of the ppl will cook it as a soup, but no one ever thought of boiling it as a drink and add honey to give the taste a boost!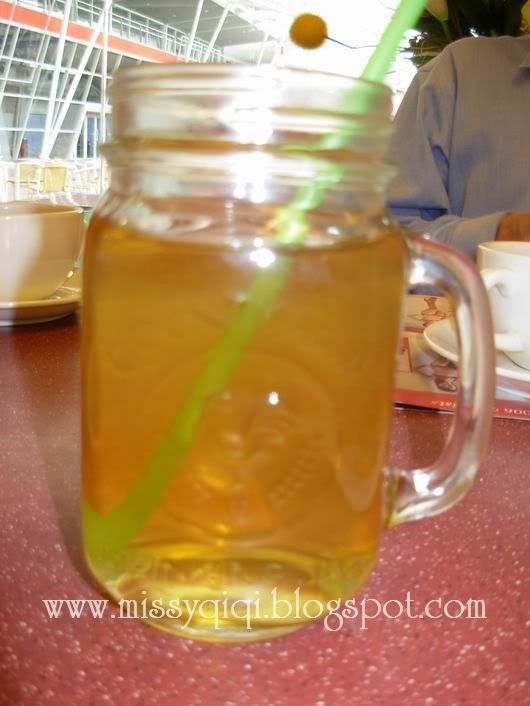 The shop decor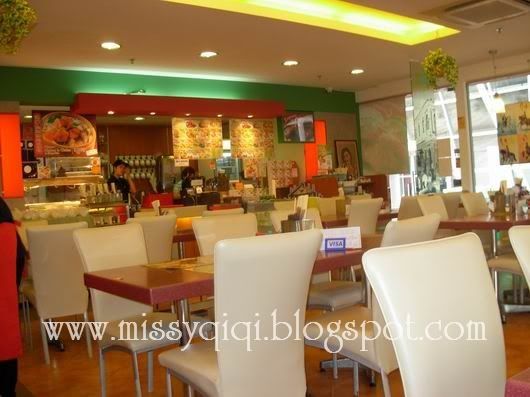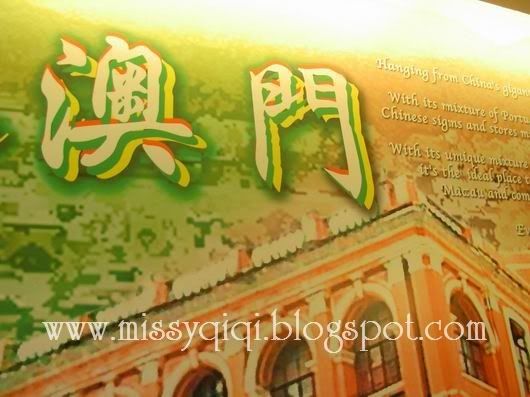 The chicken burger! The boss make it for the lady photographer to eat, It smells very very nice! I'm at the next table, but got attracted to there because of the smell!





The main dish! Black curry from macau! Is not out yet in the market at the point of shooting, but it will soon be out after making some more changes to the recipes. Is really very nice, Is not spicy, not oily like the other curry and it taste nice sue to the herbs and olive oil used. It blends well with the meat serve!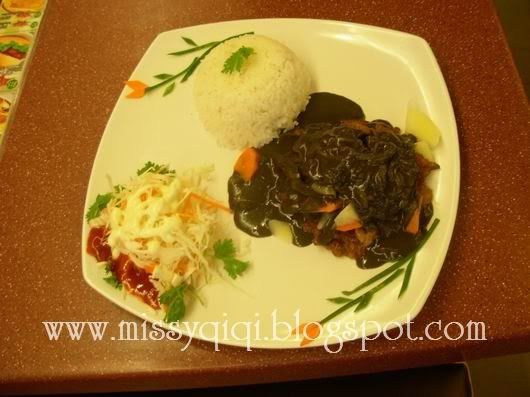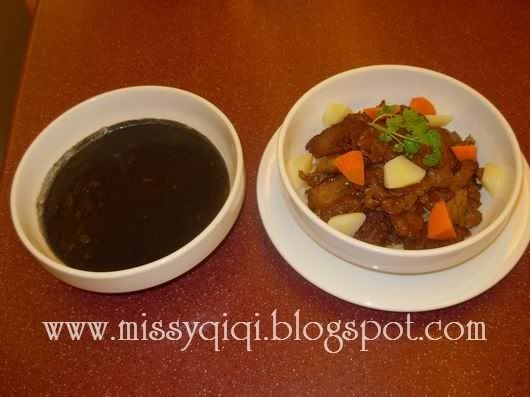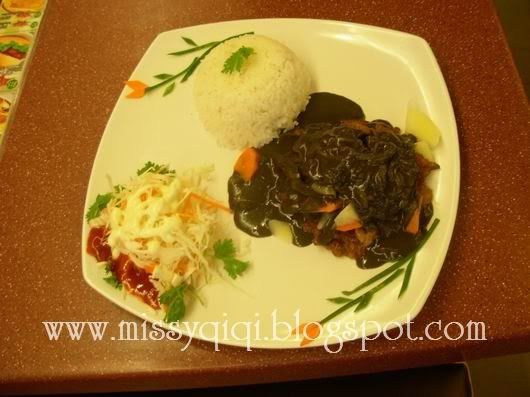 The chicken/rooster is the good luck symbol for macau.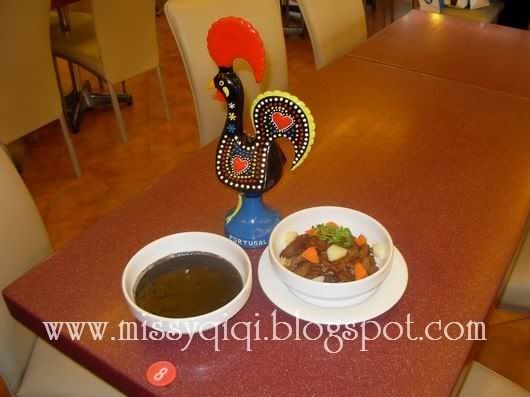 The few herbs in the curry, the rest…. shhhh… its a secret!!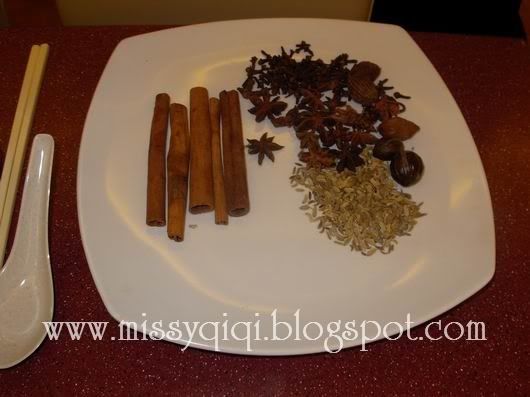 Photoshoot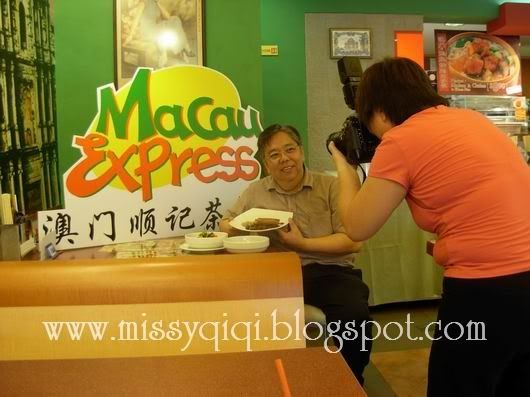 And of course i get to eat the food to give feedback!! I finished it, even though i just had my lunch 1 hour ago..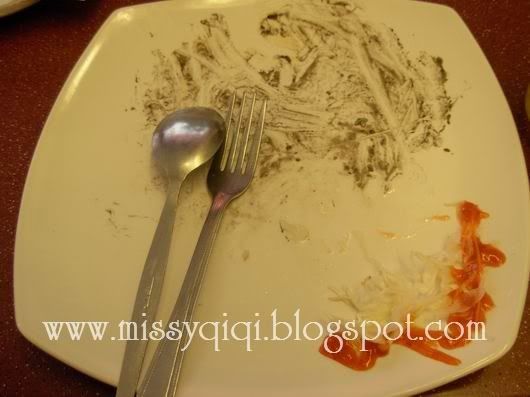 The Boss is so warmed that he continue to serve us a few dishes that is not out in his stall yet to let us give some feedback to me and he can improve on it!


The dessert, i can't remember what is it called, but is quite popular over macau. the top of it and end of the white cream is the fine crumbs of biscuits, very smoothing after eating a heavy dish. To smooth down the taste.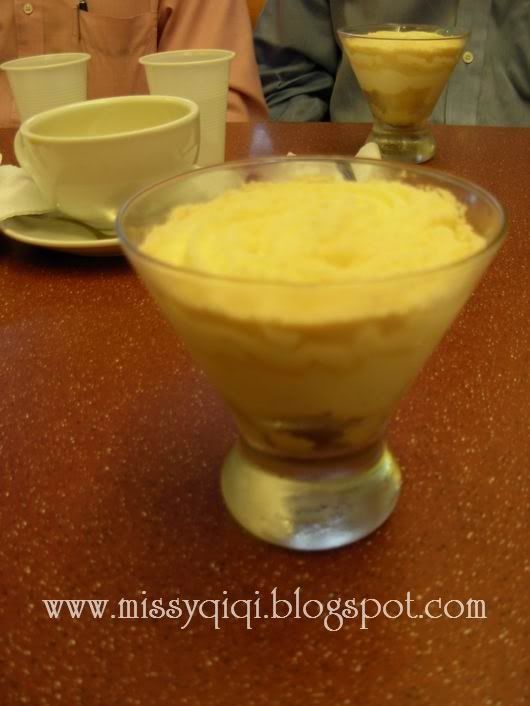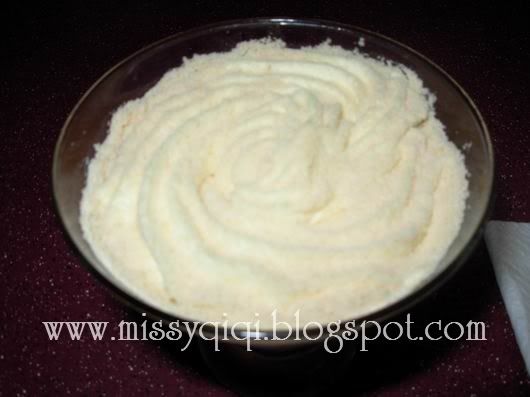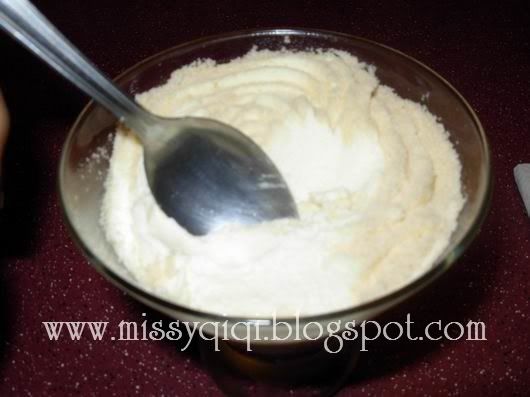 Sticy candy with biscuits. I ever try that at home is really nice! The minus point is the candy always get stuck at my teeth and is too sweet! But this, the boss have process it that it doesn't taste too sweet, doesn't stick to teeth and very nice to eat! I hope this will be out soon!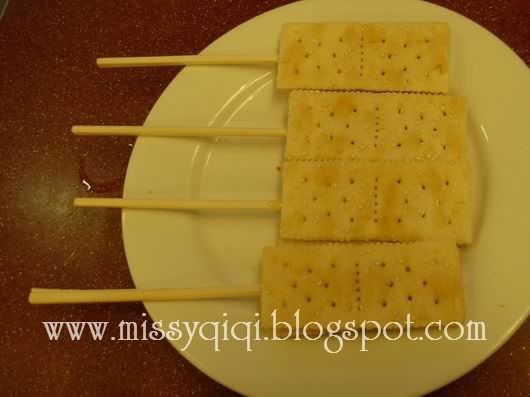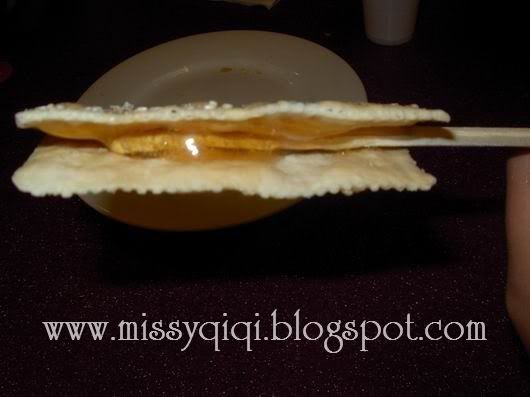 After the trying out of food and shooting, we end the day with lots of talking and knowledge shared by the boss… And among this I find this very interesting.


there is 5 different kinds of curry:

Yellow, Red, White, Green and Black, not only its a food or a sauce of our dishes, it also symbolise the 5 elements and 5 organs;
"Gold, wood, water, fire, earth", "Heart, Lung, Spleen, Kidney, Liver"…

Besides that he told us lots of stuff regarding food that connects to our body. I do know that in some ways, the food is directly connected to our bodies but not in such at a profound way. And also through this conversation, i know that Mr Gao really had a passion in cooking, willingly to share what he know and dare to explore. Is good to have such a cafe around, at least good for me to try out all the daring food! Haha… Really have to thanks all the ppl which makes the shoot and the food a wonderful experience!

And Mr Gao, gave me some egg tarts to bring home and eat! So nice of him!! I really love the egg tart. Coz i love, the straong taste of egg and creamy but not too soft or watery and the crispy crust! I'm not getting paid for this describing, its really deep down from my mounth.. haha… Should try it!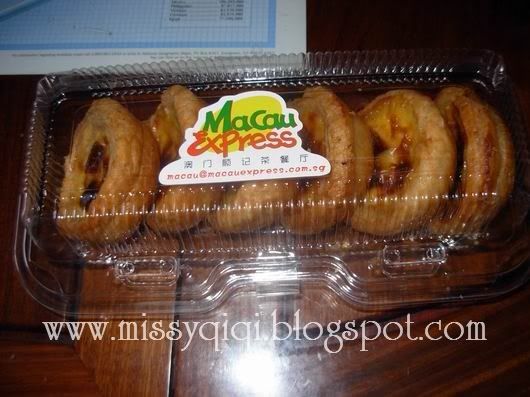 At last, I finish blogging all the events and stuff that keep me busy for 1 week plus.. Bunny is coming back soon!!! Yappie!!!

Last one photos, taken at Assisi hospice inside the lift.. 😛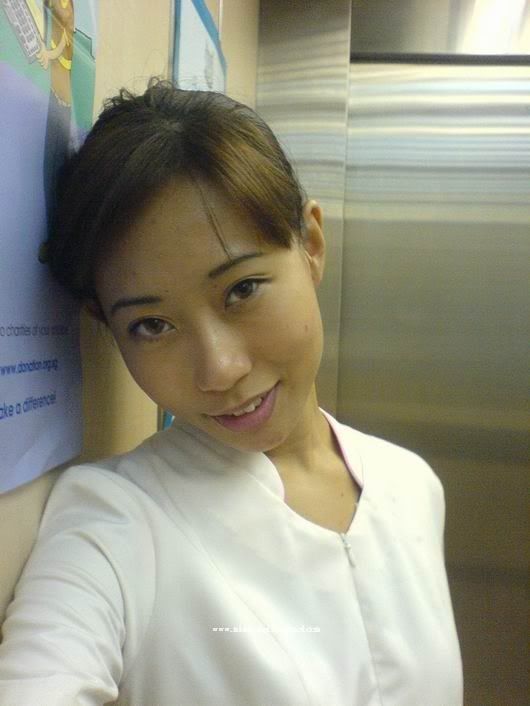 Is actually quite a good experience working as a agency nurse. Coz u may get to work different hospital! Is actually quite a slow pace ward not like SGH, but i prefer busy 😛 coz at least it keep me going. For this hospice it focus more on patients care and needs, not like hospital more on investigating, report writing and etc.. More food of thoughts next time, got to stop here! Took me more then 4 hours to finish blogging… -____-"