It was a bloody experience yesterday! Omg, it was around 8am in the morning, when i experienced my first nose bleeding of the day.. It lasted more than 15 mins.

Ahyo… it's such a waste of blood, for people who are concerned, my blood type is O, a universal doner. I could've collected all the blood that i've wasted and donate it to the blood centre! Dad was so worried about me!

It was actually the first time i felt so close to him, because, being a traditional father, there will definately be some kind of "space" between the father and daughter, like what i've experienced all these years.

The bleeding doesn't just end here alone, i went to have a cold shower and then rushed down to Pathz, an event company for my modeling assignment, i'll talk about it later.

The thing is, on my way to Pathz, my nose bled again… Since Raffles Hospital was just near by, i quickly retreated to the hospital for help! The kan cheong spider receptionist got up immediately and asked if i wanted to see the doctor! She probably thought that i crashed my nose against the wall or something, but the fact is, i just wanted to use the toilet so i can clear up my nose and all the blood. The bleeding continued and didn't stop at all, i was quite sian already, so i called Angel (who introduce me the job), to help me get some ice before i reach Pathz. After getting to Path, i rested for awhile before before doing up my hair and body. I'll spare you guys the details, haha, quite tiring.

Well, this assignment is body painting, we were then painted as tigers, together with 3 other models, different colors and types of tigers for the launch of Apple OS.. something like this lar… Can't really relate the theme of Tigers to Apple company anyway..

And you guys know what?! This is actually the first time in my life trying body painting!!! I felt so excited about it but the process of people painting on me while having to keep still is not exactly fun afterall. We had to braid our hair, and wear tails around Funan Centre!

The whole event finished at 7pm. We then got back to the studio to clean up before i had to rush to work again. I had not slept for the past 24 hours! Night shift, , then body painting event, then rush for night shift work again! AND THIS TIME, THE UNEXPECTED HAPPENED AGAIN!

NOSE BLEED!!!!!!

.
Lol… since young i have been nose bleeding but this is my first time to have 3 incidents in a day and each one of them lasted for more than 15 mins!! I've got no choice but to call up my ward to said that i will be going A&E, sigh, unable to do night shift to earn more money. I wouldn't be able to work afterall.. Called my bf saying that i will be going to A&E and then he said he will be coming down to accompany me. Save you people the details of what happened in A&E.. Hee.. So lang bei..

After that dear sent me home.. the giddiness still has not ended yet.. i'm still feeling the light headeness till now, ahhh… @@

I'll probably be going back to work by tomorrow liao.. Hee..

. Just love to work! d Because, i don't really like to stay at home for so long unless i've got lots of money for me to shop and spend, meet up friends! Or any modelling assignments for me to enjoy myself and indulge myself into glamour and stuff… Hee.. i still like working, whether its nursing, or modelling, i really enjoyed myself.. Lol…. Okay lar need to stop here.

Yep, i really need to thank and hug dear! Because yesterday after the 1st nose bleeding incident, i called him, and he said that i was too heaty probably. He then kept reminding me to buy herbal tea when i'm on my way to Pathz, but i've got no time to buy. And i didn't even tell him that i didn't buy any herbal tea at all. When i was about to start work in Funan IT Mall in my tiger "suity", he appeared suddenly and passed me one bottle of herbal tea..
.

Hee.. so sweet of him. Thanks alot dear.

By the way the outing with the nurses at "No Signbord" located at kallang last week is out!! Hee.. Lots of pweety lwittle captured moments. Enjoy the crazy moments by the nurses!!

.
Below is the whole group of us. Will put up the photos of the 4 tigers next week! Meow! Coz little muddle headed gal left her camera at Pathz… *bonks head*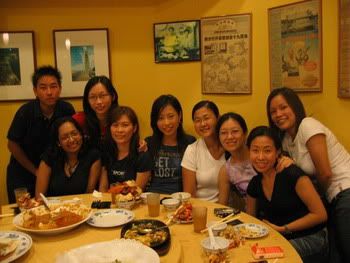 From Left to right
Lyn (Friends cum ex patient), Sumita, Puay Chen (alot of patient said that we look like sister. Hee, Sometimes i feel that too esp when i'm wearing specs), Yan Peng (close to her, like to talk rubbish together), ME, Sue Ching (Same school, when come to work, she damm serious and stress, muz remind her to go for break), Esther (came to our ward for cross Training after that become close to us), Say Li (last time is my clinical instructor now is good friends), Cindy (crazy and nice gal same batch but different school.)