HELLO…..

Its quite some time since i blog.. sorry guys. Coz i was having night shift the past 4 days and 2 days of road show after my night shift. Was so tired thats why unable to blog. This week is a very eventful, happening, happy and mixture of happiness and upset. Why ah?? OKay lets flash back!!

01/08/05

Today is Nurses Day!! Yapee… its a day, where there is a lot of food and presents!! Yap given by our hospital. And this year is a very unforgetful Nurses Day for me coz I have been selected for Istena Party, Meeting the Presidant! Okay lets take alook at the photos!!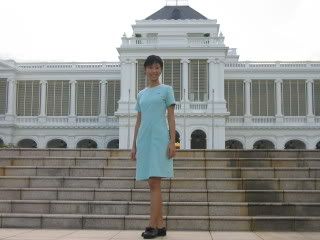 Me outside the Istena. Inside is not allowed to take photo. Its very big and beautiful. Like their crystal lamp very much but too bad can't "smuggle" out. Hee….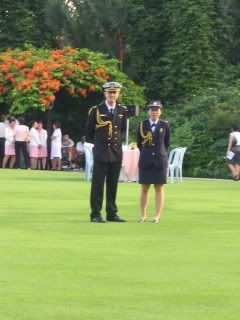 Like the guy's uniform thats why took a picture of it. Hee…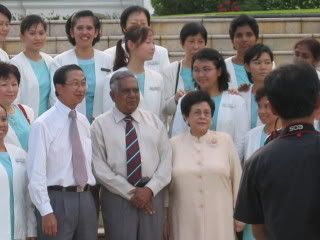 Presidant And his loving wife!!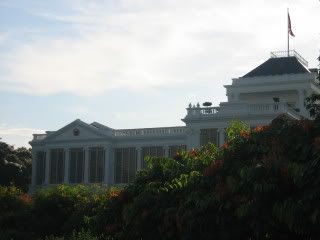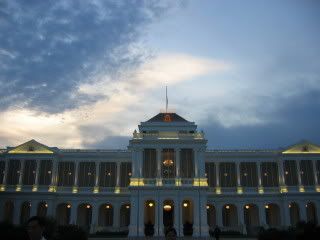 Nice?? Like the night view.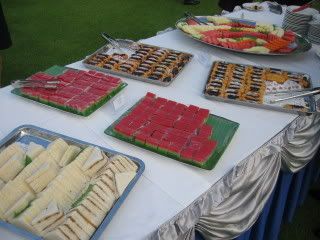 FOOD!!

After the event finish which is about 715pm. I have to rush back to work. Coz night shift mah. Hee…

OH ya… to be continue later. Coz now i have to go kimage to do my hair. And later on meet my firends for dinner celebration cum outing!! Will continue to update when i back. See you guys at midnight!!

OK I"M BACK!! LEST CONTINUE!!

03/08/05

Happy Birthday TO ME
Happy Birthday TO ME!!
Yap today is my birthday!! I'm counting down my birthday with my patients coz i'm working night shift. Dun feel upset because i need to work coz in retuen i got 3 days rest after my night. Isn't that better?! Haha!!.. Anyway received my 1st birthday msg from Zibin follwed by zilan and the rest!! Thanks alot friends. 🙂 And my frist birthday gift from my "gf" and my twins: Ah Shan and Ah Chew!! Guess what they got for me?? Hee.. is a electrical toothbrush!! Ah Shan said because that time when we are shopping at carrfour i was so excited about the electrical toothbrush thats why she and Ah chew bought for me.. Haha… So sweet of her!
After my night shift ended and having breakfast with Ah Shan and Ah Chew, I head down to Raffles place to do roadshow for "The Body Clinic." Its a 2 days road show, although I was abit tired but earn money important otherwise how to cover the loss i have in GSS!! Haha.. Actually is quite an easy job with good pay… (can't say wor). And took a few of the photos before we start work!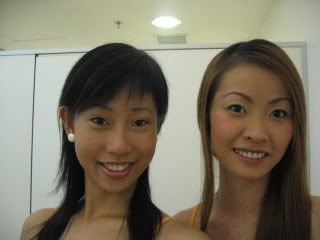 Me and Jessie!!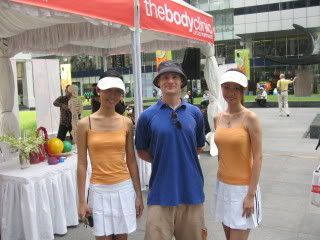 One of the tourist! He wanna take a photo with us before he start work! Handsome??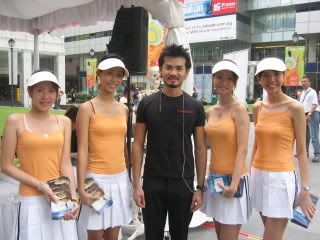 One of our client who hired us. He's also an instructor from Body Clinic.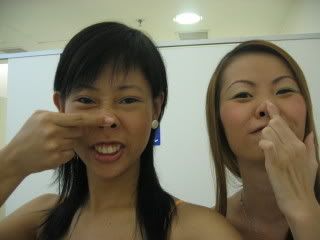 Me and Jessie inside the toilet doing pig face! Favourite Poss!! Haha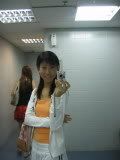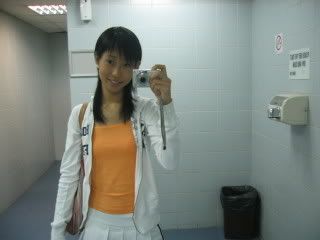 Me inside the toilet, VAIN AH!! Toilet also must take. Oh yar… with my New Abercrombie Jacket! Hee…
05/08/05
That is today!! Today is our Missy Outing cum clebrating my birthday haha!! Today we have our dinner at Merchant Court Hotel – Market Cafe. We had lots of fun during the dinner. U can imagine how crazy we nurses are. Hee… While eating, i received a few missed calls, ondering who is calling me i scoll it down its my BF – Benny!! Yap after 2 weeks of off field trip with no hp and calls, finally got his call i was so happy and almost jump! Knowing that he is safe and sound! We talked for awhile as i need to join the gals for dinner. After that we head down to Party World KTV to sing our hearts out till we got no voice!! Inside the room we were like crazy animals being relased from the zoo!! Dancing, Singing, shouting and jumping!! Oh yar forgot to mention, i got a new hair do too. I have perm my hair!! Hope it will still look nice after few days. Yap… photos time!!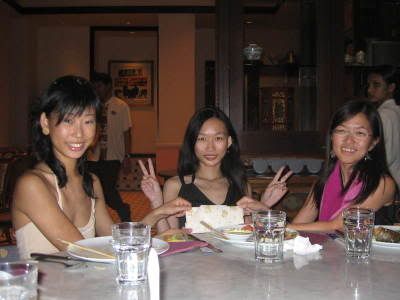 Haha… Passing present cermony. Given by the gals. I really like the gift alot thanks gals. Its $??? voucher for swatch.
Ah Woan trying to feed Ah Ching..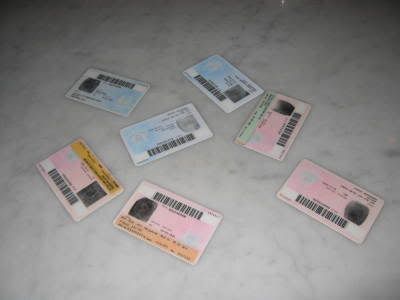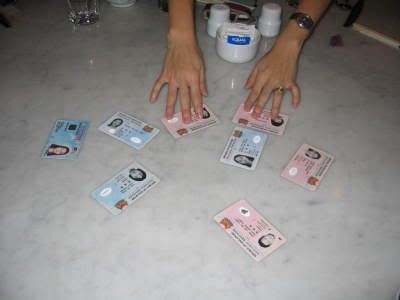 Trying to see each other NRIC photos!! See how we look like when we are young. We had a good laugh till the next table auntie look at us.. oops..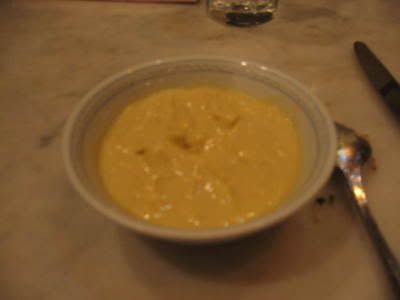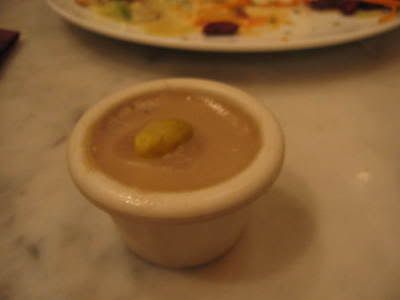 The must eat food when you go there! ~ Durian Pudding and Yam Paste!!
The GANG!!
Oh yar… today wore a pair of new heels but its killing me. This is the first time that i felt terrible. Unable to tolerate, me went to suntec after my hair cut at Funan to buy a new pair of heels. This is what i bought. Hee… Gals got every reasons to shop!!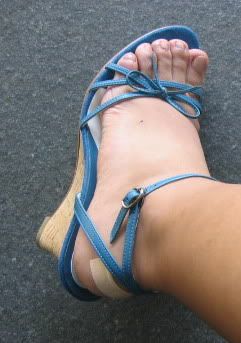 Okay thats all for today. I'm tired already. Already uploaded the rest of the photos from Istena party. The Missy outing will upload and update tomorrow again. Have a nice day!!