AFTER WORK ON 28/07

Today suppose to go out with my "twins" Ah Chew to do some shopping, but she fall sick. So in the end, i accompany Ah woan and Cindy to see their new house located near SGH. WE didn't get to go in buy from outside it seems very nice. Feel like going there to have alook, but we don't have security password and house key, so have to wait till they move in.

After that we want to MOS Burger aroung 6pm to eat as we have not eaten since morning 30mins break at 10am. As usual….. NURSES!!! OK… no going to talk about work here. Ah Woan, Cindy and Xiao Ching are disccussing about their new house about rents etc. so i have to entertain myself. On and off Ah woan entertaining me also. Haha… Coz she "buay tan han" me keep talking photos by myself. On and off we took photos and chit chat abit. Around 8pm we left MOS as Ah woan almost going to lala land already. So Ah woan and Xiao Ching went home, leaving Cindy and me walking around orchard road waiting for Lynn to come. And by the come she come is already almost 11pm!! Lol… need to go home ealy wor, to use computer and faster sleep. Hee… So we chit chat and keep on laughing for stupid stuff etc. So i left the both of them and went home.

Nothing much today actually, except that Lynn and Cindy were surprised that i actually didn't bought a thing today! Coz now is different, need to safe up for future otherwise Benny going to "threaten" me to have wedding done in the void deck!! So i have to think carefully before i spend. And the most upsetting thing is i went to Far East Plaza, wanting to buy short sleeve cropped jacket from Dotti. But I was thinking whether to buy anot as i have second thought, Bu the time i make up my mind that i want to buy the shop is laready closed!!! I was so upset! As the jacket is custom make by Dotti and the stock is not always there. Just nice today has my size!! Now i'm lazy to go down to buy. Coz walking along orchard road is not easy as your will power must be strong otherwise the rest of the month i will be eating "grass".
Lol… the more i talk about it i feel heart pain… Okay stop thinking liao. Photos time!!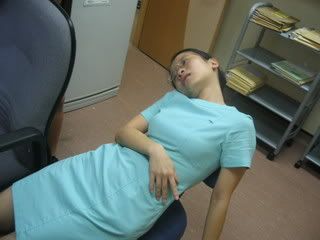 Ah Woan kenna murdered!! by who??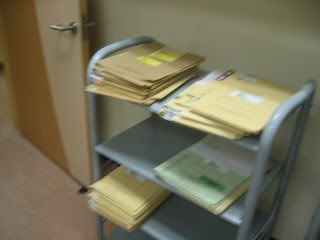 By our ward clerk! coz this amount of notes left by her i'm suppose to do it. Coz i'm covering her duty tomorrow!! 🙁 Once she know that i'm covering for her, she left alot of things for me to do! Will i get extra pay??? Dream……



Ah woan going crazy liao… No lar… entertaining ourself while waiting for Cindy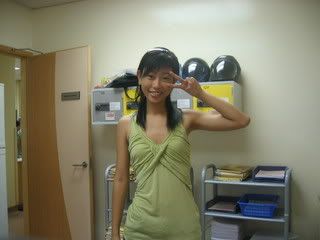 ME!!! At MO's Room. Looking freash coz just took a bath.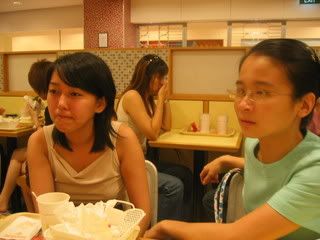 Serious talk… Shhhh… No disturb!!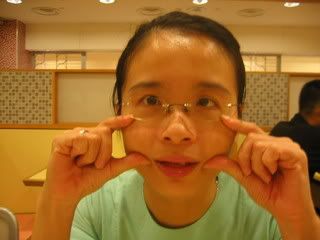 Like what ah?? I think the procodine is making her going crazy!!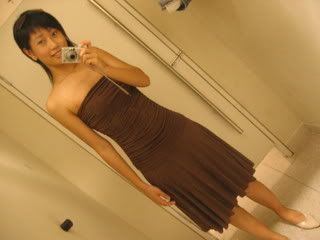 Me at F21 changing room. Nice?? But i never bought it. so just take photo. Hee…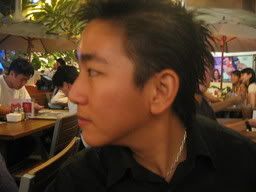 Handsome Lynn!! Y show side face only? Coz she got pimple on the other side. Haha… ;p