MY OFF DAY

Today is my off day, so i sleep until 1pm. Oops, suppose to get up at 11am to slack at home. Haha… no lar… Anyway thinking whether want to go out with my sis anot. After making my "big" decision, finally decided to go out and it was already 4pm liao. So faster change and head to bugis. Took taxi down as sister have to leave bugis at 7pm to attend her "singing" lesson.
Once i reach Bugis i head to TOPSHOP to shop. Coz their sales items is very good n nice. Yap… i bought myself a green top. And my sis said that my dress sense is getting better. Yar… compare to last time (before i know Benny)..
After that we want to Bugis village. Surprise that they have changed a lot and the price still remained resonable. I think its be a long time since i have shop there. Esp when Benny go to army. Coz he know how to bargin price very well without him i wouldn't go there. But glad that my sis is with me coz she also know how to bargin well and act as my "walking" mirror. but i didn't bought much stuff today. Only underwear which is very sexy and cute. 3 for $10 so 1 for sis, me and mom. Bought one shirt for Benny also. Although he told me not to buy anything for him coz he will be in army no much chance for him to wear but i just can't help it. Hee…
Yar… while i'm shopping with sis i saw Tinn.. He open up a salon shop at bugis level 2 called "NICE HAIR" next to "TATOO". They also have a shop at Tampines street 82. But the shop at Bugis only do Rebonding, colour and treatment. If u gals wanna have a try can drop by there ok. Anyway we have a short chit chat and he was surprise that Benny and I are still together and even making plans for our future! Side track abit… Benny does look like "diao er lang dang" when i first saw him. Coz he was having golden and shoulder length hair, very J-pop. But he's not lar. How can i choose a guy like this for my future. Haha….Last time got 1 of my ward doctor keep asking me what is my criteria when choosing boyfriend (serious bf) i dunno how to answer him. Coz most important thing is feelings bah. But a few i listed below is a must and of coz Benny fit otherwise he wouldn't be my Comfirm ONE…



~ Responsible
~ Able to take and work harder when there is setback
~ Able to think and make decision
~ Not "bo bo ma ma"
~ Dimple (its a must!! although benny only got 1 side but its ok)
~ Caring
~ Understanding
~ Able to take good care of me
~ Reasonable

I think thats about it.. hee.. ok but to Bugis.. Hmm… anyway nothing much also. Haha… taken a few photos in the taxi while on the way to Bugis and in Bugis.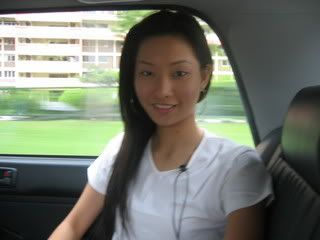 My sister (younger)… Like her nice long hair… haha…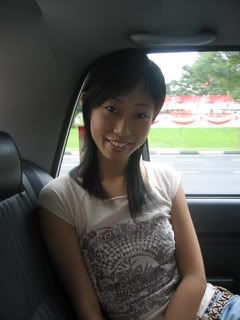 ME!!! a… hope police wouldn't catch me without putting sit belt. Haha…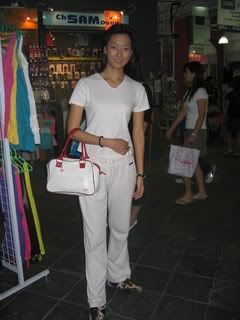 Sis… take a photo of her before she rush off.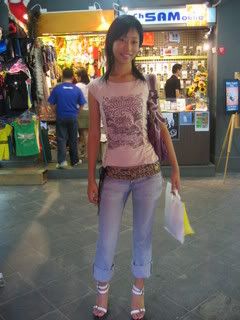 ME!!! Vainpot… haha…