UPDATES
Can't think of what title to put so just put updates. Yesterday meet up with my bf – Benny. So happy to see him after he book out

, but was quite upset as he keep on coughing and had a bad ulcer. Once he start coughing it will take months for him to heal

. Back to our meeting bah. On our way to his home, i took out a gift which i have doing for 2 weeks for him. He was very happy and felt warm

. Take alook what i have done for him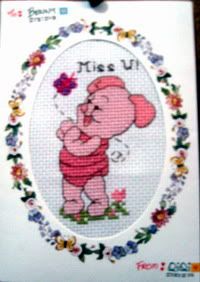 Nice hee.. Specially choose this because of the "MISS U", so that he can paste it at his locker and know that i miss him.

Ok back to his home. As we will be meeting his army friends at 5pm at Beach Road to buy their army stuff. We watch movie at home, which he has downloaded last week. Watch ICE PRINCESS. Quite a nice show. Espcially the last part, I cried and Benny almost cried. I think both of us are very emotion creatures!!

Those who have watch the show may think we are crazy, But its touching mah… Anyway after watching the show we realised that we are late. So faster rush down to meet them. Lucky one of the guys Melvin brought 1 gal along otherwise i will be bored to death. Coz they took so long to buy the stuff!! After the bought the stuff we head down to Suntec City as 1 guy never been to Suntec City before. Coz He was over protective, but Benny told me that he plays game very well. Oh ya they call him the vomit guy also. Coz whatever food he eat in the army he vomited out. He's just not used to the food. Actually quite poor thing only can eat bread or maggie mee. So mothers out there dun be too over protective over your son. Otherwise they will really suffered in army. Here's the photo while we were on our way to Suntec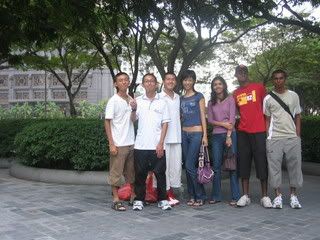 Unable to name them one by one, i only know the guy in red very well-Melvin and the gal he brought. But both of them are not a couple. Dun ask me why coz its so complicated!
Okay back to Suntec. Once we reach suntec we spilt into 3 groups as some want to go different places so we suggest a meeting point and time. So Benny and me go to Body Shop and bought my Nude lip gloss which i have been leming it since last 3 weeks. After that we go ESPRIT, which is definately a must for me every month once i got my pay and Watsons too. Bought 1 3/4 pants and one cami. Like the pants very much. But quite ex ~ $80 plus, but i got discount .

After shopping we meet the rest of the guys for dinner at KFC.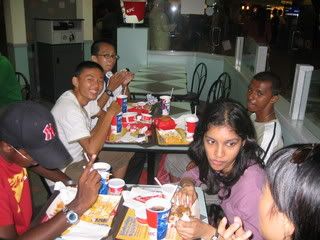 Can't see me right? Hee… Coz unglam lor… No lar just joking coz the way Benny took can't capture me!

After eating, the guys are suppose to go Katong to play pool but things didn't turn out well as plan so the rest of them left. Left Benny, me, Melvin and the Gal. So we walk around Marina Square and shop. Saw one brown Cami which is very nice, love it the moment i tried it. But its expensive wor. $49.90 for normal cloth material and some more made in Indian!! The SA tried to explain that although its made in Indian but its was exported to US and she imported it in. But its still too ex for that kind of material. Anyway no choice but to let go… until know i'm still thinking of the cami!!

After all the shopping, we decided to have a rest and chit chat. So we stop at Suntec Starbucks to have a drink. We sit till 2320hrs. Really enjoying myself. After that took cab home. But I was quite angry. Coz there are alot of taxi but refused to take any passengers! Melvin and Benny said because they want to wait for the midnight surcharged i was like

!! But at last Benny and me got on to taxi at 2355hrs!! thank god, 5 mins to midnight surcharged. Whew!!
That day i really enjoyed alot. With Benny and his army friends. Nice and funny ppl. But i start to miss him. Unable to accompany and send him off as i'm working pm shift. And he wouldn't be out after 2 weeks coz he will be off field training. Hope he will be well. And that goes my birthday celebration with him too. Anyway i have already make plan s with my colleagues cum good friends. Fast right hee… i dun like the feeling of celebrating birthday alone. Anyway on my birthday i will be working night shift so i can celebrate with my patients. Haha.. joking..
Okay have to stop here. Tomorrow working am shift and i'm still not sleeping.

GOOD NIGHT!!