CLEARING MY STUFF…

Today wake up at 3 in the afternoon… lol.. sleep until so late was planning to tidy up my room. Was in a total mess, like a war had started inside my room

. Took about 5-6 hours to clear them up. In between i read newspaper, playing bubbles, coz while clearing found one bottle of bubble solution given by my one of my friend during my 21st birthday, was playing at the window. Haha…

still young at heart. Not only that me took some of the photos, clothes that i plan to sell away, wardrobe, before and after cleaning and my cllection of shoes etc.. Thats why i took hours to clear my stuff…

See my bo liao pictures..


Before clearing up… damm messy right… lol…



After clearing up.. nice?? Hee… Now more spacious can do my earrings and my cross-stich..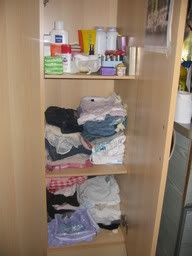 This one is after clearing my wardrobe…Cannot see the before, u will faint…



This one is my small "openspace" wardrobe… not enough space to put my clothes so have to buy this clothes hanger.. lol… too much shopping..



Haha.. my shoes… Vain right… only started to have this sickness "shoes addiact" after meeting my bf, Benny, coz he like gals wearing heels, more feminine. Top left hand coner is my 1st black heels. The recent one is directly below, bought from Tangs Studio, like the turls pattern.



Left one space for my make up and skin care, table big, some more not schooling so can afford to put. While clearing found out that i have alot of lip stick / gloss up to 15!! Do i have so many lips to put every single colour?? Lol…Some more i dun put make up while working (nurse). But i like to mix and match the colour of the lip stick. It will give u a nice effect trust me, but the must have is a shining lip gloss after mixing.. nice effect..

I really have alot of rubbish. Once reach home have a habit of throwing my stuff on my table. Espcially shopping stuff, just take out the clothes or whatever things i buy keep it and the rest just leave it on the table. Bad habit hor… Must try to change

.

By the way, on friday before going to work (night shift) meet up my bf and his army friends for dinner. At first i thought the whole thing will be abit funny but it turn out well. Nice friends and very kao xiao… Hee… The next day before he book in also meet them at mac for their dinner as Benny and me had already had our dinner at home. Took a photo before they fall in.



His close buddy…