Yesterday suppose to blog about my hair show pics, but brother book out from army so never got a chance to blog. Today working night shift. Happy and sian also. Happy is because working night shift means i have extra money and i'm working with Ah Chen got khaki. Sad is because Benny is in army, so nobody can "chat" (sms) with me. 🙁 Sian right. ..

Anyway, yesterday wait to use computer till 12mn, but brother still using so I don't want to wait. So I go to sleep, but can't fall alseep so I start taking photos with my love ones.. using my handphone.. Haha.. They are the one who accompany me to sleep at night, "hug" me and give me sense of security.. Nice nice.. After taking them i realise some of the toys aer missing, so i look down (sleeping on double decker, below is my table), saw a few of my toys commited "suicide" -___-", me lazy to go down and pick it up, only say oops… Haha….

Ok here come my bed lovers…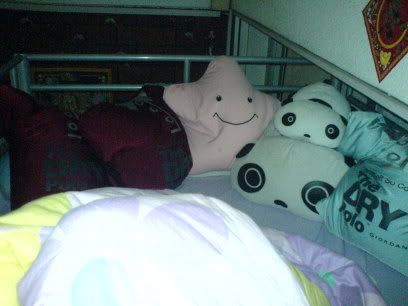 The toys which are at the foot of my bed.. Quite dark, coz I already switch of the light, got about 4-5 bean bags (Benny give de) there and my panda.




At the right corner of my pillow.. My small cute lovers.. Where i bury my hp when i'm sleeping. The pig, when u press the stomach, it will have "oink, oink" sound.. Haha.. Cute hor.. When bored or sad, press this confirm will make me happy and go to sleep..




The bread is given by one of my secondary school friend during my birthday. I use to put between my leg to hug and my big doggy to put behind me so I will have the feeling that someone is hugging me.. (ok.. i think i seriously lack of security but i don't have bad childhood wor???)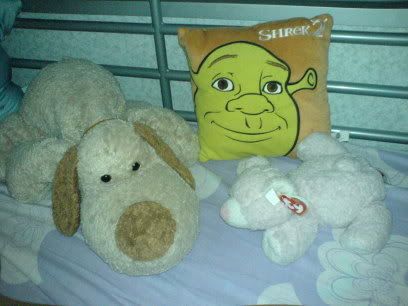 The other doggie, also use for huggy (so i hug 2 soft toys), the smallest is the one i miss out, suppose to be at my right corner. The shrek he is my secret lover during sleeping time.. Haha..

Flooded with toys.. only enough for me to sleep and cuddle in..

After taking them, I thinking what happen if I get married? Where my husband going to sleep ah, with so many toys around me.. Haha.. I think I will "kick" him out of the bed.. Haha.. So bad right..
~~~~~~~~~~~~~~~~~~~~~~~~~~
Ok comes to my hair show.. Really had an enjoyable day. Great thanks to Sherry for intro me the job and thanks for Wendy for selected me for the job. 🙂 The job is great and team are nice also. They provide as food and drinks throughout. The food are quite nice accept that they are abit spicy so I got no choice but try to eat. The hairstylist are nice and fun people.. they really make the long day an enjoyable one. Sorry me can't remember their names.. anyway they are from Redken New York.

Some pics taken using my phone. Really have to thanks to Sherry who volunteer to take my pics.. Really need to bring camera to repair, quite some time liao.. Ok after night shift will bring to repair… Actually got a list to-do.. so many…. 🙁




My outfit… Now u understand what i said at my previous post bah. Those who have seen me in all the hair show or shoot, may realise that my style is all punk and sexy… don't undertstand why… -___-"




So many ppl doing my hair.. actually want to take the stylist but i snap too slow so only manage to shoot his chin… -____-"




After doing.. this is about 3/4 hair do done.. Nice boh?




The guys model have their body tattoo..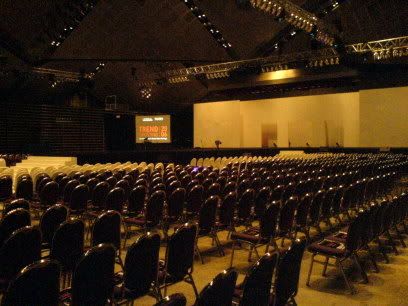 The hall…




The theme… Trend Spotting 2006 by Loreal and Redken Stylist from Demark and New York.


Ok the rest of the pics have to wait for sherry to send me. 🙂 Going to prepare for night shift. See ya tomorrow. 🙂