SHORT UPDATE….
Actually not planing to blog but since i reach home early and i have abit of time before i go to sleep, i shall post abit of photos bah.

Glamour Quest Final….

Went to watch the finals after work. Gonna support Tabatha, promise her that i will come early to accompany her. So chat with her and eat her food… haha.. no lah, share la… hee…. after that went to the front to watch the show. Thanks to Dylan for the tickets, otherwise i will have to stand the whole day. 🙂

Pics not very clear coz using my handphone K750i to shoot.. no choice my camera died on me coz i "zhi pai" too much the camera cannot take it… -__-"




Tabatha and me at the backstage…




Dylan and me….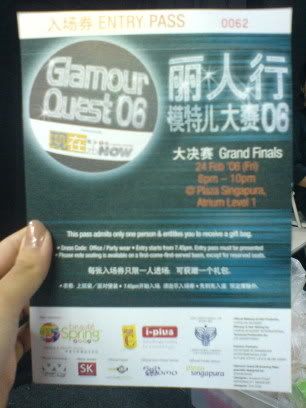 My ticket!!! Haha…. Thanks to Dylan..




The stage…




The ladies… wearing creative wear…




The future models… cute cute…




The winner of GQ 2006! Congrats!!!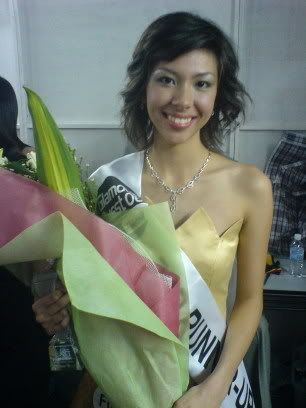 Tabatha She is the 2nd runner up!! Congrats!… manage to take a pics of her at the backatsge before i went back home…



This pics was send to me by Dylan. It was taken while they are having the photoshoot.

Pic not very clear… i understand me took alot but too bad can't see very clearly.. lots of pics can be view at clubsnap.org

~~~~~~~~~~~~~~~~~~~~~~~~~~~~~~~~~~~~~~~~~~~~

My valentines…..

Celebration part 2, meet up dear very early at East Coast park to have our valentines celebrated. The day before i complain why must wake up so early… (meet him at 930am)… so tired… but it was a nice arrangement. We had a breakfast at East Coast part one of the Bar and resturant. Its a buffet, great for me… haha.. and its not expensive after GST and service charge is like about $8 per person. Thinking of going there to eat again provided i can wake up early.. coz the buffet finish at 11am.




My flower!! Haha… this is my favourite Sunflower…. So if anyone wants to give me flower please no rose…




The place where we have our breakfast…




Yummy food.. actually by the time we reach there about 10am (coz i was late) most of the food was gone, but they refill it again, so didn't manage to take the pics.




Nice nice Sunny up… (is that what you call?? can't remember)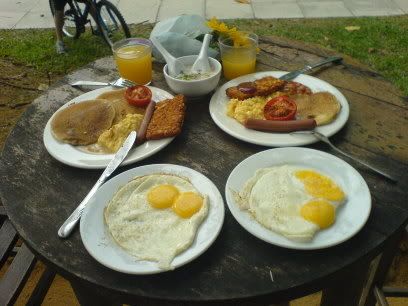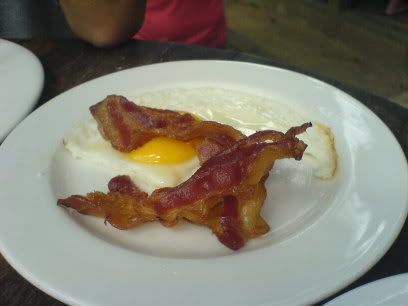 Yummy food… took quite alot of food..




My present!!! Thanks dear… It nice and blink blink de.. Didn't expected to receive this, coz i never used so expensive stuff… I always use Loreal or maybelline.




Pics of us… Cover up my face coz i still have the sleepy and sicky look… haha….

Thats all for today. Later on have to meet for my ward friends and colleague for dinner at Lau Pa Sat before going to work night shift… Yesterday went to airport with Sue, Cindy, Pei Chen and Ah woan to sent Say li off to Aust for further studies and fetch my "gf" Yih Shan but her uncle come and fetch her.. -__-" make me wait for so long… Faint…