MORE PHOTOS…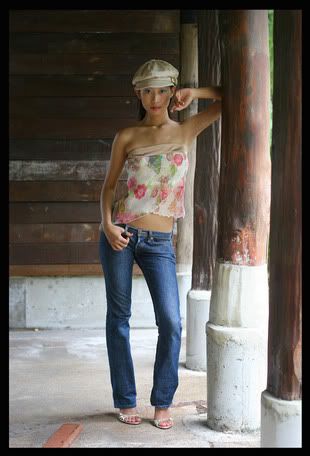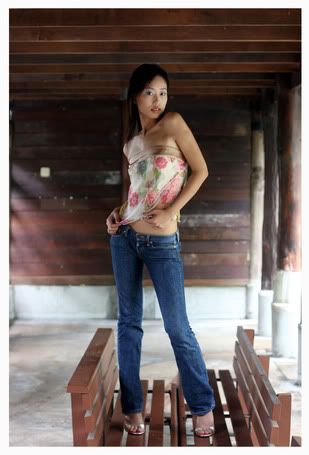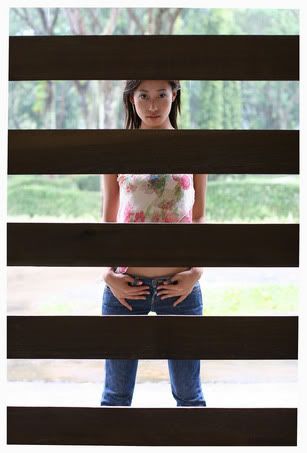 Ok thats the last set of outfit le.

Today meet up with Liang Dan regarding insurance, plan to take up another savings plan to control my savings but some how or rather dear doesn't like the idea. Coz he scared what happen if i need to study than where can i get the money? Anyway lots of issue.. I always hate to think about money. Thats way insurance is the best, i just put money inside and i'm unable to take out and also i can get some money every 2 year plus. shit… don;t want to think about it le.

After meeting Liang Dan, meet up with Nizea, Sue Ching and Sumita. We were all working morning shift today except for Nizea coz today she started her 8-5pm at A&E dept. Haiz… Lots of our staff are either quit or leaving the ward, everyday facing short of staff, once short of staff, we have to work double once we work double mc rate goes higher and back to short of staff again.. Hate it… Don;t want to talk about unhappy stuff liao.. See pics bah, today Nizea gave each and everyone a gift. I had a giraffe key chian as a gift coz she said i'm tall… -__-" Than we had our dinner at Far East Plaza – Sakura is a halal resturant located at level 5. Very nice food! We order fish, praws baby squid etc… lots of food.

After eating we walk around.. so tempting every where on sale.. See lah… insurance better right… so i won;t spend. See how first bah.. Dunno whether i'm going to start schooling anot? Anyway after walking for a short while all of us went home by taxi… tired..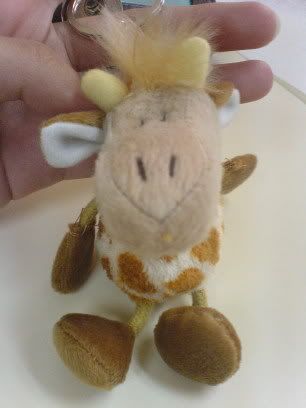 My present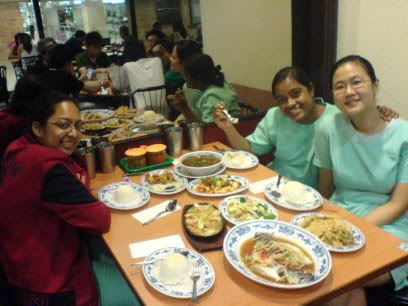 Big feast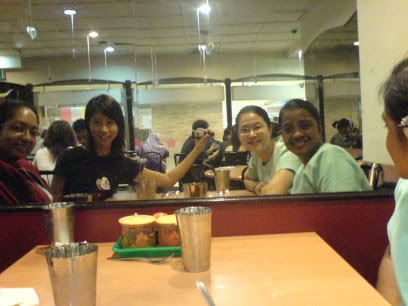 Our image in the mirror..




Nizea and Sue Ching




Me and Sumita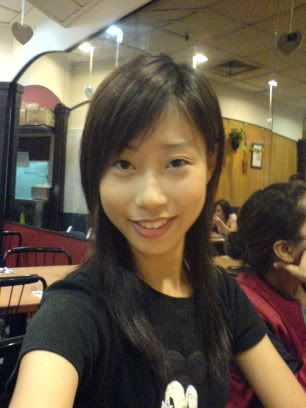 Ok the vain me… '




Waiting for taxi…..

U know what i love mt ward friends and collaegues.. the best i ever have.. my motivation to work.. I choose the ward because of them esp sue, ling woan, pei chen etc….
~~~~~~~~~~~~~~~~~~~~~~~~~~~~~~~~~~

Going to share some funny conversations that its share between Sue Ching and Pei Chen on Saturday after we finish work. We went to nearby roti prata shop to chit chat.

We were talking about my love theory… anyway i also dunno how the topic started.

…I told them i can still like some one although i'm in love with Benny, a guy which i have plan my future with. They was like "ah"… Ya surprise right.. But i told them no matter what i woouldn't leave Benny unless he don't want me or something bad happen to me or him (*touchwood*). Told Benny before that.

So even though throughout my relationship i may or maynot have some "feelings" for another person, i wouldn't leave Benny because of that particular person. So if i find my love life abit boring or maybe no sparks, i will try to do something to make it like our "honeymoon" period, i would ask for a break up just because of our couples fight or i don;t find any sparks in our relationship. So i'm glad that i'm still have the honeymoon mood, althought we have been together for 3 years plus.. I always find that "I don;t have feelings for you" as an excuse, no particular reason, thats my logic. Thats why when Benny finally goes for army, i'm very happy about it coz everyweek we only get to meet one or two days, it becomes precious for us.

So finally i realise the logic of:

Guys use their physical to make decision while gals use mental. Is true for me not sure about you readers.


After saying all this, Sue Ching was like "Benny will be in danger".

Pei Chen "Where got danger, Xiaoqi already said no matter what she would leave him what."


Yar true lor, but one day if the day really happens is either he don't me or both of us are in heaven liao. Coz I will never ask for a break up, and told them not to follow my bad foot steps coz after my first love, in the moment of anger and my pride i went out with another guy which i not so in love with for 2 weeks. And the best part ya, i didn't ask for a break up, i wait for him to say… FAINT!!!! Bad right.. i think since that day onwards my point of view towards relationship changes alot.

Any comments??


~~~~~~~~~~~~~~~~~~~~~~~~~~~~~~~~~~~~~~~~

My Valentines' Day celebration with dear on Sunday 19/02

Coz dear book out liao mah.. Next week is his turn to celebrate for me. I went over to his house to cook western dish.. .Nice nice… Not i said ah… He siad de.. With my special add on mushroom sauce, got the powder but i just add something extra… Hee… Coz seldom cook at his house so i'm so scared i overcooked the chicken, but lucky, is just nice so its juicy! Haha.. Wanna try my cooking? U buy all the ingrediants than i cook for you,,, Haha..

Oh ya… bought a rose for Benny… Haha.. I find it curious whether guy receive flowers what is their reaction. For me if you wanna give me flowers please not rose.. i dun like… what i like is for you to find out haha.. (something to do with sun)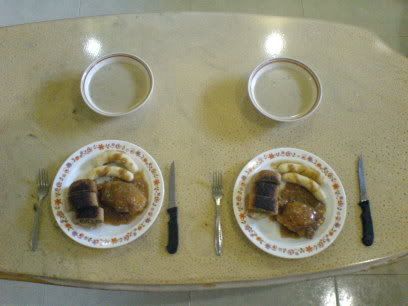 Our food…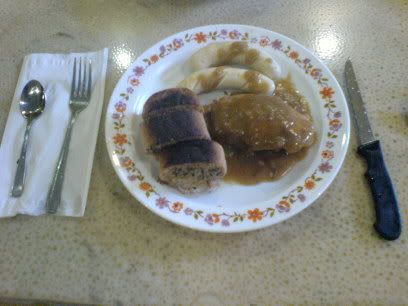 2 sausage, chicken with mushroom sauce and toasted garlic bread…




Clearer view…..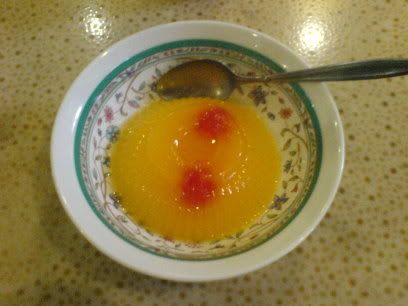 Mango jelly!!! Nice.. haha… my creation….




For benny – Rose.. haha….



Still got alot of stuff to say but no photos yet… wait bah…. Night night….