SGH Dinner and Dance 2005

Finally got the pics from Cindy!!! Haha.. So excited!! But have yet to get some more from Ling Woan. I really have to thanks to Ling Woan, Yih Shan and Cindy for keep using their camera to take photos of me.. coz my camera is spoiled 🙁 !

Anyway lets don't waste time, see the pics more important!! Haha.. The rest of the pics can be found in the Gallery on the left under SGH D&D 2005! This year theme was Retro 70s'! Had such an enjoyable time. We gals even book a hotel – Carlton to spent our night there after the Dinner and Dance! Oh ya besides pics there is also a video clip, showing me performing on the stage. Thanks to my ward Sister and friends who shouted my names and pointed at me, I almost hid under the table. I"m suppose to dance according to what the DJ says but the skirt I'm wearing is quite short so I dare not move to much, so I hope my so called dance (my ward Sister said looked liked I'm doing cat walk – she's know that i'm doing part-time) is still nice lah ok.. LETS GO!!! (Trying to figure out how to insert clips in my blog, take time ah.. Just come back and check whether i have uploaded k.)




Thats my outfit!! Retro??




Our group table photos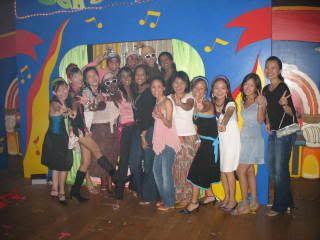 The whole ward of us having fun!!




The famour bike and me!!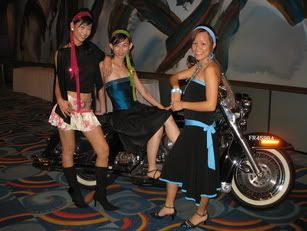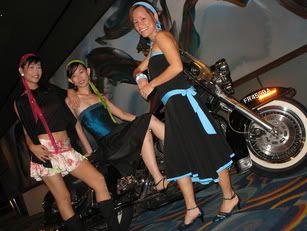 The 3 Angels and the bike!! Abother angle of it!! Credit goes to Ting!




My car??? Hee…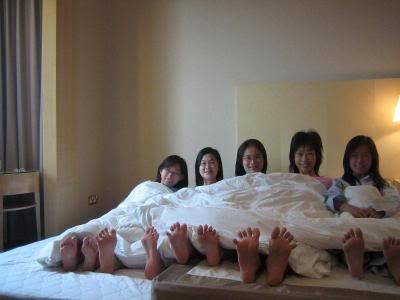 We gals at the hotel! Can see that i just wake up, more hotel – just wake up pics with Ling Woan!! Will post up once i got it!