UPDATES!!!

BELATED MERRY CHRISTMAS AND A HAPPY NEW YEAR!!!

Sorry for not updating quite sometime.. first is my computer down, secondly is Dear's camera spoiled and although I'm on leave last week, but i was damm busy. Busy shopping for christmas gifts, meeting my friends and relatives etc.. but too bad not pics to see.. coz camera is spoiled! 🙁
So now going to update Yan Peng's wedding, and SGH Dinner and Dance!

Yan Peng's Wedding….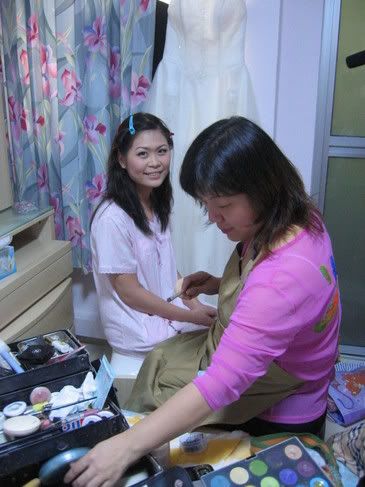 Getting ready… All set!!! Beautiful bride…..




The bride and Me…..




Anxious bride waiting for the groom to come… hee….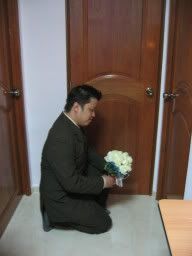 Kneeling down outside the door.. "Ai de xuan yan"




Finally saw the bride… a kiss for her… So sweet…..




The groom, the bride and ME….. the bridesmaid… haha….




Their chihuahua…. cute cute hor… But they keep on barking…




Their wedding car….




The hotel room… Haha… Yan Peng book 1 hotel room for us at Goodwood Park hotel…




Our group photo… All the nurses… and only doctor… Haha…




My wishes for her and her hubby…




The cermony starts……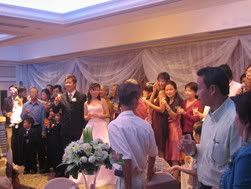 YA……………. SAY……………. can spot me and Ling Woan??




At the dinner table….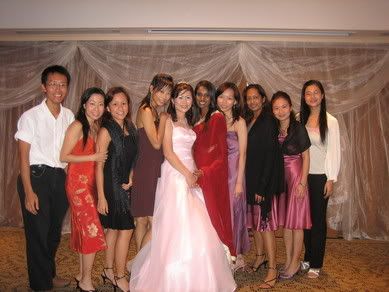 At the stage… After taking the pics, we are suppose to pretend to push the bride down, but dunno whose force is so strong, really push her down, I was holding on to her, i almost fall on top of her lucky, never, her hubby came to rescue… kaoz…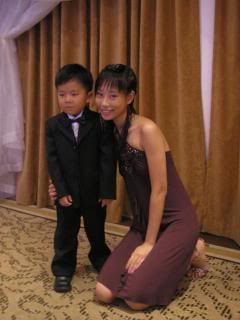 Cute?? Haha… have been aming to take photos with him in the morning…


Okok… we ended the night with a happy day… And we stay over at the hotel… so nice.. haha…
Have to thanks alot of ppl…
1. Yih Shan… for lending me her dress, coz my dress was kenna locked up long story but at that point of time was so angry and upset!!! Purposly ship the dress from Hong Kong and such things happen!!! Wanna tear down the guy"s shop…

2. Dear, for trying hard to get back my dress…. and accompany me to do my hair…

3. Ling Woan, for using her camera coz my camera started to go crazy liao.. and her eye drops coz my eyes is red and swollen, can see from the pics??

4. Yan Peng, for her invite to become her bridesmaid.. and her hubby… haha… coz i snatch his angbao at the door, refused to let him come in…

The rest of the photos are uploading at the galleries on the left… under missy cat….

Happily married ever after…….