SHOPPING!!!!

Before i talk about my shopping, lets talk about yesterday night what i did after i blog and before going to sleep. So after blogging talk to Benny for awhile, than prepare my stuff for tomorrow, so looking for my shoes, i bend down searching for my shoes, after found i straight away turn to put in my bag, than suddenly i hurt a loud bang and i feel giddy and a bit numb, after that than i realised that i bang my head against the wall. Started to feel the pain and slowly the "bun" on my head, sit down there and cried, hmm… nurses also human hor, so i'm human, pain also can cry ok. After that call Benny told him that i bang my head against the wall, he said i'm stupid lor, dunno how to see and never on the light. But he told me faster go and rub with ice. sob sob… pain!! After that went to sleep, but so difficult to sleep. Sleep on my left side (where my "bun" is) is very pain, sleep on my right side i still feel the pain and giddiness. Kaoz… no need to sleep liao.. Some more tomorrow morning shift. So the whole night i have been turning here and there, trying to sleep, eventually when i finally fall asleep, receive a call from my ward. SHIT!! Late for work liao, faster prepare and grab my stuff and rush down to took taxi, still feeling abit gong gong but no choice. 🙁 But lucky today ward was quite ok. But do dressing and in out cath until my hand got blister.. ** faint**

After work, bathe and prepare myself to meet Benny. Told him to come and fetch me so that we can go and have a lunch at chinatown. Me want to eat roti prata!! Its very nice and cheap also. We had 2 plain prata, 2 egg prata, 1 cheese prata and 1 Banana prata.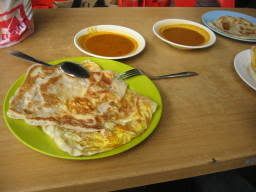 My cheese and egg prata.. The cheese is very nice, espcially if you like melted cheese. 🙂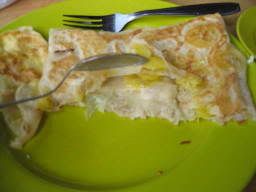 Banana Prata!! see the yellow thing? Is banana, don;t worry is not gross. It taste very nice, cripsy and sweet, esp when u have it hot!

Aftr eating we went to EXPO shopping, coz today LOREAL is having X'mas warehouse sales (thanks to Gillian!!). After reaching there, Benny saw a branded goods warehouse sales, so he drag me in and have look. In the end he bought himself a Abercrombie tees.

After that we went straight to Loreal sales, coz Benny keep on want to go to the NETS family fare. Don;t whether is it i'm the one doing shopping or he is the one.
-_-"

When we reach there, we starting shopping around. This time round their stuff is quite good compare to early this year when i went with one of my friend, Liang Dan. Its better to go together with friends coz most of their items are like 4 for $20, 2 for $25 and so on. At first i bought myself 3 boxes of anti-ageing face mask (cost only = 1 box of face mask good?? haha..), than Benny said how about getting another 3 boxes of whitening mask. I was like ah, cannot lar, now you are paying for me wor, have to wait until my pay comes than can return leh, buy so many. In the end when we almost reach the cashier, he mention it again, (dunno how many times liao) So he faster go and took the other 3 boxes. **Faint** When i said he keep on tempting me, he himself also dunno, he even called his sister 3 times to update her and temp her to come down, when her sister said she want to control. In then also buay tahan by him, agree to come down tomorrow. -_-"

Anyway after loreal, we went to the NETS family fare to have alook, and he was stop by some insurance, so we stop to to listen, actually is Benny lar, he is more interested, me only interested the SPA voucher nia. Who want? I got alot. Haha.. for 25 yrs old and above is free for $180 package and 21 yrs old and above need to pay $30 for $180 package. The lady who gave us so cute, she told us in case they keep on pestering us to sign up for package just keep telling them that u want to try out first than walk off. Good hor..

We also took some pics before going off…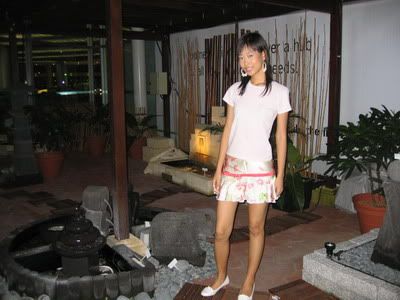 Me at the EXPO small garden…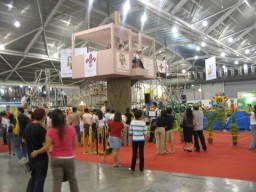 The family tree house, set up by the scouts for children to play. Family fare mah…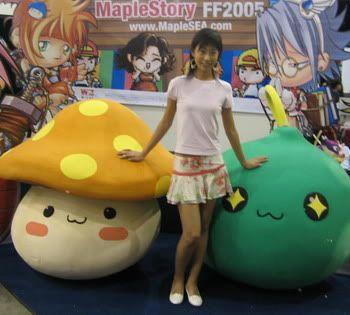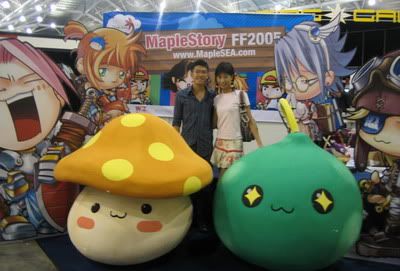 The maple story cartoon character!! Haha.. Lol.. like a 3 yrs old kid..

Than after finish walking around the family fare, Benny went back again to the branded goods sales. In the end, we bought one roxy shirt for myself and 2 bedsheets for him. Ok, by now, who is the good shopper, confirm not me.. haha.. Although i'm the one with more stuff, but the one who really shop is Benny lor.

Lets see what i bought from Loreal.. Damm cheap!! Haha.. My shirt is with Benny 🙁 so only can take tomorrow and upload.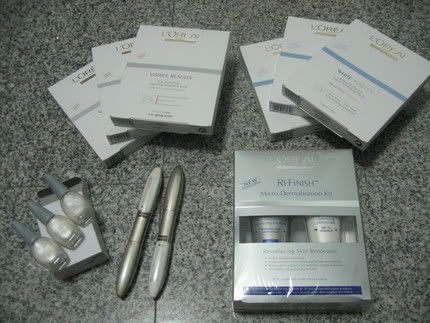 The 3 nail polish is given as a free gift. 🙂 This cause me about $95 🙂 Good? Kaoz.. spending future money..

Sleeping liao.. Bye folks. 🙂 Have a next Sunday. 🙂