MOOD?? HAPPY… UP UP IN THE SKY….

Today is my off day, yar, not very good ok, coz tomorrow i'm morning.. lol.. can't even sleep late. Sometimes shift works doesn't means good if you get shift like this, today you are off than next day u are morning.. can't even enjoy. Lol.. anyway today i also never enjoy much.. haha..

So i should i start… hmm… too many happy things liao. Ok firstly on thursday, while preparing for work, planning to change my bag, which is all hiding inside my cupboard, than saw my green sasa bag which i seldom use, so i take out and plan to use it, and to my surprise i found my long lost FIL SPA voucher!!! Haha!!! I almost jump in joy, coz i remember few months back i keep seaching for my voucher which i have won in the magazine contest, but couldn't find it, seach high and low, in the end give up. But now i found it!! Haha…. Things really goes well after the bad days i had previously.

So now planning to go for spa end of this month or early Dec for Yan Peng's wedding. Planning for a medi and padicure too.. Haha… who want to accompany me?

Secondly is this afternoon received call from Weng (modelinque) said that he need help on the 22 and 23, ask me whether I'm free anot. Free… coz working night shift mah.. So after that he told me what to bring etc, what time and place, than i blur blur almost forget to ask him what is it for. Than he told me is for ADASIA event. I was like?? I got selected ah? He said yar. Haha… Me even more happy! Coz remember what the guy told me, he said he said he need taller gals and he even ask me to stand up and turn around wearing the vest. So now i'm selected haha.. I think i still prefer confirm job, doesn't make my heart weak. Haha… espcially when u didn't get selected and you know how much they are paying.. **faint** But this time round i get it.. 🙂 So happy..

But again today i went for another audition. Its for a upcoming IT event. Have to wear the sarong type, something to do with SPA, wondering how come IT and SPA got connection ah? Haha… Cannot tell.. ;p Wait until i get selected or when the event start liao than i tell you lor. But this audition very tedous, ask me to wrap a sarong. So long piece, took quite sometime to wear it, must follow the style he showed me. Ask him whether does the other gals have difficulties wearing, he said i'm the only one.. -_-" kaoz.. This one dunno lar… can get anot only pray hard coz audition over liao..

So after audition went home straight, can't meet Benny although he book out liao, coz he got POP celebration at Chevrons located at Jurong. So only can meet him tomorrow. PLanning to go shopping but see whether got enough money anot, otherwise no shopping liao. 🙁

Ok pics time.. not much pics taken coz today raining..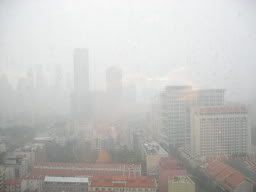 Taken at 16 floor of Park View Square, the place where i had my audition.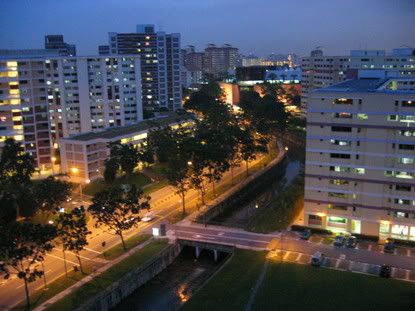 Taken from my house living room window. After raining.. Nice hor, love to watch the view, remember there's one time, Singapore got blackout, my younger sis and bro and me sit side by side near the windows, singing, eating tibits and shouting.. haha.. those were the days. 🙂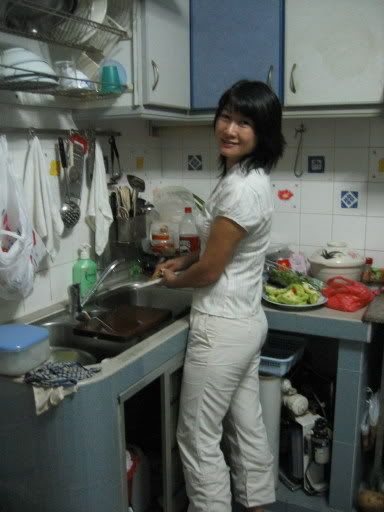 My mommy… cooking for our dinner!! I smell fish… my favourite!! Only 2 person which are guys will only give me fish head to eat. Don't worry they are not ill treating me, coz its the part i like best!! They are my daddy and Benny lor.. haha…

Ok thats all for today, need to have a early rest, tomorrow working morning shift than after that go out with dear.

Have a good weekend folks!!