OFF DAY….

Today is my off day..Feeling very sleepy, woke up around 1pm. Oh shit, abit late liao, coz need to rush down to work place to give the roster that i have done. So faster prepare my stuff, dress up coz later on got 1 casting at SPH. Have a quick lunch, actually don't feel like eating but grandma bought me, so have to eat.

So on my way to work place, msg Serene regarding my pink dress that i wish to order from taiwan, but found out that the seller haven't reply her, so sad, don;t think it will reach Singapore in time by the time he reply, so have to source for another dress. 🙁 Anyway after reaching work place past the roster to Sister than went to staff clinic to see doctor. Coz having this strange cough only attack at once in while but once started i cough like siao, cough until feel like my lung going to come out. While seeing doctor msg Sue whether she eaten anot, but she has class later on, so can't accompany me. So bought myself vegetarian rice and ate in the MO's room and surf computer till 6pm than took train to SPH.
Arrived at SPH, kenna stop by the security asking me where am i going. Told him that i came for casting. Than he ask me for which newspaper or magazine , at which lever. I was like "ah"… oops…" I only know to look for Derrick". Weng never tell me that.. Just nice Jordan (another boss) called up ask me why i haven't go for the casting so told him that i was held at the security there, than he called the person to come and fetch me.
So after going through the interview, was told that those selected have to wear something like a vest with a small LCD screen and parade around the event which is ADASIA Event. Sound easy but need to memorise about 15 questions and answer in case the consumers ask any of the questions. So when he ask about my height, i told him, he said i think i need taller gals. Ah?? A… i though u will let Weng know the cateria before he will send the models down ah? Anyway he ask me to stand up try on the vest without the LCD. Than he ask me to put up my hair and see my front and side views after that ask me whether if i have boots how many inches. Likely just bought a pair of boots few months ago and it was about or onger than 3″. But still dunno will get the job anot lah. Thats what i dunno like about casting / audition whereby u have to wait for their reply whether u get in anot, and when u know how much they pay u will feel like your heart kenna stabbed.. arrgh… forget it just wait and see how.. pray hard.. haha…

After the casting went home, board on Bus 74, than noticed today is a full moon, i think so… looks like full moon to me.. took a pics of that in the bus,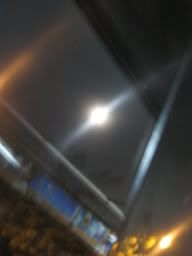 Not very clear hor.. anyway after seeing the full moon get depress again.. haiz how come so moody these few days… menses coming?? I dun think so leh.. Dunno why.. Forget it.. Don't want to think too much.

Anyway thanks to the 3 of u ya… muackz.

Saw this pair of boots recommanded by foolz.. planning to buy.. haha.. which makes me feel even much more better. Really hope the ordering and shipping goes well.




Nice.. Hee… Feeling happy..