BETTER??

Dear called me in the afternoon, was quite surprise. He said he's free so he gave me a call. I think he still worried for me bah. Ask me whether i feel better anot. Actually I feel abit better, i won;t bother about hetic work after sleeping but the feeling of being treated by a friend like this is very worse.

Anyway, after having a good night sleep is definately feel better but i overslept, spent another $10 to work place.. That goes my money and my shopping.. arrgh..
Forget it, reaching work place on time more important.

After reaching work place, saw my assignment, I'm in front room. Feel relieve that i 'm back to my orginal room and can relaxed for awhile but i'm still upset about the behind room so busy and front room peacful. Haiz.. Whatever…

Anyway after finish work, on my way home, bought i fried chicken wing from Pasar Malam, their having ?? how many weeks of fair there. Its my favourite food when i feeling down. But the chicken wing is very oily, but no choice so late liao, where to buy chicken wing. Another favourite junk food is Durian Ice Kachang.. Haha.. but mostly eat with Benny i feel even great, haha.. lol…

Ok, very tired tp blog liao.. lets see pics bah… from yesterday, no mood to post pics after what i type.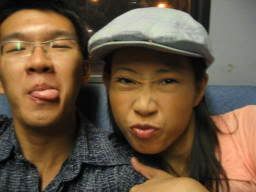 Benny and me making funny faces in the bus on the way to Pasir Ris. Benny said how about we took funny pics, so we tried a few, got one really damm ugly.. but for u to imagine for me to see.. haha….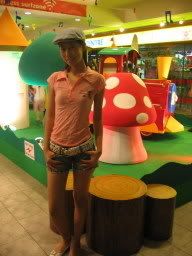 Me at the mushroom garden…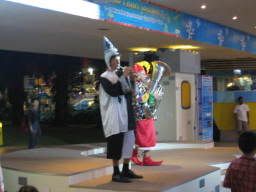 Musical Clown performing at Down Town East.

Ok.. after attending Benny's birthday accompany him to book in lor, as mention in my previous post.

Have a good night sleep bah, for those who have monday blues don;t let that affect u ok.. have a nice day ahead. (Lucky i'm off, hee..)