DAMM TIRED!!!

Just had a great bathe after coming back from work. Yesterday my night shift is like hell. Before i start work saw 5 empty beds, i was thinking shit man, festival seasons over liao, comfirm got alot of admission. Was praying hard hoping that the cases coming in is not so difficult and not too much of changes. But things doesn't go that well wor….

About 5 to 10 mins before receiving report from afternoon shift, saw doctors and Ah Woan busy attending to one of my room patients (night shift in-charge of 2 rooms), Later when Ah woan pass report to us than found out that patents BP (blood pressure) drop. After receiving the report, i went to assist them as the afternoon room junior want to go home liao. So they doctors activate the CODE BLUE (A medical emergency in which a team of medical personnel work to revive an individual in cardiac arrest). After intubate the patient Ah woan and the other staff and all the doctors sent patient to ICU. And we gals have to clear up the mess, coz we push out the bed beside the patient to make more space for us. Actually so far working in this ward for 1 year plus this is the first time i saw them activate the CODE BLUE (although i have seen in before in Mount Alvernia, but is different lor coz i get to participate.) After clearing up the mess, started to do my patients parameter and changing. Not soon enough we receive call from BMU (bed management) that we have new cases. Not soon enough around 2330hrs, all the cases started to come, one by one is ok at least we have time to do changes and orientation but this BMU sent 4 cases with only less than 5 mins intervale to us.. Really can't image how i manage to finish the 4 cases of orientation and etc in about 1-2 hours time.. With call bells keep on ringing.. Argh… going to go cray liao.. And Ah Woan left the ward almost 12mn coz of the ICU cases just now need to finish up her report. Don't even think of us getting OT pay ok.. Wait long long… Also never come..

Anyway when all the 4 cases is not totally settle down, here come another new case.. my legs want to give way liao…I also need to do afternoon shift new case admission changes and orientation coz Ah Woan junior went off liao. More extra work…. Not only that one of my patient started to make a scene around 4-5am when i need to get my stuff done asap so i can help Ah Chen…So I spend alot of time on her..

Anyway manage to finish my stuff, left the ward at 8 plus in the morning… Official knock off — 0730hrs…. -_-".. And when i left Ah chen still writing her reports… so i can imagine she may only left the ward almost 10am bah…. Sucks…..

OK just keep my finger cross today, manage to fill up all the empty beds, so hope there is no empty beds again for us..
~~~~~~~~~~~~~~~~~~~~~~~~~~~~~~~~~~~~~~~~~~~~~~~~~~~~~~~~~~~~~~~~~~~
Ok… talk about happy stuff now…

Yesterday meet Benny at his house and sleep for awhile. After that he accompany me to Weng's place to collect my pay. Need to show him the new locaion of WEng's agency, Nicer and more professional than the previous one located at Hong Kong Street. Once I reached there saw Angel.. Haha.. so happy so long never meet up with her le.. MUst find one time sit down chit chat.. Took a pics of the agency and with Angel while waiting for Weng (talking to client)…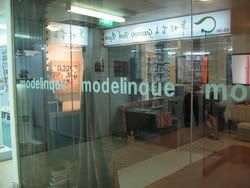 The outside view … Unable to take a nice shoot coz of the reflection..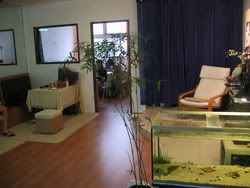 The inner beauty,,, haha… Fish tank belongs to another Boss – Jordan…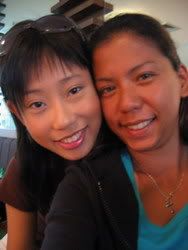 Angel!!! She look more tan than before, coz of her event last week.. and look tired coz she same with me having night shift but she just finish her night liao… not like me 2nd night nia… (yap she's a nurse… and guys who bought FHM, will have seen her before, she appear in one of the issue)…..


After getting the pay and some small catch up, Benny and me rush down to Beach Road to buy his stuff for army. And we had our dinner there.. Then we walk to somerset to take trains but in different direction. Benny going to Pasir Ris to book in before 845pm and me going to Outram start work at 9pm.. So we spent a little bit of time in the station before we said goodbye.. Took some photos..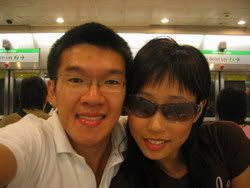 Benny and Me.. Wondering why i wore sunglasses ah, because i'm very tired, never sleep so one eye big, the other small, very ugly so wear sunglasses lor.. Haha..

Ok… Need to stop here liao.. Very tired… Need to have a nice sleep… and dream too. Heee… Have a nice weekend ppl. 🙂