CONTINUE…

Below is my view after watching Andy Lau's Movie – All About Love on wednesday night. The movie is not very fantastic but is heart wrenching. Planning to bought the VCD when is out and watch it all over again, although my eyes will be popping out after crying, than Serene said i siao liao.. Haha… But is really very nice, thats how i feel.

Oh yar, yesterday forced Benny to wear the clothes that i bought for him from AE (american eagles). He so shy to wear it coz the logo says "ALMOST HANDSOME"!! haha.. But i love it once he wore it, coz the fitting is nice and can show his abit good body (lol… haha..) coz of the nice cutting!! And as for me i wore a pair of hot shorts bought by Benny from BV on tuesday. He bought for me 2 hotshorts and 1 sunglasses. Nice hor.. hee… Thats my anniversary presents.. We both bought clothes for each other for this year 3rd anniversary.. a… but it seems like he always bought clothes for me for any occassion leh… hee… changing my whole wardrobe..

Ok lets see what we wore….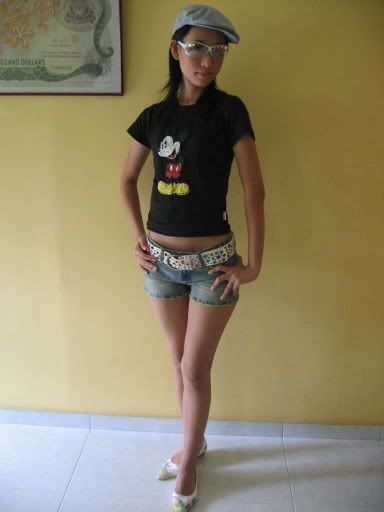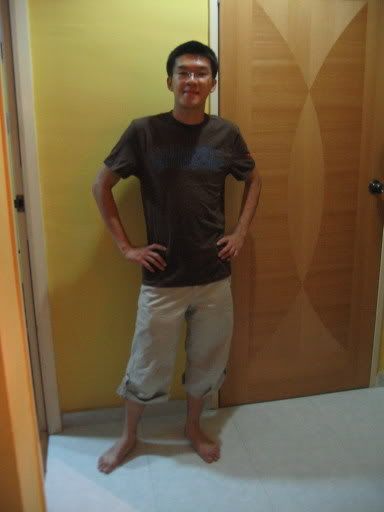 Nice nice?? hee….

Benny going to book in on friday night and book out on saturday afternoon than book in again on Sunday night… ????? So troublesome…. !!! XD

Anyway we are meeting later before he book in, although i will be like panda (coz on night shift) but still want to meet him.. haha… miss him mah.. Ok will post again tmr morning. Have a nice weekend.. 🙂

Oh ya late wishes: Happy Deepavali and Selamat Hari Raya… 🙂