SURPRISE/ ANNIVERSARY / KTV PART 2

Sorry for not updating as promise… coz something happen during the weekend so i'm unable to blog… . So right now going to continue update… long post ahead wor…



Ok back to the day that I have won my iPOD Nano… (

… i know is long but hor… story must continue mah….)

After collecting my Nano and meeting up with the other winner Apple, i rush down to Orchard, Wisma to meet the gals, to have a small dinner at Serene's dad shop. Its at Wisma level 4, can't re the shop name liao… Than i order a jelly fish with duck salad.. can't re the exact name… Its very nice!!! Feel like going back to eat again.. Hee….

After eating we went down to Orchard Party World KTV to sing our hearts out!!

. And I realised that Jingz can really sing very well wor.. Serene voice to soft liao… but still not bad!! As for Jean hor, dunno whether singing or playing?!?

As for me ah… dunno why that day very high??

Keep on jumping, dancing, singing.. etc, maybe because firstly i won a iPOD, secondly i got such a nice bunch of gals we accompany me on my anniversary when Dear is in the army unable to with me and I feel happy lor..



我是容易知足的小女生…



Really have lots of fun singing can't wait till our next outing!! I love gatherings with friends!! Gather together know each other better, crack jokes together, make fun of each other with no harm of coz.. its a nice memories!! Don't u agree?? After we sang finish, Serene and I hired a cab home, we waited for quite some time coz its raining, and finally dear called around almost 12mn, was quite worried wondering how come so late still haven't call me. Found out that he actually had a tough training on that day. Muackz!!


Ok photos time…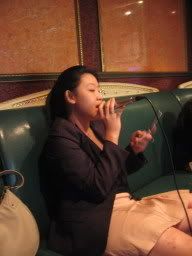 Jingz singing.. Multi tasking wor.. haha…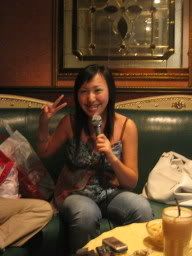 Serene!! I tried taking her nice shots for few times, coz she keep looking at the screen… finally manage to take a nice one!!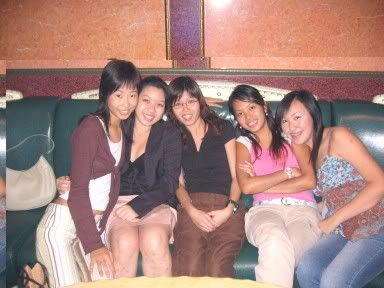 The gals!!…


Wondering why my photos not taken ah… very simple lor.. coz i keep on jumping and dancing.. in the end the pics turn out all blur blur…

Next time must take one mei mei de.. haha…