SURPRISE/ ANNIVERSARY / KTV PART 1

Hihi friends!! Remember in my previous post i mention that there is something good happening to me and yet i don;t want to mention it?? Coz first thing i scare that i won't get the prize and secondly everything seems so unreal until u touch it, feel it and u get to realised that "HEY I'M NOT DREAMING!!" Ok fine, to some of my friends they are going to beat up as this is the N times that i have won something! But this time round what i won is an IPOD NANO!!! Haha…. **Jumping with Joy**!! Everything just caught me in surprise, but I glad the person who is in-charge of this lucky draw never give up on me when they send me an email regarding that i have won in their lucky draw!! Yap, i though its a prank so didn't even bother to look at the email content not even when they sent me the 2nd time! So they decide to call me up!! Its really so nice of them,other wise u will not see me jumping with joy liao. Not only that the person who refer me regarding about this great website will also get a prize!! Haha… She is Apple! Got to know this link from her blog!! Ok since my this post is part 1 there is lots more stuff to go as i'm morning shift tomorrow (need to sleep very tired 🙁 ), so i will post some of the pics here… more to go for this special prize and KTV crazing by we NS gal friends!! Its really very sweet of them to accompany me when my Benny is not around to celebrate our Anniversary!! A big HUG HUG for u gals!! Haha… Oh yar of coz not forgetting the most important thing!! Wanna know how i win?? Click this and register free of charged!! And dun worry about any spamming etc!!
http://www.yoursay.com/[email protected]

Ok here come the pics!!



Me and my iPOD Nano!!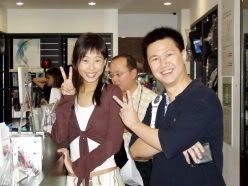 The guy who never give up on me !!! Haha… Richaard…. U can visit his companmy at www.morvo.com

Me again with my iPOD Nano…


Open liao!!! Haha.. So excited!!!



Trying to figure out how to use it……



Pretty winner = Apple!! She got herself a PSP!!



The 2 winners and the 2 handsome guys!!

Ok need to sleep liao, tmr blog again!! See yar!! Sweet dreams everybody!!