SHOPPING…

Today wake up quite late… around 12pm, planning to sleep some more but can't, because to do some shopping at marina square before meeting the missy gals for steam boat at Marina Bay. After waking up clear my room for awhile coz my room is in a mess. Yar i know again…. lol… Daddy keep saying "U r a gal ah yet your room like pig room"… Correct what coz i'm little piglet mah… *faint*
After clearing up my room rush down to Marina Square to look for my evening dress for Yan Peng's wedding. As i saw the FEMALE magazine yesterday about the FEMALE 50 50 Gorgeous People , their dresses is so nice, sponsered by WAREHOUSE n TOPSHOP. So just want to try my luck see whether am I unable to find a dress. In the end, i found one at WAREHOUSE and its on 50% SALE!! Haha… Lucky me! Wanna see?? Haha CANNOT… coz I want to giver her a surprise mah, cannot let her see what i bought, so u ppl have to wait until 8 of Dec ok!! After that keep on shopping trying to find a pink colour dress for the Day event, but unable to find!! So upset, why pink dress is so difficult or am i choosy.. i don;t think so wor… Never mind still got 1 more month for me to look for it. After that went to NOVO to buy one pair of wedges which i have been lemming for quite some time but never bought it coz i scare that is not comfortable, but they have came out with the new version which is softer and more comfortable with cushion behind! Feeling so happy! All my buys today is great except for my pinky dress…
After finish my shopping, faster my foot steps trying to catch train to make sure that i'm not late for meeting the gals, but receive phone calss from Cindy that she and Chew not coming coz they are tired, as both of them overall today. Than Ester can't make it because of personal problem etc… At this point of them I'm very angry and upset liao.. why like this again.. last month like this so is this month. Was damm upset, always ask me when is the next outing but in the end so many people can't turn up. Out outing is like every month getting lesser and lesser. Anyway me just hang up the phone msg the rest of the 2 gals that outing is cancel. So pissed off. So go decide to tcc and have my dinner cum lunch. When i was about to order Cindy called up asking me where am i, whether i want to wait for them to eat anot, but i was quite angry so i said anything, but in my heart i feel like telling them i feel like to be alone lor, coz i'm really very angry, some more Say Li is going off to Aust next year and means that our missy group gonna short of one and yet everybody is let this. Anyway I just told them anything lor. Angry liao so dun want to talk much.
So while waiting, i read LIME magazine to pass my time, on and off took pics.. i think the people think i'm crazy liao.. See see what i take… the ugly ones delete liao.. haha…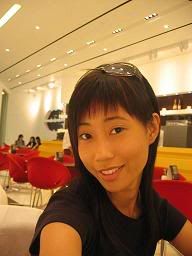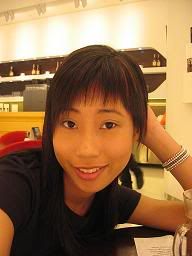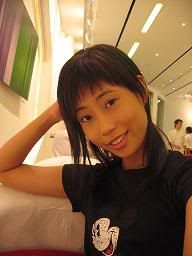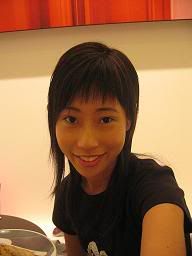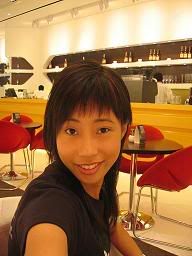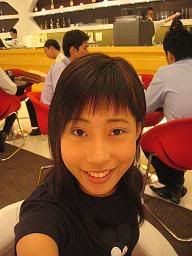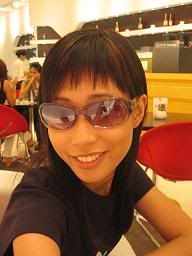 Haha… not many lah…. after deleted some many… lol…Even after they come i'm still taking really cannot make it lor.. Anyway after they come we gossip abit about our work and doctors, espcially Dr Alan. Haha… Our current HO. Was wondering he got gf anot, if not, can match make him with Chew.. haha.. Coz both of them very "gam" lor… hee… no need shy shy lar, coz I'm not the one having this "good" intention!! haha… Anyway finally she tried on the Abercrombie skirt which i bid for her in the auction, her mom saw and asking her why is she wearing so so short!! Yar gotta admit that the skirt is damm short coz i got that skirt too, but is nice mah!! Haha.. SEXY!! So next time when we go clubbing or pubbing maybe can ask her to wear. Lol.. she better dun let her mom know that I'm the one who intro her the skirt otherwise she will hate me liao.
After that we talk until about 10pm than we left tcc and took train to go home liao. When almost reaching home Dear called up, miss him so much. And moreover 27 Oct is our 3rd anniversary, Benny abit upset coz his inside and we are unable to celebrate. But its okay, i got the NS galfriends to celebrate with me!! Haha.. So nice of them. Ok i better sleep liao.. otherwise my eyebag going to be there forever liao.. blog tomorrow again. Have a good days coming ahead!!

Photos…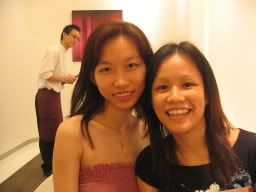 The 2 bad missy lor… make me cancel the steam boat… lol…. the rest also, must beat buttock!!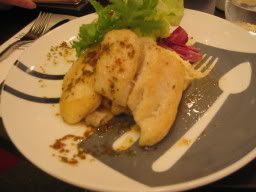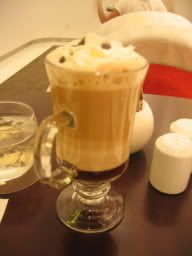 My food, Pan Fried Dory… very nice.. but hor, too small share liao, not suitable for a big eater like me. 🙁 And a glass of Mocha Latte!! Nice nice… chocolate n coffe taste, I LIKE!!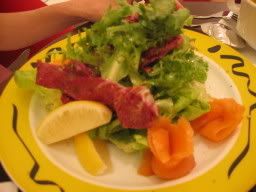 Smoked Salmon Salad!! Nice but again so small share, shared by 3 of us. But their sauce is very nice!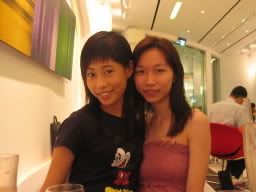 Me and Chew… Sexy wor.. haha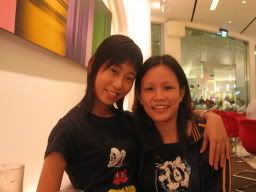 Me and Cindy!!