HANS….

HAPPY BIRTHDAY TO SERENE AND APPLE!!! Haha… yesterday we celebrated the gals birthday at HANS located in Park Mall. Meet up Ying Ying in Hougang MRT station but i was late. Oops… Than manage to reach the place at 6pm plus. Was excited to see the gals coz we really have alot of fun together and can't wait to get my stuff that i bought online!!! Heels, bags and panties!!! Oops…

Its really amazing how we gals can actually click so well. Just because our guys is serving NS and some whose guy is an army regular. Really have to thanks Singapore for having NS, haha… let me have a chance to meet such a nice group of frenz…. Espcially

Serene, coz she's the one who help me got my 1st GAP bag with great price and slowly get to know her well through sprees.

Ying Ying, 2nd gal.. hmm.. coz she live near me?? Haha… no lar, she's very cute.. really thanks to her that time when i order LA Senza first time and she trusted me, (dunno she regret anot…lol), and we gossips together.. lol…

JingZ, remember her nick very well, otherwise can call her mommy haha… She's very funny and she is the 3rd gal who i have met before the 2 gals that i have mention above.

Uncle Jon and his wife, the only guy, (hmmm actually stii got Justin lah, but uncle more active), he is our advisor, enquiry man and the guy who will give us some ideas about whats happening in NS. Not only that his updates make us know what our boyfriend are going through, which make us understand them better even though they have PMS!! haha…

Last is Jean, she's is the most crap gal in our group, haha.. really nice to have her around, make tour outing more lively and lots of laughter too, (but too voilent liao… haha)

As for the rest dun worry i never forget u gals but i need to know more about u, there are pinggy, Tong tong, Gillian, Felicia, Pami… any gals i miss out?? (sorry ah very poor with names sia)

Okok, back to HANS.. we started ordering food at around 7pm bah, Tong Tong was abit late. After eating we brought the cake out and this surprises Apple and Serene.. We have fun cutting the cake, but we make so much noise down there, we even sang a birthday song, so loud that everybody is looking at us. Haha… But really have to thanks the staff at HANS, brought us plates and forks so we can eat the cake without messy it. After all the celebration we left the place and shop at PS for awhile, than Serene and Apple have to leave liao due to personal matters. Than we gals continue to walk until 9pm plus, than we took quite alot of pics outside PS.

Below is the pics…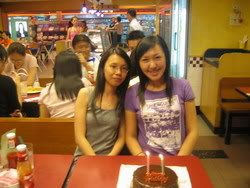 The birthday gals… Apple and Serene… Happy Birthday muackz muackz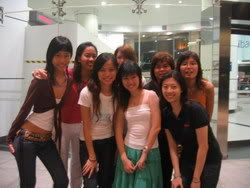 Our group photo… a,,, what is Tong Tong doing ah?? Can't see her… -_-"

Still got alot more photos to go, will update agaion once i got all the pics!!


Oh ya… finally i mange to redo my password for VPOST and IB!! At last, forget my PW twice liao… really hor… lol… This time round better dun forget… See you gals…

By the way, which king soul can help me translate the "poems" that i posted earlier on?? So it will be good for those who can't read / understand chinese. Thanks alot..

Good night!!