EXCITED…

Yesterdat after blogging, went to have a sleep. Just as I was about to fall alseep, i heard my door bell rang. Rang 2-3 times.. can't remember. Was abit angry liao, thinking that couldn't be 1 one of my family members coz they have gone for work. So no choice, get up and open the door.. Saw a guy wearing DHL uniform standing at my door step. I'm wondering what is he doing here, and he ask is "Ms Xiaoqi" around, and i said yar. Than he said there is a parcel from LA Senza for me. Once i heard La Senza, i immediatly become more awake. Quickly signed my name, and can't wait to open up the parcel!! Once open up, i immediately took Dear's camera and took a pics of it. The design, colour and cutting is very nice. Got Ying Ying stuff too. Although her panties is a simple white, but i love the cutting. Lets have alook….



The parcel…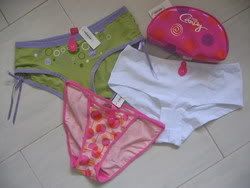 Our candy panties… haha…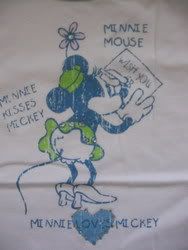 My Minnie Mouse tee, was surprise that it has sequiens on it.. It makes the tee looks even nicer!!!


Now after my night shift is over need to pass the stuff to ying ying. Oh yar, some of the FP gasl are doing their Minirooms too. And thanks to Yunie… she have done FP gals at work.. Can u spot me?



Ok my eyes are closing liao. better have a nice sleep and prepare for my 3rd night!!