ITE NURSES REUNION

Friday night was the first ITE Nurses Reunion in new ITE campus located at Simei opposite Expo. It was an excited event as it has been almost 1 and 1/2 years since i saw my teachers. Espcially Mdm Lau who took as during our 2nd year of attachment. Miss her alot!! But the sad part is most of my batch gals didn't come, espcially Manjit, Mandy and Angel (KK). Andel was supposed to come as she has already bought the ticket, but she want to meet up her secret friend so didn't attend the function.

I were late when i reach there, because i have a road show before that and i went to Kimage to do my hair before going and after doing my hair rush to work place to get my tickets as i left it in my locker (sotong me).. so it was a rushing day for me.

The first teacher to greet me was Mrs Tang, so happy to see her, and i give her a nice hug hug Hee. But most of the teachers comment that i seems to loose weight as my face shape has shaper abit. They thought it was cause by the heatic work load in my ward but there's no change in my weight, still the same old 50kg wor. Maybe i should retake my weight again. I'm not trying to loose weight, quite unhealty coz i'm already under weight, all bones, no meat liao. Trying to gain weight, some more i always have been eating 2 share, really something wrong with my body. Ok, i don't have thyroid problems, i have that checked.

Ok back to topic, Mdm Heng and Mr Tay are MC for the day, its really fun to have them as MC coz they are funny and they are full of ideas!! Imagine we have the fun when we are having lessons with them espcially psychology class. ok ok off topic again. We have dance performance from the current Going-to-be-nurses and the teachers who dress themselves up and guess who are they. We really have fun guessing who are they, imagine me wearing 3″ heels and running infront to guess the answer. Haha….
Then we have a buffet dinner, they buffet is nice, but i missed the prawns!! Agrrr… how can i miss it when its my favourite!! Never mind lar, still got chance to eat.

How can we miss out the lucky draw?? I love this segment, when everybody heart is praying hope that they will not going back home empty handed. after 20 or more consolation prizes have given out, i though i donlt have any chance, imagine so many of us fighting for 3 top prizes. Anyway i just tell my friend that i just pray hard, coz she already have gotten consolation prize. After saying i heard my name being announced!! Yappie, i won the 3rd prize – Sony Discman!! Although nowadays MP3 is a hot thing but i don't mind discman coz i got alot of cds, dun want to waste it, and i love buying cds, enjoying the way they pack it and whats inside the cd packaging.

After the lucky draw we end the session by dancing, lead by Mr Tay, cake cutting and photo taking. Talk about photo taking, ny battery died on me, while taking first few photos!! So angry, no choice lor, have to depend on Sue Ching to help me, so paisei. Thanks alot gal!!

After the reunion has ended Sue Ching, her friend and me took taxi home, cheaper wor, 1 person less than $5 bah. While on the way home call Benny up and told him about the good news, hope i can cheer him up abit and also sorry that i can't accompany him on that day and on saturday, the last day of wake.

He has been having bad mood nowadays, trying hard not to make him angry. Tomorrow is our last day of meeting as he has to book in on monday morning. Wanna know where he posted to? He posted to SISPEC!! Same as my dear brother. So happy for both of them!! Hope during this period of army training he will slowly get out of thie lost feelings. Really feeling bad that i'm not able to accompany him this past 4 important days. Sorry dear. Hugs. Hope tomorrow when we meet, i'm able to cheer u up!!

PHOTOS!!!
~~ROAD SHOW~~



The 4 gals.. in Arsenal jersey.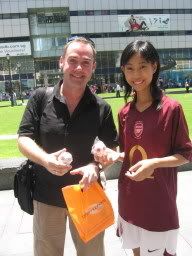 One of the passerby who got my free mini balls and me!!

***REUNION***



Me and the cake!!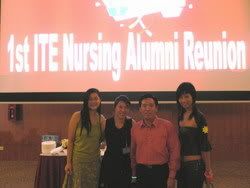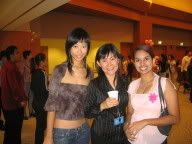 Me with all my favourite teachers…
Mr Tay, Mrs Tang, Mdm Suppiah, Mdm Heng and Mdm Lau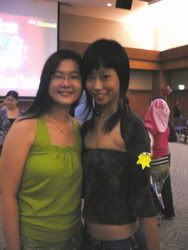 Sue Ching and Me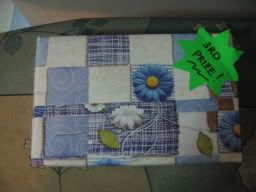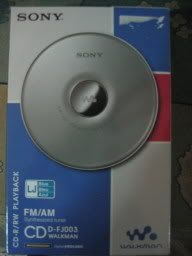 My winning prize


Thats all for today…