NOT SURE…..

Don't know what to put for my title, because this week is really a messy week for me, thats the reason for not bloging for quite some time. I think Benny also feel that way. We thought this 10 days of leave after POP is going to be great as we can spend more time together and have much more fun, but it turn out all wrong.

On the 9th Sept, we meet up at Parkway, not a very good start as we had a slight quarrel regarding me not sleeping early the night before. But we get over quickly. We developed our photos there as it was really cheap, 20cents for 100 pcs and above and no handling charges no matter how many u developed. After that we had our lunch opposite Parkway shopping centre to have fish soup, i LOVE fish soup, or any soupy stuff, as long its not spicy!! After that we went to orchard to shop for watch and my pink colour dress for YP's wedding as we nurses will be doing "Jie mei". In the end we didn't manage to find one. Is not that i like pink, is our Ah woan, wanted pink, but i fend pink so diffcuit to find and not east to wear out for normal days. Must meeting with them, prefer what Bride-to-Be suggestions – Rainbow colour… hee nice nice…

But after that we had a quarrel again. And this quarrel led aus to have almost 2 days of cold war and which i regret it after that. No msg, not much conversation etc.. Until the day 13th Sept, he msg me that his mom was critcal ill and on their way to hospital. I was so shocked and felt upset. Told my mom what happened and ask her permission to go out as it was already almost 11pm and tomorrow i'm having morning shift. Surprised that she allowed me to go out. After that i quickly rush down to CGH. And stay there till 2am plus. Was very tired, but want to stay there to accompany Benny. In the end next day have diffculties waking up so have to take taxi to work. After work rush down to his place and accompany him. After reaching home and wanted to blog, but recevied a call from benny that his mom has passed away. I was so shocked and dun know what to say to him. unable to rush down to meet him as it was already 2am and tomorrow i have to wake up early.

After all this ups and downs i really feel very tired and worried about Benny and her sister. since young they have to take this kind of hardship. HUGS Dear….
Ok… no mood to talk any more.. just show some photos that we had taken on the 9th bah.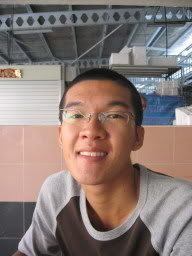 Dear and Me… at coffe shop, while waiting for our fish soup.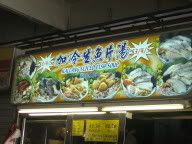 Our fish soup.. quite nice actually. anybody recommand a nice place selling nice fish soup??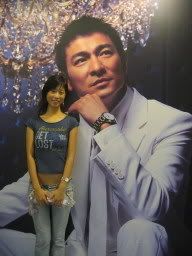 Me an my idol — ANDY LAU….



Dear and me taking photos outside of my home.. tired day…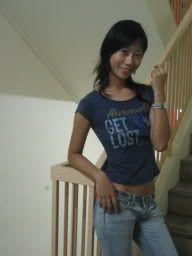 Me modelling for my new watch… haha.. BUt dear dunno how to take, show too much off me liao.



~~~ The new watch


Good night… tomorrow will be my ITE gradutes reunion…