SHOPPING….

Today meet up with Yih Shan aka "Gf" and Puay Chen aka "Twins". To go shopping at Bugis Village, Suntec and Marina Square.. but ended up we only shop at Marina Square. Coz this 2 blur sotong.. said want to go Marina Square to shop first, so i said ok, sms them to meet at Marina Square at 430pm after i finish work.. When i reach i found out that they are at Raffles Place Cafe cartle… So angry lor, some more my "Gf" still can say we got say to meet at Marina Square mah.??? I almost fainted.. Dunno to angry or cry… coz she just finish her night..

Anyway we just sit at Marina Square Cafe Cartle to have our early dinner and at the mean time to wait for my "Gf"'s bf. By the time he came is already quite late.. properly about 7pm bah.. so we gals chit chat about our work, shopping etc.. "Gf" commented that my Twins is getting more and more vain and sexy, she cannot take it, but i support her lor, cause she's single right now, she has the right to wear nice and sexy clothes to catch attention mah..And i believe that even though u are not in love u still have the right to stay pretty, sexy and happier!! Coz there is no ugly woman in his world only lazy woman. So thats why we have this outing to shop for clothes, but in the end, we didn't buy anything.. coz we only left 1 hour plus to shop. Some more have to shop for Yen Peng's wedding as we are doing "Jie Mei" in this coming december… so exicted… keke….

Oh yar, got a small funny inccident happen when my "Gf" bf comes, didn't expect him to wear an army uniform , coz i have this thinking that he is wroking as a paramedic, but actually he is a army medic. Some more i LOVE army uniform so much (pls dun ask me about their details rank etc, that i dunno, i only know how to see guys wear it!!).. So both of them keep laughing at me lor… so more, i so peisei, i also keep laughing.. So my "Gf" give me a chance to take photo with his bf… haha… actually is just to make fun of my Benny lor… make him jealous, but told him the truth before he get angry, coz i told him that i approached an army guy to take photo.. Hee…

Okok.. Photos time….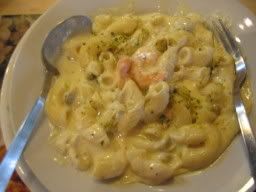 Tea cakes.. starting from Left, Jackfruit, Blue berry and Cholcolate with coffee. The Jackfruit cake is nice.. the taste is very nice, not too strong. After that the next pic, is my food, SEAFOOD MACORONI (CREAM), really very creamy and with lots of mealted cheese. Recommanded wor.. Will order this again… nice nice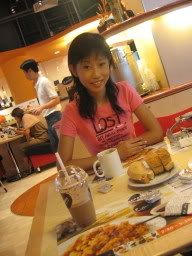 Me with all the food… actually we almost eat finish liao..
My "Gf" putting butter for us to eat..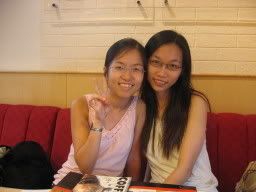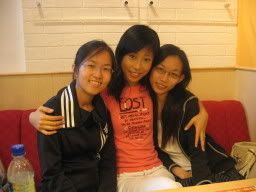 Our photos.. Love the 2nd one.. nice nice… Like i'm a guy having 2 gfs… haha…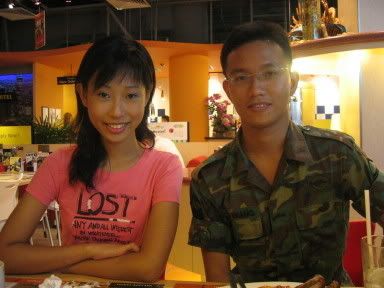 "Gf's" Bf and Me.. must tell my "Gf" hor, ask her bf to smile more.. got dimple but dun want to smile, so wasted.. like my Benny, last time seldom see him smile but now he's smiling… Keke.. some more i make fun of him, those who take photos with me must smile. Coz "Gf" said that he is BFM – Black face man.. already so dark liao.. so must smile more.. haha..
Ok thats all for today.. waiting for the next shopping trip with them!! Have a good night sleep.. sweet dreams!!!
Oh yar… its quite some time since i updated "MY LOVE NEST" (link can be found on the left hand side).. Busy wor.. everytime i typing out the story must look at our album for dates and memories..Be patient ok.. will update as soon as possible..