DEAR'S POP…

Attended Dear's POP on tuesday, just nice that my brother also having his POP, so i was like rushing for both sides.. Like sandwich.. Cause Benny's dad last min want to attend his POP, so no choice lor, the saddest part is i can't put his cap for him, although is a simple thing but i just like it!!! This year was quite a special year as Mr Lee S.L. pay his visit after 20 over years since he last step into BMTC. He came to give his speech, talk to some of the NS guys and award presentation. Lucky the speech was quite short otherwise i will be melting, as the weather is so hot. After that, all the guys have a short performance, it was very nice and cute.. the way they dance, not sure what they call the dance. After dancing, their spirits get high and they threw their caps high up into the air… this is the part that i like it most!!

So glad that the event is over, but come to the part where all the people going home is very tiring. The whole event finish at around 5pm, but my family and I only get to the ferry almost 8pm!! no choice cause everybody have to leave the place according to their platoon with parents. At this point of time, I'm not sure whether to follow Benny home or go back to my home, kenna sandwich lor.. in the end went back to my home as i was really very tired and the next day i have to work morning shift. So told Benny that i will meet him after i finish work. Anyway while waiting meet one of the FP podders-Jean, who is also attending her bf POP. So glad to see her there.. as i was hoping to meet one of them. Hee.. oh yar Benny will get to know where he posted to around 16 Sept bah, hope he get what he want. I also wish that he get something nice… coz i really like army uniform alot… not police uniform.. no thanks.. haha… no offence wor… 😛

Oh ya, last saturday was Cindy's Birthday. She held in at Ahloya Loyang, quite a nice place, but it was so far deep inside.. lucky Benny tag along, otherwise don't ask me to walk that dark alley alone. After reaching, so my good friends around.. started eating, and play fresbies with them. We had so much fun. Really enjoying the moments… With all the stunts, pose that we do etc..

After playing, we decided to have a rest, only Say Li, Twins (Puay Chen), Gf (Yih Shan), Benny and me decide to stay back over night. We had a long nice talk, except my gf went to sleep… sleeping pig lor she… so more keep snatching blanket. Benny love talking to them.. he really likes gals talk alot.. maybe thats the reason why since secondary school he is always surronded by gals, and all become "sister"… okok off topic liao…
By the time we gals and Benny finish talking is already 3am.. we decided to sleep as Puay Chen and me need to work pm shift the next day.
Than after that we woke up around 9am to have breakfast. Suppose to go Raffles Place to eat Subway, but we ended up in Changi Airport, coz SayLi drove the wrong direction.. (I think i give her the wrong direction bah.. oops).. But we still had our Subway. Than we head to work, of coz Say Li drove us lor.. but suppose to be a half an hour trip ended up 1 hour plus… Coz Say Li took the long journey.. but its ok, coz we still have time for work.. so she drove us "do feng".. hehe…
Ok.. photos time.. most of the Cindy's Birthday photo is not with me as my camera battery died on me, so have to wait for Yih Shan to send it to me.
DEAR POP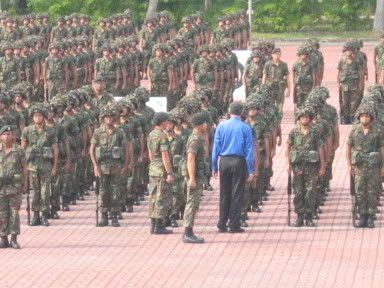 Mr Lee talking to one of the recruits.



Me and dear.. can see my tired face liao..really CMI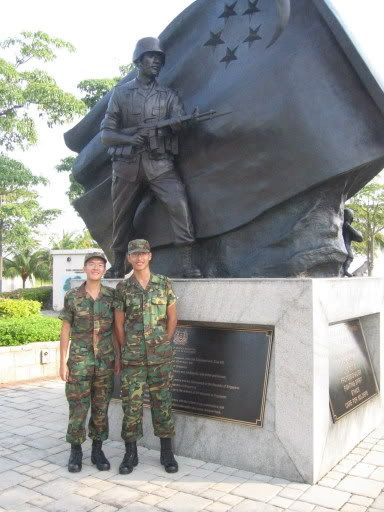 My Brother and Benny..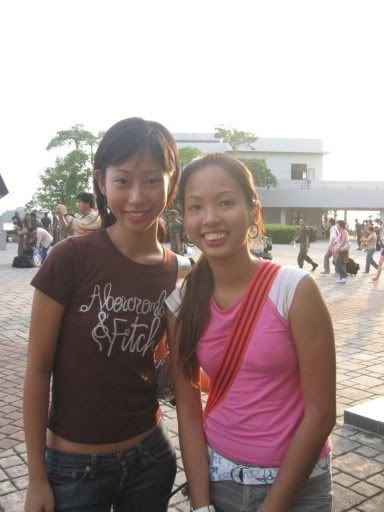 Jean (FP podders) and me..

CINDY"S BIRTHDAY
(will upload more once i get the photos.)





Better sleep liao.. working am shift again, after that meeting Yih Shan and Puay Chen for shopping.. they will be doing shopping not me.. bought too many stuff liao.. feel like buying but kenna ban from Benny.. need to save wor.. Night night…